A Valentine's Wish For Danny Arnold -- The Interviews: An Oral History of Television
The death of a friend. A regret. An ambitious idea. These are the central building blocks of what would become the television industry's premier oral history collection. Their common thread: Dean Valentine.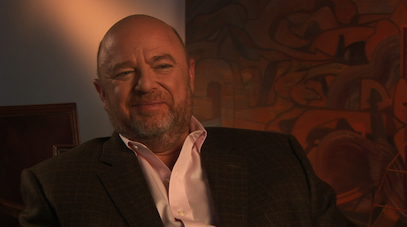 On August 19, 1995, writer/producer Danny Arnold passed away. Television executive Dean Valentine, comedian Red Buttons, and game show host Monty Hall were among the mourners at Arnold's funeral. As Buttons and Hall reminisced about their old friend, it occurred to Valentine that someday all of these pioneers of television would be gone, and their stories would perish with them. But what if there were a way to record their stories and preserve them for generations to come?
At the time, Valentine was president of Walt Disney and Touchstone Television, and had worked with Arnold on several projects. The pair used to dine together in West Hollywood at famed industry spot Chasen's, where Arnold regularly regaled Valentine with stories from the early days of television—days spent working with Dean Martin and Jerry Lewis on The Colgate Comedy Hour, and producing Bewitched, Barney Miller, and That Girl—shows that Valentine had grown up watching.
Valentine had recently been invited by Steven Spielberg to view his newly-formed Survivors of the Shoah Visual History Foundation (now the USC Shoah Foundation), a project founded in 1994 with the mission to "videotape, before it is too late, the first-person accounts of 50,000 Holocaust survivors and other witnesses." Valentine was impressed by the scope of the project, and by the technology used to link the interviews, which were cataloged in a database that could be searched by keywords. Searching for a particular term would quickly produce a list of all interviews in which that term was mentioned—ordinary today, but innovative in the early 1990s. Valentine found Spielberg's project fascinating and wondered, "Wouldn't it be interesting to get that done for the television industry? What if you could type in '1939 World's Fair' and see all of these people who were there, talking about the impact?"
Valentine further fleshed out his idea. What if we could interview the people who were there at the very beginning of television in the '40s and '50s—those in front of the camera, plus writers, makeup artists, choreographers, costume designers, agents… and record, cross-reference, and access their stories from anywhere? In 1995, fifty-four years after the commercial launch of television in the United States, a number of those TV pioneers were still around—brimming with stories that begged to be recorded for posterity.
Valentine pitched the idea to his boss at Disney, Richard Frank, who at the time also served as the president of the Academy of Television Arts & Sciences. Frank loved the idea and realized that the establishment of an oral history program could doubly serve as a celebration of the Television Academy's 50th anniversary in 1996. Frank brought the concept to the chairman of the Academy Foundation's Board, Thomas W. Sarnoff, the son of RCA pioneer David Sarnoff. As the charitable, not-for-profit arm of the Television Academy, the Foundation seemed a natural home for this project that would not only be an extraordinary historical resource for television enthusiasts, but a remarkable educational tool for researchers, students, and professors—a repository of primary sources primed for scholarly engagement. Sarnoff immediately recognized the value of an oral history program, invited Valentine to make a presentation to the Foundation Board, and the pilot program for the Archive of American Television was born.
Valentine then consulted James Moll and June Beallor—the founding executive directors of The Shoah Foundation—on possible candidates to spearhead the project. The pair recommended filmmaker Michael Rosen, and Valentine also brought on Disney Television executives Janet Blake and John Litvack to executive produce the pilot interviews. While researching how to structure the program, Blake encountered historian Jeff Kisseloff's The Box: An Oral History of Television 1920-1961, which served as a guidebook for the Archive's early interviews. Kisseloff became a valued partner in the formation of the Archive of American Television—not only offering guidance on how to conduct oral histories, but also drafting a list of early television pioneers to interview and using his connections with many of those individuals to secure interviews. Blake and Litvack also consulted two other players who proved central to the Archive's formation: sitcom writer Richard Halke, and at Halke's recommendation, television executive/producer Dan Pasternack, both of whom suggested interview candidates, and through their own personal relationships, generously converted many of those candidates to interviewees. Kisseloff and Pasternack also volunteered their time to research and conduct many of the Archive's early interviews.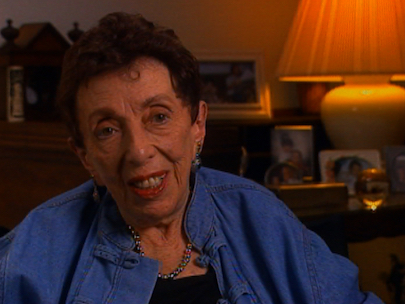 The pilot program launched in 1996 with a $50,000 budget from the Foundation Board for recording six video interviews, each two to five hours in length, following the life-history format practiced by the Shoah Foundation. The interviews commenced on May 14, 1996, with Leonard H. Goldenson, the founder of ABC. That first interview was followed by conversations with Dick Smith, NBC's first staff makeup artist; Milton Berle, television's first big star; Elma Farnsworth, widow of electronic television inventor Philo T. Farnsworth and an assistant/technician in Philo's labs; Sheldon Leonard, producer of The Danny Thomas Show and The Dick Van Dyke Show; and Ethel Winant, casting director and one of television's first female executives. One year after Danny Arnold's death, with six interviews completed, the pilot program was declared a success. Television executive/producer Grant Tinker and producer/documentarian David L. Wolper came on board as honorary co-chairs of the Archive, tasked with fundraising to help support an ongoing oral history program. Michael Rosen, the consulting producer for the pilot interviews, became the Archive's first executive producer, and in 1997, fifty years after the premieres of Howdy Doody, Meet the Press, and Kraft Television Theatre, the Archive of American Television became an official program of the Television Academy Foundation.
The interviews were originally shot on Beta SP and could be viewed only at Academy headquarters in North Hollywood, California, but as technology progressed, so did the Archive. The collection was partially digitized in 2005 when the Archive partnered with Google Video to provide remote access to the interviews. In 2008, Archivist (now Director of The Interviews) Jenni Matz was hired to supervise the digitization and organization of the complete collection, and interviews were uploaded to a newly-formed YouTube channel for public access. Archive staff, in partnership with external vendors and academic consultants, developed a controlled vocabulary and a customized, time-stamped video-indexing tool for cataloging the entire collection—infrastructure which formed the backbone of a website, then in development.
In 2009, Valentine's full vision for the Archive became a reality under then-Director Karen Herman when emmytvlegends.org debuted—a website where the interviews were cross-referenced by people, television shows, topics, professions, and genres. You could now search for "1939 World's Fair" and see all of the TV legends who were there, talking about the impact. Over 600 interviews documenting the stories of television's pioneers were now preserved, correlated, and available to the public for free. In celebration of the Archive's 20th anniversary in 2017, the Archive was re-branded as The Interviews: An Oral History of Television. The collection is now home to over 900 interviews with key figures in professions in front of and behind the camera, and a newly-designed website, TelevisionAcademy.com/Interviews, launched in 2018.
Though there is no interview with Danny Arnold on this website, twenty interviewees—including show creator Barbara Corday, actress/producer Marlo Thomas, and producer/director Bud Yorkin—discuss working with him. Dean Valentine, coming full-circle, recounts tales of Arnold in his own 2009 interview. Danny Arnold's stories in his own voice may be gone, but thanks to Valentine's vision, Arnold's peers have recorded their own histories and, in the process, have memorialized Arnold's contributions, as well.
Since the program's start in 1996, more than 400 interviewees have passed away, but their stories remain. What began as one man's tribute to a departed friend is now a treasure trove of first-hand accounts of the birth and growth of the American television industry. And as the first generation of TV visionaries leaves this world, the stories of those that follow will continue to be recorded. The Interviews: An Oral History of Television—capturing television history, one voice at a time.
- Adrienne Faillace
Watch the story behind the origins of The Interviews: