Mastering Time: The Preservation of the Interviews at USCDR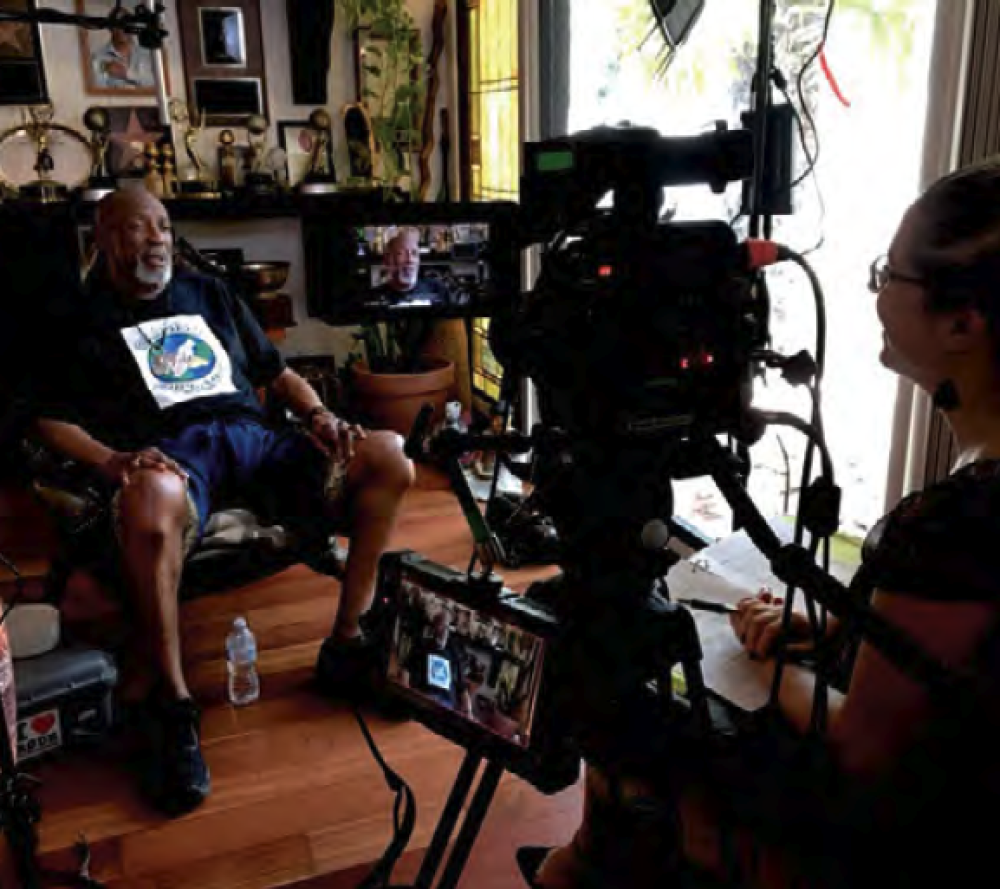 Mastering Time, reprinted from the 74th Emmys Program
By Liane Starr
When ABC founder Leonard H. Goldenson sat down for an interview with journalist Marvin Wolf in 1996, it was no run-of-the-mill chat. The session lasted more than three hours, allowing Goldenson ample time to look back on his long and formidable career.
He recounted the formation of the network and its rise against rivals NBC and CBS, its partnership with Walt Disney, the creation of ABC Sports and the airing of the first miniseries (Rich Man, Poor Man). He recalled key series like The Fugitive, Charlie's Angels and The Love Boat, as well as the landmark miniseries Roots and the institution that is still Monday Night Football. That conversation, part of a pilot program, led to the creation in 1997 of the Archive of American Television, now known as The Interviews: An Oral History of Television. Goldenson died in 1999, and to think that his videotaped memories could be lost to history is indeed alarming. But until recently that possibility was very real — not just for the Goldenson interview, but for the more than 3,000 hours of interviews with television legends conducted over the past twenty-five years under the auspices of the Television Academy Foundation.
Put simply: "In twenty years, VHS begins to rot. Computer hard drives, five years. LTO [linear tape- open] data tape, three years. DVDs, two years." So says Sam Gustman, chief technology officer and associate dean of the USC Shoah Foundation and USC Libraries. "In general, the newer the digital storage technology, the faster it's rotting," he adds. "That's wonderful for tech companies, but it's awful for the archive world."
For Jenni Matz, director of The Interviews, concern for the collection was keeping her up at night. "The Betacam masters of our work, stored at UCLA, were getting older and older," says Matz, who shared her thoughts with Television Academy Foundation board member Margaret Loesch, among others. "She kept saying, if we don't preserve these, we're going to lose them," recalls Loesch, a veteran TV executive, currently executive chairman of the Kartoon Channel. "And if we lose them, what do we have?"
Jodi Delaney, executive director of the Foundation, understood the potential for loss and set a plan in motion. "I've worked with archives throughout my career," she notes, "and preservation of video material is crucial for its longevity."
A professional assessment followed, leading to a collaboration with the USC Digital Repository for the long-term preservation of more than 930 interviews, which are part of the initial legacy collection, as well as interviews captured later.
The importance of The Interviews is hard to overestimate. The collection runs from A (Debbie Allen) to Z (Alan Zweibel) and from pioneers to present-day icons. It also covers the full range of television crafts and professions, both behind and in front of the camera. Through an ongoing process, these conversations will now be digitized by the USC Digital Repository, starting with the legacy collection, a process that will take roughly three years.
"We build systems to get everything digitally preserved, regardless of the [original] media," Gustman explains.
Since 2006, USC has been the permanent home of the Shoah Foundation's Institute for Visual History and Education, which preserves interviews with survivors of the Nazi Holocaust and other, more recent genocides. The USC Digital Repository, Gustman says, was born from the technology used by the Shoah Foundation to care for all audio-visual collections of importance to the USC community. When the Academy's legacy collection is completely processed at USC, it will be compliant with archival best standards and practices for video preservation. For additional safekeeping, a backup of each interview will be stored in two separate, offsite locations. New interviews will be sent subsequently to USC for preservation; all content will be migrated to new files every three years and will be checked regularly for signs of degradation.
This spring, The Interviews got even more good news: the Foundation received a $350,000 grant from the National Endowment for the Humanities in support of the preservation project. The grant represents a significant endorsement — of more than 200 applications, the NEH funded only thirty-six. And to build on this strong base, the Foundation has established The Interviews Preservation Fund, which will permit long-term preservation while also expanding the scope of The Interviews.
"Our challenge is complex," says Jonathan Murray, vice-chair of the Foundation board and the founder of Bunim Murray Productions. "We have to capture the history that has already passed us, and we have to do a better job of representing parts of history that aren't in the collection. "We need more voices of people of color — we have catch-up work to do there. Also, there are people getting into their eighties and nineties whom we have yet to interview. And we have to try to capture what's going on now."
Murray understands the importance of The Interviews both as one helping fund their preservation (he held a benefit for The Interviews at his home in May) and as a subject. With his late producing partner Mary-Ellis Bunim, he created The Real World, launching unscripted series TV. Bunim died in 2004, and Murray was interviewed by Stephen J. Abramson in 2011.
"I've been interviewed about my work many times, but never with this depth and this precision," he says. "To do this with the idea that we are capturing history and we need to capture it well, it was a different kind of interview. I wish we had been able to do the interview while [Mary- Ellis] was still alive, so she could have added her perspective."
That urgency to capture subjects is not lost on Matz — though now that USC is hard at work preserving The Interviews, she is sleeping better. "I feel good that we're in the process," she says. "As I've said, we can't wait. These are long-format oral histories, first-person narratives. It's a primary source that is unparalleled."
Delaney is also feeling positive. "We're so grateful to have the community learn more about The Interviews and get behind its long-term health. It's satisfying to know that 100 years from now these conversations will still be crisp and clean, and viewers will still be able to learn from these television pioneers."
See more articles by Libby Slate about The Interviews here: https://www.emmys.com/news/foundation-news/an-oral-history-interviews