Remembering Ralph M. Baruch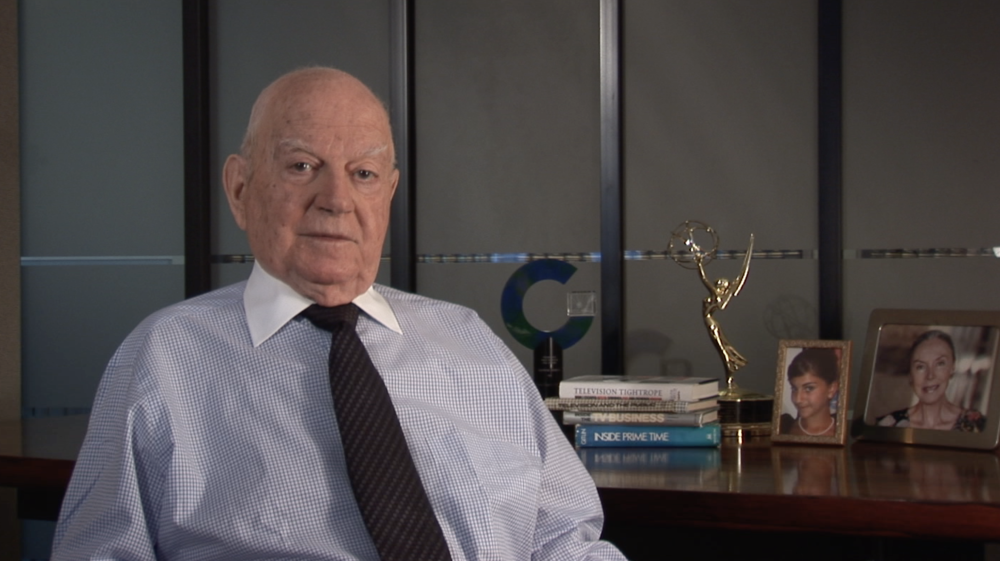 We're sad to learn that former Viacom Executive Ralph M. Baruch passed away on March 3, 2016 at the age of 92. Baruch's first job in entertainment was in sales at the Du Mont Network. He later transitioned to CBS' International Division, where he was part of the formation of CBS Films and Cinema Center Films. CBS Films then spun off from CBS and become a separate entity known as Viacom, of which Baruch became CEO until Sumner Redstone's takeover.
Below are some excerpts from his 2010 Archive interview:
On how the name Viacom came to be:
I got together with Frank Stanton about the name of the company. He said, "Well you do everything in communications, don't you?" I said, "Yes, obviously." "Well, Via Communications, how about Viacom?" Not VIAcom, VIAcom [pronounced Veeya-com]. I said, "Oh, I think that's a terrible name." And Frank Stanton says, "I like it." So the company was called Viacom.
On the difficulties of spinning off Viacom from CBS:
We had problems with the analysts, who after all decide a lot of the fate of these companies - whether the stock is worth anything or not. And based on the information they had, it wasn't worth a thing. A penny. And the spinoff was postponed a number of times. To my utter amazement, CBS asked us, at the time of the spinoff, to turn in our microwave licenses. In many of the services that we provide to cable customers, we got the signal of the stations via microwave systems. That's the only way you can put a cable in for 10, 20, 30, 50 miles. We had to turn in those licenses. CBS insisted. That was another big problem.
On the formation of Viacom:
At 1:00 somebody from the Federal Communications Commission calls San Francisco, the Court, and some clerk said, "No problem whatsoever." So I got on the phone to the lawyer in New Jersey, Ron Lightstone. I said, "Mail the shares." We dropped the shares in a mailbox. Once things are in a mailbox, you cannot take them out again. I called Washington. And Harry Profnick was our lawyer. I said, "Turn in the licenses." I used some expressions I don't want to mention here. "Turn in the licenses." Called California. And called Delaware. About a half hour later, San Francisco Court called and said there's an injunction against a spinoff. And we said, "You're too late. The deed is done." And that's how Viacom was born.
On what he'd like his legacy to be:
He ran a good company decently. Very good to his people. And saw some of the future, some of the industry, some of the businesses that Viacom started in, like Showtime and others, that was built for the future. What we did in Long Island with Viacode is being done now and controlled much better than we could have. So that's my legacy.
Watch Ralph M. Baruch's full Archive interview and read his obituary in The Hollywood Reporter.