Your Favorite TV Couples!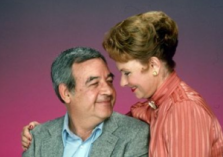 Sometimes a couple just has chemistry. You can't always define exactly why two people fit together so perfectly, but you can almost see the sparks fly when halves so seamlessly make a whole. Luckily for all of us, television has provided many of these terrific twosomes over the years -- couples that we can't wait to see argue and make up, scheme and fall flat, or visit with nosy neighbors. TV's power couples make us want to tune in week after week, or daily, if applicable, to watch magic happen over and over again.
Throughout the years we've been privileged to interview some of television's favorite couples. And although their on-screen romances didn't carry over into real life, these couples still displayed an awful lot of love and respect for each other when out of character. Have a look for yourself:
Sherman Hemsley and Isabel Sanford, The Jeffersons' George and Weezy:
Anthony Geary and Genie Francis, soap opera super-couple Luke and Laura of General Hospital:
Tom Bosley and Marion Ross, Mr. and Mrs. C (Cunningham) on Happy Days:
And last but not least, Dick Van Dyke and Mary Tyler Moore, Rob and Laura Petrie on The Dick Van Dyke Show:
Happy Valentine's Day, everyone! May you all find the George to your Weezy!
- Adrienne Faillace