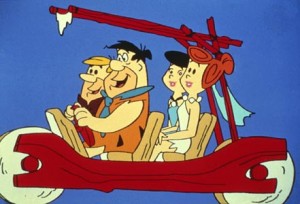 Fifty years ago today, The Flintstones debuted— the first made-for-TV primetime animated series in the US.  A twist on modern society, the series followed two working-class  couples who lived in the Stone Age (a premise not more than a stone's throw from The Honeymooners).  Featuring the voices of Alan Reed (Fred Flintstone), Jean Vander Pyl (Wilma Flintstone), Mel Blanc (Barney Rubble), and Bea Benaderet (Betty Rubble [1960-64]), the series was panned by Variety when it first aired ("routine," "one-dimensional," and "disappointing" were among the words used to describe the premiere).  Nonetheless, The Flintstones was nominated for an Emmy Award in its first season for "Outstanding Program Achievement in the Field of Humor," alongside The Jack Benny Show (the winner), The Andy Griffith Show, The Bob Hope Buick Show, and Candid Camera.  The series has endured as a pop culture phenomenon, even if its critical reception has been checkered— The Encyclopedia of Animated Cartoons describes The Flintstones as "probably the most heralded situation-comedy cartoon series" whereas David Bianculli opines "Personally, I never thought that much of the animation or the writing" in his Dictionary of Teleliteracy."
The Flintstones was a product of Hanna-Barbera and an example of the company's cost-cutting "limited animation" that concentrated more on story than elaborate backgrounds.  As a result, the show is remembered more for it's pun-laden humor and guest stars (such as Ann-Margret as "Ann Margrock," and Tony Curtis as "Stony Curtis").
Happy anniversary!
The Archive of American Television interviewed Joseph Barbera and excerpts of his Archive interview, and others, can be found at the Archive's The Flintstones show page.