"The Mary Tyler Moore Show" At 40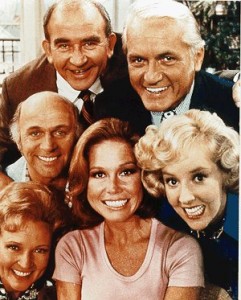 On September 19, 1970, The Mary Tyler Moore Show debuted and ran for seven perfect seasons. As part of a Saturday night line-up  considered among the best ever in TV (in the 1973-74 season, the other shows were: All in the Family, M*A*S*H, The Bob Newhart Show, and The Carol Burnett Show), the series was an instant classic.  For many years, it held the record for the most Emmy Awards won by a series (at 29); the show saw wins for ensemble cast members Edward Asner, Valerie Harper, Ted Knight, Cloris Leachman, Mary Tyler Moore, and Betty White.  As noted by The Museum of Broadcast Communications' Encyclopedia of Television: "The program represented a significant change in the situation comedy... As created by the team of James Brooks and Allan Burns, The Mary Tyler Moore Show presented the audience with fully-realized characters who evolved and became more complex throughout their life on the show."
The Archive of American Television interviewed creators Brooks and Burns, main series director Jay Sandrich, writers including Treva Silverman, and many of the series cast.  Click here to watch these interviews (and the show's premiere episode from Hulu) on the Archive's show page for The Mary Tyler Moore Show.
Additionally, see special curated spotlights on two classic Mary episodes: "The Lars Affair" (that introduced Betty White's "Happy Homemaker") and "Chuckles Bites the Dust" (considered one of the best sitcom episodes of all-time).