Remembering Robert Schuller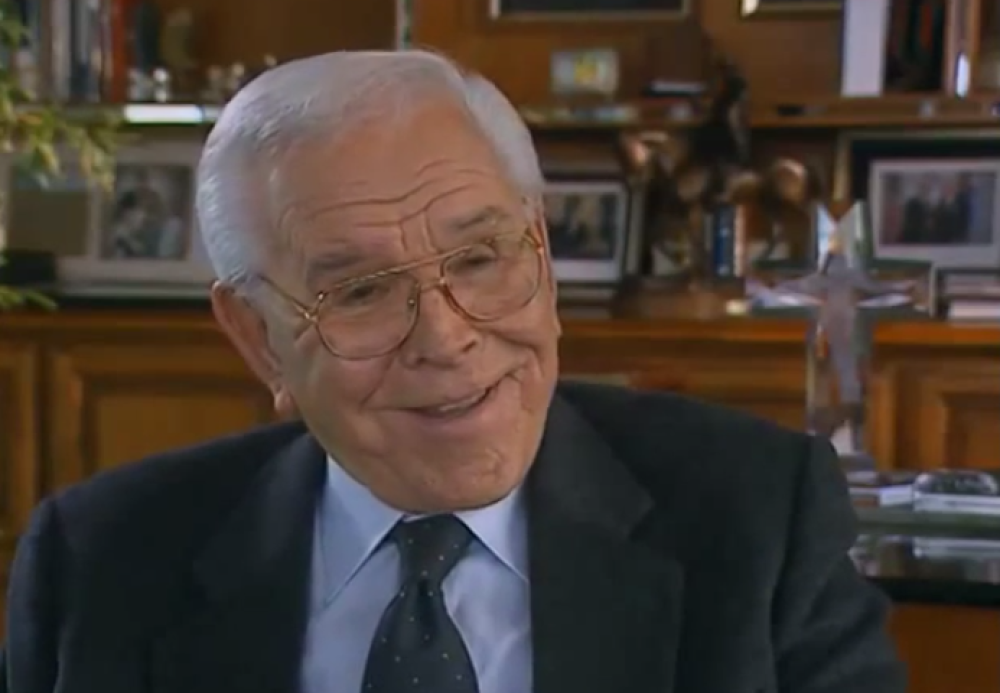 We're sad to hear that religious broadcaster Dr. Robert Schuller passed away on April 2, 2015 in Artesia, CA at the age of 88. Schuller grew up on a farm in Iowa, felt his calling to religion and eventually moved to California. He formed the Garden Grove Community Church, where he first preached to his congregants gathered at a drive-in movie theater. He transitioned to television in 1970 with his successful program, Hour of Power, which soon garnered worldwide distribution.
Below are some excerpt from his 2003 Archive interview:
On his early interests:
Talking. Talking to people. My brother used to say, "I hope you never become a farmer, because you'll fail. You better make money talking, or you'll never amount to anything." I had one hobby. That was fishing in a stream that went through our farm. I was the last of the children, eight years between me and the youngest, so I really grew up in solitude. I liked it. I liked to go to the river and fish. Watch the clouds through the sky. I fell in love with the sky, I think, then and there. I've been in love with the sky ever since.
On knowing he would be a preacher:
I was a month short of my fifth birthday when my mother's brother, who was a missionary to China -- he went to Princeton -- graduated, went to China. While he was there, he heard that his sister, two years older, was pregnant again. She was at an age where everybody thought she had her children, four in number, so everybody was a little concerned about her pregnancy. I would find out later, he prayed for his sister a lot, fearful for her and for the child that she would bring. I was born. When he came home on a furlough five years later, he would see me for the first time. He ruffled my hair and said, "So, you're Robert, are you? Well, you're going to be a preacher when you grow up." He just came back from China, and I love China, because I really feel my calling started there. It was there that a man, my mother's brother, got the vision that this unexpected child was special and it was God's plan that he should be a minister.
On his drive-in church:
When I came here - before I arrived in town - I was told by a denominational leader that there were no empty halls. Garden Grove was starting to explode as a suburb and you couldn't find an empty hall. Impossible. And driving out here, I remember, in a cafe in Albuquerque, New Mexico, thinking about "impossible" -- that's ridiculous. Suddenly, that word sounded like a very ignorant word. A very unstudied word. A very irresponsible word based on pure assumptions. I wrote, "Impossible? One, two, three, four, five, six, seven, eight, nine, ten. I'm sitting here in Albuquerque. I can give you 10 places where I could probably have it. Don't tell me it's impossible. Number one, rent a school building. They're closed on Sundays. Two, rent a mortuary chapel. They don't have funerals on Sunday morning. Three, rent a Seven-Day Adventist Church. Four, rent a Jewish synagogue. Five, Knights of Columbus hall. Six, seven, eight. Nine was rent a drive-in theater. I'll talk from the rooftop, talk to people in the cars, but don't tell me it's impossible. Number ten is rent an acre of ground, rent a tent, and rent some chairs, and hand out fliers and say, 'Hey! Come here, I got something for you.'" That's how it started. Every possibility struck out until I got to number nine. Went to the drive-in theater. He said, "Yes." The rest is history.
On where the title for Hour of Power came from:
Billy Graham. He had a radio program called Hour of Decision. He's primarily evangelistic, which is decision-oriented, and he said, "You're a church, and that should give them power hour of power."
On advice to aspiring religious broadcasters:
Well, be sure you've got a good word, first of all. I have a school of preaching here for preachers, and we say to be an effective, preachers, it's four Ms. It's first, look at the minister himself. Make sure you're not carrying a lot of secret garbage in your head and in your memory system, because it will Freudian slip out. You can do more harm than good. Make sure the cup is clean before you fill it with water and pass on. The man, the messenger, then the message. Make sure you've got a healthy message. Lots of religion is taught by all religions. All religions. No exceptions. You'll find religion taught that's toxic. Not healthy. Making sure the message is positive and healthy. Then make sure the method is wholesome. What does that mean? Communicate in a way to get your point across without insulting the person you're talking to. Assume they're smarter than you are, and don't play one-upmanship games as a public performer. Affirm them. That's the method. And not just verbally, but paraverbally. Paraverbally. Method. Then the milieu. Remember who you're talking to. There aren't people that are going to agree with you all the way. Maybe some will, but you have to assume that they're thinking people, so treat them like people who think. OK?
On how he'd like to be remembered:
As an encourager. In a word, that's what I'd like to be remembered as, someone who encouraged people. Because that's what I've been doing, and you can always know what a preacher's weakness is by what he's preaching about all the time. If I was constantly preaching against the sexual sins of the world, you'd know what my problem is. I am preaching to people who need to be encouraged. I'm preaching to me.
Watch Dr. Robert Schuller's full Archive interview and read his obituary in Deadline.