Remembering Mickey Rooney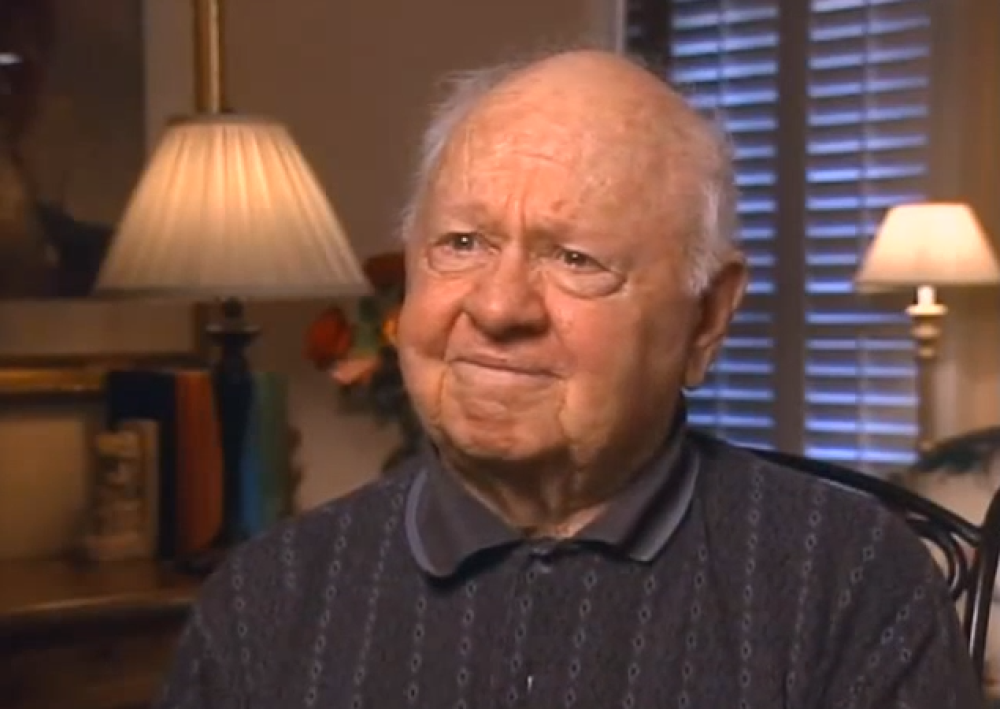 We're sad to hear of the passing of actor Mickey Rooney, who died yesterday, Sunday, April 7, 2014, at the age of 93. Rooney was a film, stage, and television star, garnering four Oscar nominations throughout his lifetime and winning one Emmy (for his performance in the TV movie Bill). Though he's perhaps best remembered for his movie roles in the "Mickey McGuire" and "Andy Hardy" films, Rooney made several memorable television appearances, including those on Playhouse 90's "The Comedian" and Alcoa Hour's "Eddie." He also had a short-lived sitcom, Mickey, and appeared on the very first episode of The Judy Garland Show.
Below are some excerpts from his 2001 Archive interview:
On his start in entertainment:
I was back stage and I went out on the stage one day with a little harmonica, with the three notes, and my father was doing what they called a boot box scene - they're sitting getting their shoes shined - and the resin on the stage from the dancers made me sneeze. I sneezed and my father heard it, and he went back at the boot box and he pulled me out in front of the audience, and he said, "what are you doing back there, Sonny?" He called me Sonny, and I said, "I don't know, Papa." He said, "What's that on your neck? I said, "this is my harmonica." And he says, "can you play it?" I said, "sure." And then toot-toot-toot-toot and everybody laughed, and I looked over on the side - my mother was over there going, "what are you doing out there?" My father was afraid she was gonna smack my rompers. I went off stage, and Dick Sisler the manager said to him, "Joe, why don't we leave the kid in the show?" And he said, "no … he's too young, maybe a little later on." So they waited for about two, three years, and then they put me in the show.
On starring in the "Mickey McGuire" shorts:
We made about 35, 40 or 50 of them, and they were just on reelers. Then that became a reel and half, I think that's all there were. But there were a lot of dogs and cats, and a lot of goats, and a lot of animals. We made it down by the Los Angeles River in those days. Boy, they had red ants and they used to bite us something terrible.
On the "Andy Hardy" movies:
Well that was when I was under contract with Metro Golden Mayer, and they just got the series put together… Mr. Mayer thought it was a wonderful series to have the family, he was always family oriented, and he wanted to have a family oriented in the "Andy Hardy" pictures. So the first "Judge Hardy" was Lionel Barrymore, and he only did one, and then we had Lewis Stone who continued on, on and on. It was wonderful working with him, and he was a wonderful man.
On working with Judy Garland:
She was a wonderful girl, and we knew what we were going to say before we said it to each other. We were great friends, and I know that the world is saddened by having lost Judy.
On winning an Emmy for his performance in the TV movie Bill:
Bill Sackter was his name, and he was a wonderful man, and he had trouble. Now why they wanted to do it, I don't know, but I did it, and I won the Emmy for it. My wife was with me - Jan was with me - and that was a wonderful moment for Jan and myself.
On advice to aspiring actors:
On how he'd like to be remembered:
That I was a nice guy and that I tried. I did my work well.
Wacth Mickey Rooney's full Archive interview and read his obituary in The New York Times.