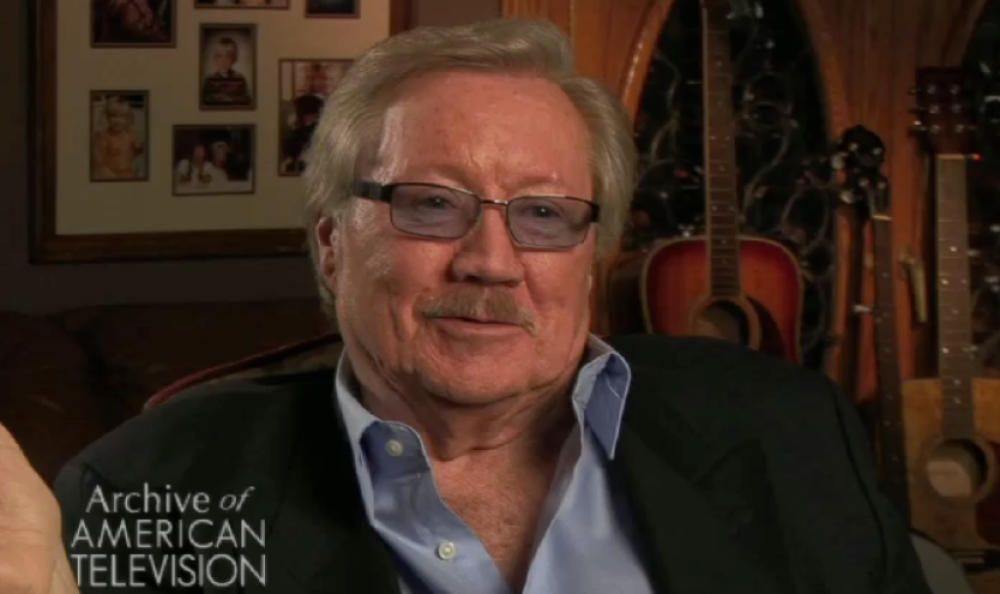 Prolific writer/producer Glen Larson passed away on Friday, November 14, 2014 at the age of 77. In his early years, Larson was a member of the popular musical act The Four Preps. He served as an NBC page, and soon worked his way up to story editor and producer on It Takes a Thief. He wrote for McCloud and created several memorable and beloved series, including Alias Smith and Jones, The Six Million Dollar Man, B.J. and the Bear, Lobo, Battlestar Galactica, Quincy, M.E., Magnum P.I., and Knight Rider. He wrote many of the theme songs for his shows, and also worked on Manimal and Trauma Center.
Below are some selections from his 2009 Archive interview:
On performing with The Four Preps on American Bandstand:
We developed a great relationship with Dick [Clark]. I had my first solo in the group and the audience is laughing and I don't know why. Dick Clark is on his hands and knees and he's - you've seen that kind of plastic stuff that's supposed to resemble something unmentionable on the air if you're either ill or you have a dog or whatever - he pushed this stuff out in front right underneath me. I'm convinced that my fly's open because the audience is screaming… But anyway, things like that went on all the time.
On creating The Six Million Dollar Man:
The Six Million Dollar Man was a failed pilot. It was called Cyborg. One day I'm sitting with Michael and Frank Price calls me in and he says, "You have a new show." And I said, "Oh." He says, "But you can't say anything yet because the people who did the pilot don't know that we're going to go off in another direction." So I sat down with Frank and in like a page or two, just re-examined where we were going, and what went wrong with the other one. I went off to a cabin I had next door to Dennis Weaver and wrote the pilot for The Six Million Dollar Man and added in a lot of the other things that he could do with eye, and found ways to do the running so that it would look fast. So that started a whole new adventure and started a relationship with Lee Majors.
On coming up with the name "Battlestar Galactica:"
We actually put together probably 200 names from almost everybody on the lot. We were sending them around to see what people liked. "Galactica" is now so common for science fiction and throughout it. And I've been doing a lot of reading recently. The nickname of the show is really "Galactica." That's what everyone uses. But it's about a battleship, a surviving battleship and you could say starship, you could say battle star… we came up with that title to sort of give it a spin that was both commercial and told the story. It's the last surviving war ship that could help guide this wagon train.
On creating Magnum, P.I.:
Robin Masters was the name of our character in the show, but it's based on Harold Robbins who had houses everywhere, but he was always traveling so he was never at them. So that's where I got Robin Masters from. And the Ferrari and everything - I was always a little annoyed because I picked this Ferrari 308G, ZT. So Ferrari gives Tom the car. How is that fair? Could have picked anything. Tom is one of the sweethearts of all time. He was just really a good guy and loved the show and he really became Mr. Hawaii. It affected the tourist business like crazy, because we knew a young couple who owned a restaurant there that saw Hawaii on television and moved there and opened a restaurant. So sometimes the work you do has repercussions you don't know about. Hawaii's still due for a good show. Anyway, that's the basics of it. It was Don [Bellisario] who picked Mike Post to come and do the theme, which I thought was a great theme. And that's the story of Magnum P.I.
On advice to aspiring writers:
Write. I have a couple of kids of my own and they have the same problems any other kid will have starting out. They're not sure what they should write, and boy I have fits talking to them about my notes or whatever else. The most important thing is to write. You just have to get in there and do it. And don't be afraid to submit stuff on spec or try to get that meeting. To be relentless is the number one thing - to have drive. It ain't going to come to you, except rarely. You really have to push, and I'm not cynical about people trying to steal your ideas. We all know that there are people who are victims of very poor memory and they go from your meeting to another meeting and come up with something you just pitched them. That's happened to me, but I don't think that's the rule, I think that's the exception. It is tough sometimes when you're dealing with people that you think maybe really don't have a grasp on your point of view or what's really good, etc., but you win if you're there. Frank Price used to say, "You can't win if you're not there." I used to love that advice. He also had a great one, he said, "Don't get mad, get even," and he used it throughout his career.
Watch Glen Larson's full Archive interview and read his obituary in The Hollywood Reporter.