Remembering Frank Gifford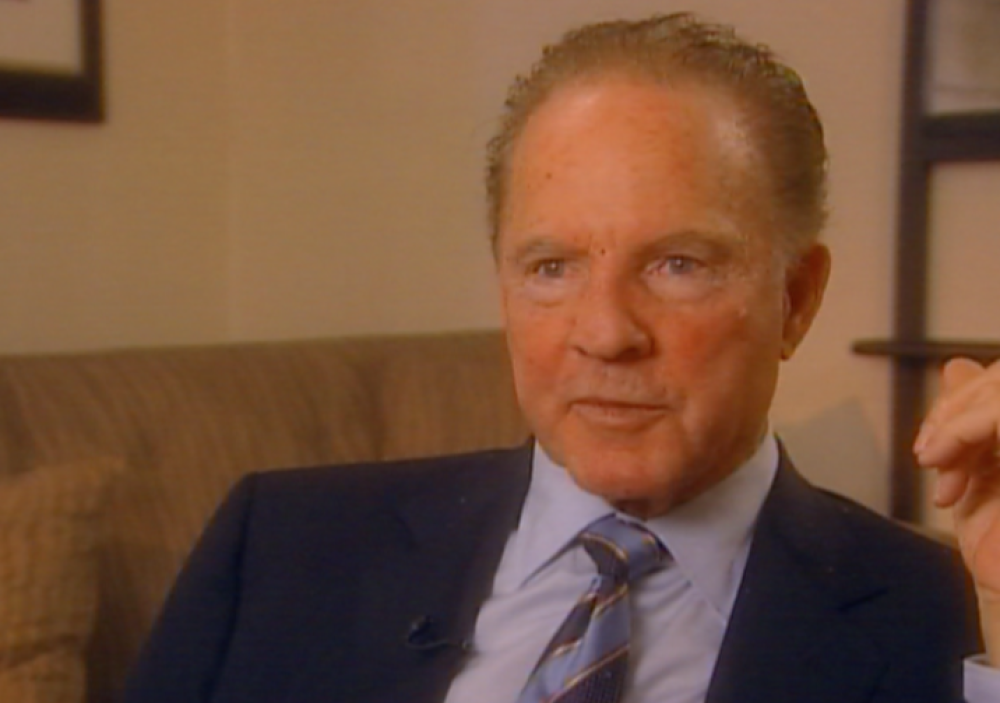 We're sad to learn that sportscaster Frank Gifford passed away yesterday, August 9, 2015, at the age of 84. Gifford enjoyed a long career on the football field, playing for the New York Giants, and off the field, calling games from the booth as a sportscaster for CBS and ABC. Gifford reported for the first Super Bowl, covered the Olympics, and co-hosted the iconic ABC sports show, Monday Night Football for many years. Among the stories Gifford covered: Evel Knievel (for Wide World of Sports) and the terrorist attack in Munich at the 1972 Olympics. He also frequently filled in as co-host on Live with Regis and Kathie Lee and Today with wife Kathie Lee Gifford.
Below are some excerpts from Gifford's 2006 Archive interview:
On his first pre-game show in the 1950s, when football started to get very popular:
All of a sudden pro football was growing up, and when pro football really exploded was in 1956, when we played the Chicago bears for the NFL championship in New York, our first year in Yankee Stadium, and we beat them 47 to 7. All of a sudden people knew who we were. We couldn't walk down the street without somebody saying, "Hey," "Hi," pushing the baby cart, and it didn't matter. It was a wonderful, wonderful feeling, having gone through '52, '53, '54, and then things changing really when Lombardi came in in '54, and you knew things were going to get better, and they did get better. Tom Landry was our defensive coach. Vince Lombardi was our offensive coach. And if you don't follow football, these two guys are both in the Hall of Fame and were great, great coaches. They're in the Hall of Fame as coaches. So they made the difference for us. They turned us around. We had a wonderful season in '56, and we beat the Bears. All of a sudden we couldn't walk down the street. And naturally some of the media entities got involved in it, and Kyle Rote had his radio show at WNEW, and the next year, actually I was doing it that year, a show with Chris Schenkel, who was the broadcaster of the Giants game on television, and he and I had a pre-game show, The Frank Gifford Show, with Chris Schenkel. We had a little board that we used, and I had like chess players, only they were football players, and I diagrammed the plays we were going to run, and of course it was all nonsense, but it was my first taste of that.
On the first time he met Howard Cosell:
On working with Howard Cosell and Don Meredith on Monday Night Football:
When people think of me as it relates to Monday Night Football they think of Howard and Don, although there were many broadcasters I worked with over the years. I think what cemented Monday Night Football in the minds of the viewing public, particularly the sports viewing public, was the three of us. We each had kind delineated what our role was. We just sort of found it; it was the strangest thing. Howard would get off on his nasal sort of a twang, he had the big city accent, he had the New York accent, and he'd make these pronouncements from on high, and, of course, sometimes it worked, sometimes it didn't, and most cases he had no clue what he was talking about. And when he got into the personalities he was fine, because he had a good understanding of human nature, very little about sports, even though that was what he made his career on. But he had a great mind. He had unbelievable recall. And Don had that way of just puncturing this city slicker balloon in front of thousands of millions of people. Howard might be pontificating on something, and all the sudden Don would say, "Oh, come on, Howard!" And that was it, all he would say. But the next morning I'd be walking down the street or something -- "Did you hear what Don did to Howard last night? Oh, Frank, did you...? Boy, he really got him, didn't he?" And I started thinking, "What in the world is going on here?" It was the interplay between the three of us that was not planned, it just happened, and it was a very simple thing, and it was probably very simple to Roone Arledge, who knew what he wanted in almost every phase of his career, and he was brilliant. But it was fun and we had a great time, and I guess it changed the pattern of home viewing on television. It certainly changed programming for the networks who programmed on Monday night, and I would say the NFL has just grown from there.
On how he'd like to be remembered:
Watch Frank Gifford's full Archive interview and read his obituary in The New York Times.