Producer Lee Rich Dies at 85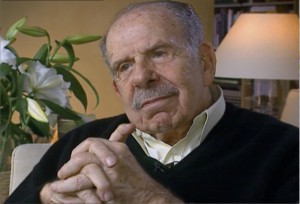 The Archive is sad to report the passing of Lee Rich, best known as one of the founders of Lorimar Productions. Rich served as executive producer on The Waltons, Eight is Enough, Dallas, and Knots Landing. Earlier in his career, he worked for advertising company Benton & Bowles, where he helped package The Danny Thomas Show and The Dick Van Dyke Show. He left advertising to form Mirisch-Rich Productions, where he produced Rat Patrol and Hey, Landlord; briefly returned to advertising at the Leo Burnett Agency; and then formed Lorimar where he remained until 1986, when he became Chairman of MGM/UVA.
Here are some selections from Rich's 1999 Archive interview:
On packaging shows at Benton & Bowles:
We had to explain to clients what television was all about. We had to explain to them what would happen to their sales, and it wasn't as easy as everybody thought. It was fine to say, "hey I've got a great show," but if it doesn't do well, forget it. The Dick Van Dyke Show was that far from being canceled… We would try to get clients into television spots before we got them into programming. Because then we could prove to them that their market share was going up. And then it was like a child growing up. Everybody had to learn; everybody had to make mistakes. Everybody was extremely competitive. But the end result was an advertiser had to feel comfortable and his sales had to be up.
On the relationship between Benton & Bowles and the networks:
Well in those days we were the largest place; we placed the greatest amount of television of any advertising agency in the country and had tremendous clout over the network. Really tremendous clout. Our clout came from obtaining time periods that were advantageous to us. For example, on Monday night from eight-thirty to ten o'clock was all General Foods: Danny Thomas, Andy Griffith, and Gomer Pyle, they were all General Food shows. Then Procter and Gamble had time periods of their own, on NBC and on ABC. But that was where the strength came in, that was the clout that we had in placing the television shows.
On how The Dick Van Dyke Show was brought to Benton & Bowles:
Carl Reiner did a pilot, which he starred in it and it was basically The Dick Van Dyke Show. He then brought that pilot to us and we all recognized that the idea was a great idea, but Carl was not right for it. We talked to Carl and Carl recognized that he wasn't the star for it, but he did write it. We talked about doing it and finding somebody else to play the lead, and we talked about a lot of people, and we finally came down to Dick Van Dyke. They flew into New York, met me, we watched Dick Van Dyke in "Bye, Bye Birdie," and we then met with him after the theater, and that was it. We hired Dick Van Dyke.
On the origin of Dallas:
On the storylines on Knots Landing:
In many ways Knots was, except for Larry Hagman, Knots was a better show than Dallas. More real story lines, and we had female villains. We had Donna Mills. I remember when we cast her, I said to her, "you want to be a villain?" And she said, "Great!"
On his proudest achievements:
Watch Lee Rich's full Archive Interview here, and read his obituary in Deadline here.