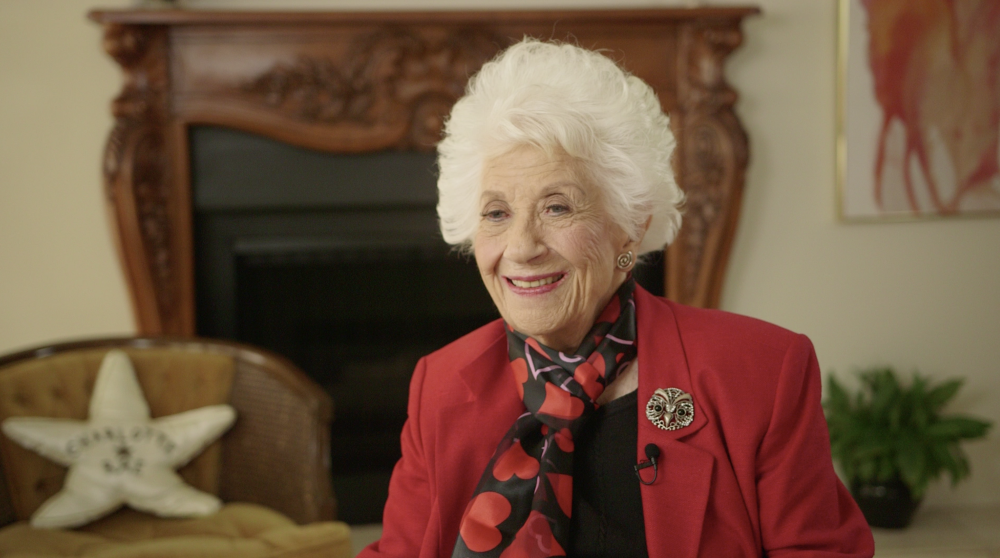 Charlotte Rae became a household name playing Mrs. Garrett, first on Diff'rent Strokes and then for seven years on The Facts of Life. But long before that she was a well-respected character actress on some of TVs most memorable shows. It was our pleasure to sit with Charlotte for a few hours one day last Fall and hear the stories of her long and illustrious career.
The Early Years
Charlotte got an early start in acting, joining the North Shore Children's Theater as a teenager. She then went to college at Northwestern University to study drama. Her classmates included Cloris Leachman, Paul Lynde, Agnes Nixon, Charlton Heston and songwriter Sheldon Harnick, who went on to write music and lyrics for Fiddler on the Roof. She honed her craft doing comedy sketches with Paul Lynde in the Waa-Mu show, a Chicago precursor to Second City.
After college she moved to New York City where she got an agent and began doing off-Broadway (Three Penny Opera), Broadway (Li'l Abner) and live TV. In this clip below she talks about a mishap during a live broadcast while filming an episode of Appointment with Adventure.
The Phil Silvers Show and Car 54
In no time at all Charlotte was a regular on TV with appearances on Armstrong Circle Theatre, Ponds Theater, NBC Television Opera Theatre, The Philco-Goodyear Television Playhouse, The Ed Sullivan Show, and more.
She was cast on two episodes of The Phil Silvers Show where she met Nat Hiken who would give the actress her big TV break as a recurring role in the hit series Car 54, Where Are You?. She credits Hiken's genius with making the show a success and for matching her up with her on-camera husband Al Lewis, who played Leo Schnauser to her Sylvia.
Commercial Work
While these early works were popular at the time and certainly garnered Charlotte a lot of attention, it was perhaps her '70s commercials that made her recognizable to average Americans. There was the commercial for Oil Heat where Charlotte was showering while proclaiming her love for the dependable, hot water. In another she had her head in the oven and stated, "Mr. Muscle, you're a good man to wake up to." But maybe the most memorable was her stint as the grocery shopper buying toilet paper who couldn't help but squeeze the Charmin. In this clip from our interview, she recalls that campaign.
The Mid-'70s
In the mid-'70s Charlotte had two of our favorite TV roles of her career. In 1975, she played Mrs. Bellotti on the short-lived and incredibly under-rated Hot L Baltimore — a Norman Lear classic way ahead of its time with a cast including a gay couple, two prostitutes and a black revolutionary. She was the mother of an off-beat son, who was never seen, yet her vivid descriptions of his antics brought his off-screen shenanigans to life — from buttering the walls of the hotel hallway to training circus fleas in his room (demonstrated by a gesture of a little teeny, tiny whip).
One year earlier she appeared on All in the Family, in an episode that focused on Edith. While Archie was away, Edith threw a Tupperware party. Charlotte played Lilian Henderson, the Tupperware lady. Edith was so anxious about her speech, nervously practicing her opening remarks, "We welcome you with open arms!" But when Lilian was there in front of her, the words didn't come out quite right. Hear Charlotte tell the story in this clip.
Mrs. Garrett
Just a few years later Charlotte got another call from Norman Lear, this time to play a housekeeper on a new show about a rich Manhattan businessman who adopted three black children. By the end of the first season of Diff'rent Strokes, Mrs. Garrett was such a hit, that the network spun her off onto her own show featuring a few young actresses who would stay with her for the next seven years on The Facts of Life. While she has continued to act since the show went off the air, it is Mrs. Garrett that is etched in the memories of America's TV viewers.
Watch Charlotte Rae's full Archive interview.