From the Collection: July 2019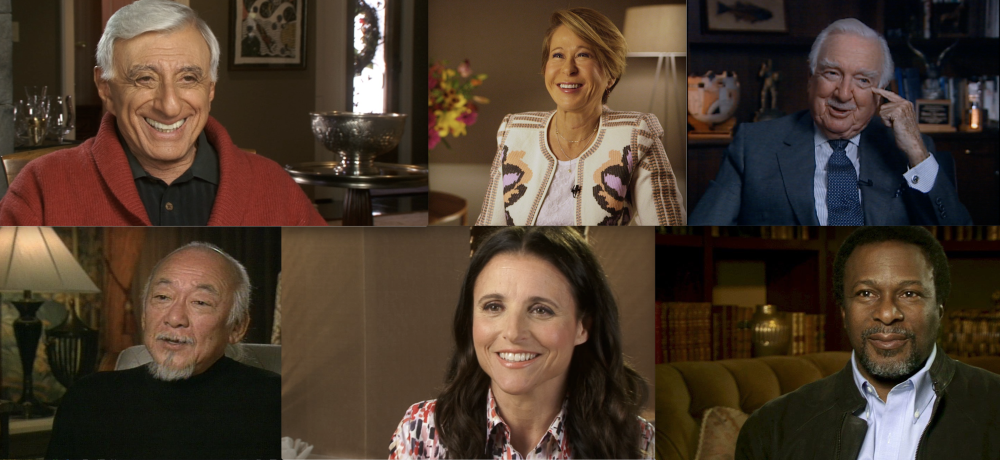 We hope your summer is off to a great start! 30 years ago, on July 5, 1989, a little sitcom then-called The Seinfeld Chronicles made a summer debut on NBC. And of course, Seinfeld went on to be one of the most popular and innovative shows of all time! We have some excellent interviews on the series, including Julia Louis-Dreyfus, Jason Alexander, Jerry Stiller, and behind-the-scenes folks, like editor Janet Ashikaga, director Tom Cherones, production designer Thomas Azzari, and more!
Happy Days ended 35 years ago – in July of 1984! We've got lots of great interviews on the show, including creator Garry Marshall, Ron Howard, Henry Winkler, and Pat Morita, who played "Arnold":
July 20 marks the 50th anniversary of the Apollo 11 Moon Landing. Walter Cronkite, who had been an aviation and space exploration enthusiast for years before the landing, shares his thoughts on the significance of that event:
"Man landing on the moon was the great story of our century, I believe. The great single story of the century was man escaping his earthly environment and landing on a distant orb in that fashion. I had just as long to prepare for that as NASA did. At the moment when it came, I found myself speechless. 'Oh, golly,' was all I could say."
A few big birthdays this month are M*A*S*H's Jamie Farr (turning 85 on July 1), The Simpsons' Yeardley Smith (turning 55 on July 3), and legendary show creator and producer Norman Lear, who turns 97 on July 27! Here's our tribute to Lear and his remarkable career:
Other birthdays this month, including Diahann Carroll, director Thomas Carter, Lisa Kudrow, and Edie Falco!
One year ago, in July 2018, we had the honor of interviewing actor Hal Holbrook. And since July is really the heart of summer, here is Mr. Holbrook talking about the 1972 television movie That Certain Summer, which was groundbreaking for its time because it featured sympathetic gay characters:
- Jenna Hymes