Dallas 2012: The Ewing Boys are Back in Town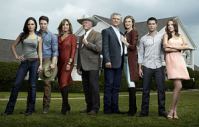 It's been 21 years since Dallas left the air, but tonight, the boys of Southfork Ranch return in a reboot of the popular series. J.R. and Bobby Ewing are back, along with their sons, John Ross and Christopher, and of course, Sue Ellen (Dallas just wouldn't be Dallas without her.)
The original Dallas premiered in 1978 and ran through 1991. Executive Producer Lee Rich describes the origins of the program in his 1999 interview:
Larry Hagman (J.R. Ewing) recalls the now infamous "Who Shot J.R.?" storyline:
And speaks of where we left off with the finale of Dallas:
Here's where tonight's version picks up:
Looks like J.R.'s back and badder than ever. We wouldn't expect anything less.
For more on the original Dallas, visit our show page and creator David Jacobs' interview (Jacobs isn't involved with the reboot.)