Calling all "Dallas" Fans - Larry Hagman to auction off personal memorabilia on June 4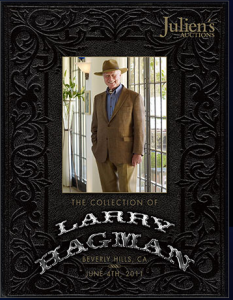 Actor (and Archive of American Television interviewee) Larry Hagman has put some of his memorabilia up for auction--  including Dallas memorabilia and furnishings from his California estate as well as items from the estate of his mother, Mary Martin.
According to the catalog: choice TV memorabilia items include Dallas scripts (estimates ranging between $250 to $800), games, trading cards, photographs, instruments, and clothing. There are also a variety of awards and items representing Hagman's interests in various causes, including anti-smoking campaigns, organ donation, solar power, Harley-Davidson Bikers Against Diabetes, the Ojai Festival, and more.
Sadly, there were no original I Dream of Jeannie items to be found....
The beautifully illustrated catalog and details about the online and live auction (in Beverly Hills, CA) can be found online at http://www.juliensauctions.com/auctions/2011/larry-hagman/index.html. It's well worth a look!
Direct link to auction catalog: http://www.juliensauctions.com/auctions/2011/larry-hagman/icatalog.html