April 17, 1967... Fifty Years Ago Today "The Joey Bishop Show" Debuted On ABC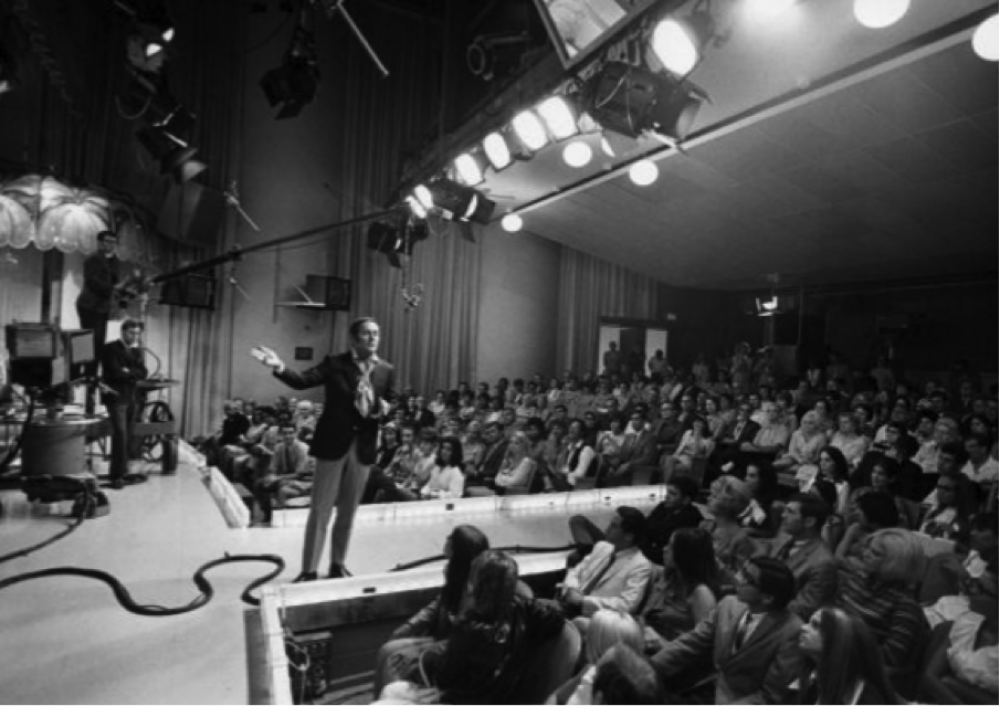 ABC's conversations about getting serious in late-night programming began in the fall of 1966. Coincidentally, or not, that was around the time they bought the great 1313 Vine Street studio facility that Don Lee had built. There were four huge audience studios and plenty of room for lots of new shows.
But who could they put up against Johnny Carson that had a chance of winning some of that audience? Well, since everybody adored the Rat Pack and pack member Joey Bishop had guest hosted Tonight over 150 times for both Jack Paar and Johnny Carson, what about him? I mean he even had a four-year run on NBC and CBS with the original Joey Bishop Show sitcom where he played...wait for it...a talk show host.
Before this, ABC had dabbled in late night with The Les Crane Show for a few months in '64, and later Nightlife in '65, but nothing stuck. Now ABC was ready to try again. Even though the network did not come close to having the number of affiliates NBC had, at least there was no talk show competition from CBS. The Tiffany Network did not get involved in late-night talk until August of '69 when Merv Griffin went against both Carson and Bishop, which hurt Joey more than Johnny.
With Bishop hired, they needed a sidekick and announcer for the show. Regis Philbin recalls the first-hand story of how he met Joey, what Bishop's fears were about hiring him - an established talk show host as a second banana - and at 28:15 comes Regis' own description of why he walked off the show live one night in July of '68.
Another part of getting the show on the air was hiring the writing staff. David Pollock and Elias Davis wrote for the show and shared how difficult the job turned out to be. Joey did not have a definable persona to write for and things often got testy.
Thinking back on the tension in the job interview Regis experienced, it is most enlightening to watch a few minutes of the show. Here is a clip from May of 1968 that allows you to draw your own conclusions.
As mentioned at the top of this story, ABC had just purchased the great 1313 Vine Street location in 1966 to take some of the pressure off their studios at Prospect and Talmadge. Here is the building which ABC called the Vine Street Theater. Public broadcaster KCET leased one of the four large studios (Studio 2) and ABC had the rest.
The Bishop show came from Studio 1 and as you can see in the layout and pictures, it was a wonderful facility - the first building ever built especially for television and radio. The Dating Game, The Newlywed Game, Password and more were also done here. The color cameras were GE PE 250s and 350s. In the diagram, Vine Street is at the bottom.
Before we get to what I think is one of them most interesting coincidences in show business, I want to point out a few things that speak to the personalities of both Joey Bishop and Johnny Carson and possibly why one of them succeeded in late night and the other did not.
After Bishop passed away in 2007, it was revealed that he had harbored a simmering resentment against Carson for something that happened at a benefit three years before Bishop's ABC show debuted, even as he guest hosted for Carson.
On June 20, 1965 the Rat Pack had performed at The Keil Opera House in St. Louis, but Joey, their usual master of ceremonies was sick and not able to join them. At the last minute, Carson was asked to sub for him. Below you can see Johnny deliver the line that caused Bishop's anger.
As Kathleen Tracy writes in her book, Regis: The Unauthorized Biography, Bishop complained "I was in the hospital and I'll never forgive Johnny for saying that I hurt my back bowing to Sinatra! He was way out of line. If he wanted to say that, he could have also said 'Joey, get well.' Johnny didn't know his place that night."
On the other hand, coming out of the April 1967 AFTRA strike and the big dustup with NBC over his salary and more control of Tonight, Carson chose to sit out an extra week, as not to interfere with Bishop's April 17 debut on ABC. This Chicago Tribune writer, Norma Lee Browning, did a week-long string of stories on Carson, and was the only major reporter he allowed to interview him that busy month. Here is her story on Johnny and Joey.
Even with a clear-path debut week, The Joey Bishop Show had some odd setbacks. Their first guest was California Governor Ronald Reagan who was 15 minutes late for their live show. For some reason, fellow Rat Packer Frank Sinatra never came on the show, while all the others did. Speaking of "Ol Blue Eyes," Bishop had claimed many times that Frank was the one who discovered him, when in fact, it was Vic Damone.
Even though Vic knew Joey had given Frank the discovery credit, Damone and Bishop were still friends and he still visited the show a few times a year.
Now, this is where things get a bit eerie!
Earlier, Regis talked about his famous/infamous July '68 walk off, but unbelievably, it happened again! This time it was Joey and this time it was not a stunt.
Believe it or not, Vic Damone was a guest on both shows!
From his book, Singing Was The Easy Part, here is Damone's first-hand account of both incidents:
I was the first guest that night and was watching from the wings as Regis introduced Joey, and Bishop went into his monologue. Then, Regis went out again and instead of their usual patter, Regis started to talk about how his presence was possibly hurting the show's ratings and not wanting to drag the show down, he had decided to quit. Then, Regis walked off stage, right by me and I'm the first act up for an audience that had just lost the mood.
Now, the truly strange thing was, a year or more later, I was back as the first guest again. Again, I was watching from the wings waiting to go on. Regis had introduced Joey as usual and now, was standing there with me watching Joey on the monitor. Bishop started his monologue with this; "Forks, you've been a wonderful audience, but my agent has been talking with ABC and it looks like we just can't come to any kind of agreement on a new contract. So, I've come out here to say goodnight and goodbye."
Damone and Regis were asking each other what that meant, and Vic told Regis if Bishop meant what the thought, Regis would have to take over and finish the show, but not to worry because he would do anything Regis wanted, and he had his band with him, too, so they could fill the time with no problem, which they did.
Damone continues that while he and Regis were talking and watching the monitor, "Bishop said something about going home to dinner and his wife and then he walked off stage, right by where we were standing, without even glancing at us. He didn't say a word...just walked right out the exit and then there was dead air."
That was Friday, December 26, 1969 and that was the end of The Joey Bishop Show. Over the weekend, "a few calls were made" and by the following Monday night, Dick Cavett had taken over, doing his show from ABC's TV-15 (The Elysee Theatre) in New York, where his three-night-a-week ABC primetime show had come from. That had ended in September of '69 and gave Dick just the rest break he needed before stepping in for Bishop. The rest, as they say, is history!
-Bobby Ellerbee, Eyes of a Generation
For the only published history of ABC's West Coast Studios, click here!