You better BEE-lieve it: Sam Bee on The Daily Show, launching Full Frontal, and more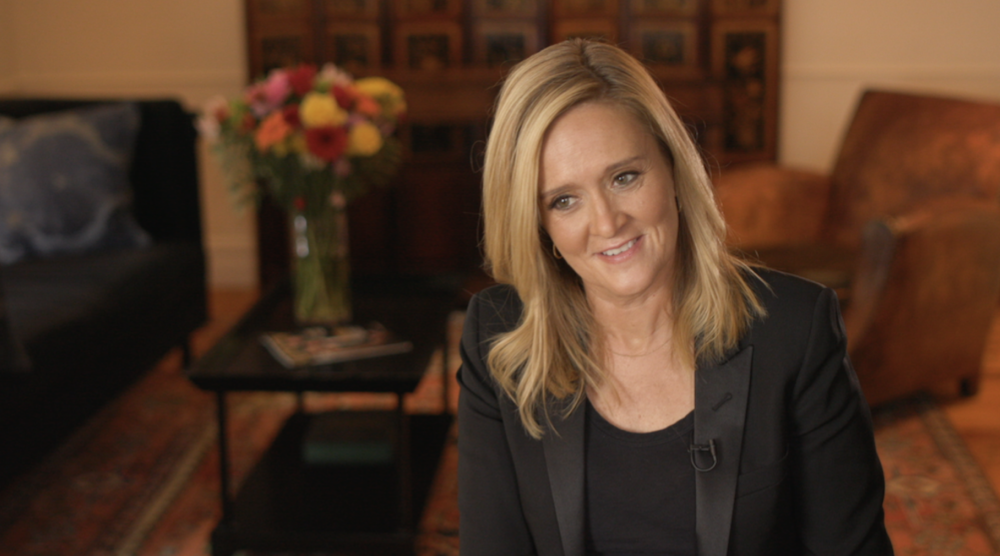 We were very excited to sit down with host/comedian Samantha Bee in New York City in October, 2019. American audiences likely first met Bee as a correspondent on The Daily Show with Jon Stewart when she joined the cast in 2003 and made an indelible mark, whether it was interviewing gay penguins or a self-coined "homonausic" candidate for Congress. After leaving the show in 2015, she developed Full Frontal with Samantha Bee, a weekly comedy show with a unique, biting perspective that only Bee can deliver. You can watch her full two-hour interview here.
We also reached out to Bee in May 2020, to get an update on how she has been coping during the COVID-19 pandemic. She is still shooting her show weekly, from her backyard:
Q: How are you coping with the new normal during this pandemic? What does a typical day look like for you?
We feel very lucky to be able to work and remote learn from home, so we are not in any way taking this for granted. Still, most days begin by reading the news at 5am and then it's 7pm and I'm sporting a side ponytail that definitely began the day as a regular one, and standing over the sink eating spaghetti. How did I get here? Who made the spaghetti? Is the President shouting nonsense in front of a helicopter? OK day's over, folks.
Q: How have you adapted to the restrictive conditions (such as New York's "safer at home" mandate) of the current times?
I think that we adapted relatively quickly. We were able to get the show safely up and running within a week or two, but it has been...humbling to perform the show solely for my husband and children out in the forest. My kids have an intuitive understanding of what is working and what isn't. They are definitely like: "Did you want to try another take of that one?" Also my internet service is not all that reliable, so on a personal note uploading footage every week is a real nail biter.
Q: What's been the impact of COVID-19 on the show?
I actually think everyone at the show has done a remarkable job adjusting to the new normal. We are, of course, trying to figure out how to make the technology as fulfilling as being all together in an office making comedy, but we are here for the journey, and grateful to be working.
Q: Do you have any new insights or perspective on the importance of your job, and the value of what you do?
If anything, I feel like I have one of the least important jobs right now? Still, if all of us working in this weird new way provides our audience with 21 minutes of catharsis once a week? I'm good with that.
Q: Do you think there will be a lasting impact on your profession-- and is there anything you'd change about your show when you can return to working in a studio?
It's hard to say right now, but I DO know that our first official studio audience to come and see a taping in the future is going to feel CHERISHED. Who knows when that will be? But whether a live studio audience is three months or a year away, those people should brace themselves to receive a torrent of love and appreciation. And free t-shirts.
Enjoy some excerpts from her 2019 interview:
On having a blind hiring process on Full Frontal with Samantha Bee and why it's so important:
On her most memorable moments as a correspondent on The Daily Show with Jon Stewart:
Watch Samantha Bee's full 2019 interview here.