Yeardley Smith: in her own voice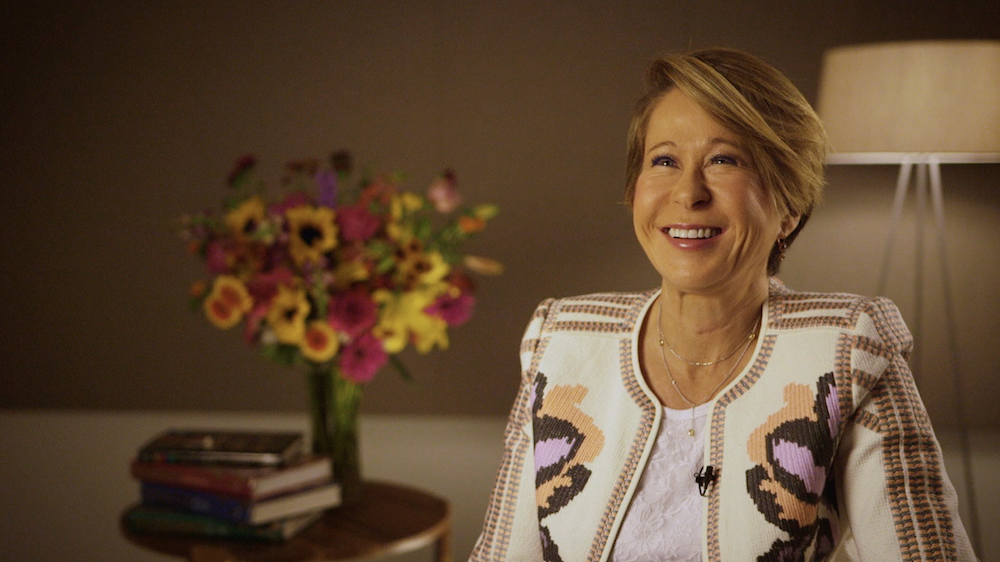 Born in Paris to a Harvard-educated ex-Marine who worked for the UPI and a Radcliffe grad who worked for the Smithsonian, Yeardley Smith's background was a far cry from the family she would become an indelible part of, in The Simpsons. But there may be more similarities than differences between the young actress and the little girl who sets the moral compass for Springfield.
Her name was an early subject of schoolyard teasing: Yardvark, Yardweed, Yarddog, Yardstick (and her personal favorite- Barnyard). And like Lisa, she had those childhood social anxieties, but was still able to find her distinct voice. For Yeardley she honed that voice onstage, in the theater.
She explains finding this source of courage in her first play at age 12 (in a school production of "I Remember Mama"):"I remember being so nervous .. as soon as the curtain parted and the light hit me, I was completely calm and I thought, oh! This is good. This is a place where I think I can exist."
She would later perform on Broadway to rave reviews in Tom Stoppard's "The Real Thing", directed by Mike Nichols, co-starring with Jeremy Irons, Glenn Close, and Christine Baranski. The role became hers when Cynthia Nixon had to abruptly leave the show, and Yeardley, then just a 20-year old understudy, got the part. Talk about timing. "It sort of comes down to survival of the fittest. And you don't even necessarily have to be the most talented. You just have to be the one who didn't die."
On "The Real Thing" on Broadway:
Her acting career really took off after that in the mid-80s, appearing in the cult film The Legend of Billie Jean, followed by a plethroa of TV series-- Brothers, Mama's Family, and many more theater roles. It was onstage in Los Angeles, in the play "Living on Salvation Street", that casting director Bonnie Pietila took notice, and brought her in to read for a series of animated shorts created by Matt Groening to appear as part of The Tracey Ullman Show. But lending her talents to a perpetually-8-year-old animated character was never something she had considered, even with that distinctive voice: "I wasn't interested in voiceover. It was nowhere on the radar for my plan for world domination." But she would wind up falling in love with her character, Lisa Simpson:
On playing "Lisa Simpson"
Yeardley has fiercley protected the character, even fighting for things Lisa would/wouldn't say. It was evident in the few hours we spent talking, that she truly loves this little girl: "You know, when "The Simpsons" is over and I don't get to play Lisa Simpson 22 episodes a year anymore, that it will be like one of my very best friends in the world has moved away and she's never coming back."
On the legacy of The Simpsons, she says-- it's simple: "Don't let anybody tell you 'no'. Because- from day one when everybody said- this is the stupidest idea the network has ever had - putting a cartoon on in primetime.. point to us doing what we do best, instead of trying to please everyone."
On The Simpsons impact and cultural legacy:
See the full interview with Yeardley Smith here.
- by Jenni Matz