Writer Sam Bobrick Was Always Doing Something Different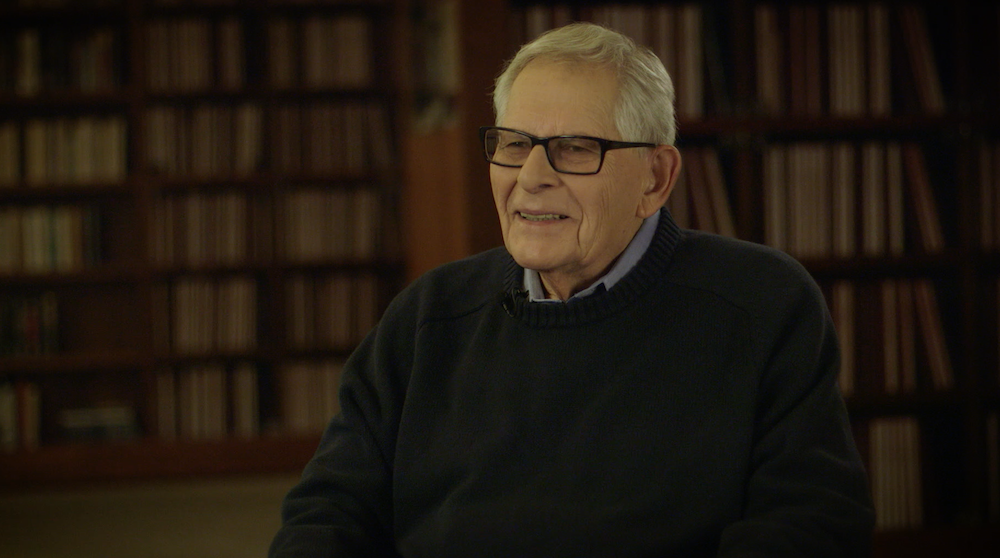 Television writer and producer Sam Bobrick is a man who likes adages. In his Archive of American Television interview, he admitted that he has bunches of them pasted up all over his house. One of his favorites is, "I found happiness when I gave up hope." But the one that perhaps best sums up his career is, "If you're not doing something different, you're not doing anything at all." Those are certainly words that Bobrick lived by.
Never staying long with one show, Bobrick worked on everything from the purity of children's television with Captain Kangaroo, to one of the most controversial shows of the '60s, The Smothers Brothers Comedy Hour. But Bobrick would soon move on to something else, just like the adage recommends.
It led to an interesting interview that covered a wide array of series, sometimes surprising career choices, and run-ins with legendary personalities. Here are a few of our favorites.
• Sam Bobrick the Songwriter
Before Bobrick made his mark as a television writer, he tried his hand at songwriting. And while most aspiring composers toil for years without having a big hit, Bobrick and his first writing partner, Beverly Ross, topped the charts right out of the gate when Elvis Presley recorded their tune, "The Girl of My Best Friend." Bobrick also went on to write two Mad Magazine albums that have become cult classics.
• Sam Bobrick in Mayberry
After leaving songwriting behind, Bobrick and his new television writing partner, Bill Idelson, pitched an idea to The Andy Griffith Show. The premise was simple — bumbling Deputy Sherriff Barney Fife poses as a store mannequin to catch a thief. With their first script, they penned a classic TV episode and won a Writers Guild Award for Episodic Comedy.
• Sam Bobrick Sidesteps Controversy on The Smothers Brothers Comedy Hour
Bobrick joined the writing staff of The Smothers Brothers Comedy Hour in Season 2 and was soon partnered with Ron Clark. Bobrick remembers the show as having wild sketches, but with bits that parents and kids could watch together. Since Bobrick and Clark left the show before the final season, Bobrick acknowledged that they were able to sidestep a lot of the ensuing controversy.
• Sam Bobrick's Dinner with Groucho
Throughout his career, Bobrick worked with many television and film icons. But for him, one of the highlights was meeting Groucho Marx while Bobrick was a head writer on Kraft Music Hall. He and Clark would occasionally write celebrity roasts for the series. When Groucho Marx was set to sit on the dais, Bobrick and Clark couldn't resist asking the comedy legend out for dinner. While the night was one of Bobrick's most memorable, Groucho had already forgotten his two dinner companions by the time breakfast rolled around the next morning.
• Sam Bobrick Creates Good Morning, Miss Bliss
Few writers ever realize the Hollywood dream of creating a hit show. Fewer still see that series go on to launch a string of spin-offs. So when Peter Engel approached Bobrick about helping him create a show about kids in high school, he didn't expect it would launch one of TV's best-loved teen shows. Good Morning, Miss Bliss lasted just one season on the Disney Channel and Bobrick only wrote the pilot episode. But NBC chief Brandon Tartikoff picked up the canceled series and brought it to Saturday morning TV on the peacock network with a new name — Saved by the Bell. The revamped series ran for four seasons, launched two spin-offs (Saved by the Bell: The College Years and Saved by the Bell: The New Class and spawned two TV movies (Saved by the Bell: Hawaiian Style and Saved by the Bell: Wedding in Las Vegas.)
Enjoy Sam Bobrick's full interview here!