Will and Katie: Couric Celebrates the Queen's Diamond Jubilee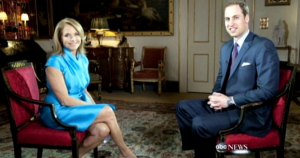 This year Queen Elizabeth II celebrates her Diamond Jubilee, marking her 60-year reign as Great Britain's monarch. ABC News is marking the occasion tonight with a two-hour edition of 20/20 entitled "The Real Queen: By Her Own Royal Family."  Katie Couric interviews the Queen's grandsons, Prince William and Prince Harry about their grandmother:
Couric met the Queen last week and described the experience to colleague Diane Sawyer:
The special airs at 9pm ET, and Good Morning America is also airing from London this week to join in the jubilation.
Check out Katie Couric's Archive interview to see her discuss some of the other major interviews she's conducted over the years.