TV comedy writing legend (and Mad Libs co-creator) Leonard Stern dies at 88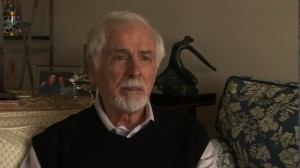 We're very sad to report that legendary comedy writer Leonard Stern died at 88 on Tuesday.  Stern was a passionate advocate for writers and was a great friend of the Archive of American Television.
Known as a "comedy writer's comedy writer," Leonard began his career in radio, writing for such luminaries as Milton Berle and Abbott and Costello. He transitioned to television for The Jackie Gleason Show, and is credited with turning the "The Honeymooners" sketches into longform shows (best known as the "classic 39"). In the 1960s, he wrote for The Phil Silvers Show and The Steve Allen Show and later became a writer-producer on such series as I'm Dickens He's Fenster and Get Smart (where he also served as  executive producer).  He also was creator-writer-producer of such series as The Hero, He & She, and The Governor and J.J. and served as a writer-producer-director of McMillan and Wife and Lanigan's Rabbi and  Partners in Crime. One of his other main contributions to American popular culture was his co-creation of "Mad Libs" with Roger Price. Leonard was interviewed in 2000 and 2008 by the Archive of American Television. Here are some selections from his 5-hour interview:
On his comedy beginnings
I've thought about that a great deal. Why was I writing comedy at age 14, 15, 16, 17?  Why did I know what the structure of a joke was?  And I finally came to the conclusion that I was a product of radio.  And I spoke to many of my peers who are comedy writers, and we kind of agree that you listened to Fred Allen and to Jack Benny, to Milton Berle, to Burns and Allen, and you started to understand the cadence and rhythm of a joke. Consciously or not, it became almost a daily lesson. I think this explains why some of us who grew up in California; some of us grew up in Texas, others in North Dakota and, and many of us in New York, all could write the same joke or a reason facsimile thereof.  I think we became, and maybe radio is responsible for some of the best comedy writers, we became students of the medium and we collaborated.
On turning Jackie Gleason's "Honeymooners" sketches into longform shows
I argued effectively because eventually we did it.  It wasn't the full hour. He still came out and did the monologue and the dancing girls but then, the next 40 or 45 minutes were "The Honeymooners" sketch. And it worked so well that eventually we did more "Honeymooners" than anything else and in our second and third years,  the variety show was mostly "Honeymooners" with an occasional Reggie Van Gleason, poor soul, Joe the bartender character. And then, of course the classic 39 are all on film and are honeymooners.  They've endured and held up. I always thought to myself: if we'd known they were going to be classics, we would have written them better!
On the legacy of The Honeymooners
It's funny. And, it deals with hope and dreams. It makes you  comfortable that you're not them.  I don't know, it's kind of a mystery. Gleason used to say, "it's funny and it's never going to go out of style because it makes you laugh and it's not current."  Certain shows have a topicality and they are probably hilarious at a given time.  But then times change, and then the shows are less meaningful.
On the genesis of Get Smart
On filming the famous opening sequence of Get Smart
I thought we needed something distinct and unique, but everybody has that thought.  What qualifies as distinct and unique is the idea of it being so difficult to get into this agency, almost a sense of it's impenetrable-ness.  So we had the car sequence, we pulled up in a lavish car and to exit it if possible without opening the door and then entering the building.  And actually I did not shoot the first moment as well as I had envisioned it would play.  I wanted to go from his entering the building to the elevator dial as it slowly moved and came down and then the doors opened and reveal a staircase.  It's funnier as I tell it than as I shot it.  That was the first of the odd things that would happen.  Then I wanted each door to open in its own way and to have, I think four doors, ones that part, ones that go up, ones that go in, ones that come toward you and then ultimately the phone booth.  So I just wrote that and envisioned it and then the phone booth. I was greatly concerned that we would have to do something with the floor.  Do we have to cut a hole in the floor to make it seem that when Don dialed a number, hung up the phone, turned and faced, when it disappeared --never realizing that all Don did was drop to his knees and it worked.  I had envisioned and put in the budget an enormous amount for some kind of hydraulic system.
On creating Mad Libs with Roger Price

I was writing for The Honeymooners and Roger was at the house. I was doing a polish on a script and I said, "I need an adjective."  And Roger said "naked!" before I explained what I needed the adjective for. I started to laugh because the vision of a naked Gleason was hardly sustainable without laughter. So suddenly he's saying "what are you laughing about?"  And I told him and out of this came this word game where you somebody asked you for an adjective or noun, and parts of speech. We didn't have a name for it, but we played it at parties and it always worked. One day,  I was at Sardi's and somebody said something about adlibs and somebody else said it's "Mad Lib" and we looked at each other and in that moment we recognized, this is it!
On how he would like to be remembered
For making people feel better. For bringing a smile into the world for a half-hour or an hour.