Tuesday, August 29, 1967: The Day The Running Stopped for "The Fugitive's" Richard Kimble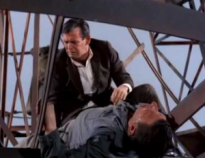 50 years ago today, The Fugitive's Dr. Richard Kimble finally got justice. Falsely accused for the murder of his wife, Kimble (played by David Janssen) spent four years on the run, pursuing his wife's true killer, the One-Armed Man, while also being diligently pursued himself by Lt. Gerard. In the two-part series finale ("The Judgment" Parts I and II) Kimble learns the One-Armed Man is in Los Angeles, but before Kimble can make his move, Gerard finally catches up with Kimble. Kimble tells Gerard of the most recent developments in his pursuit of the One-Armed Man, and Gerard grants him 24 hours to gather the evidence he would need to exonerate himself. 24 hours come and go, but just as Gerard is about to take Kimble to prison, the two are led to an amusement park where the one remaining witness to Mrs. Kimble's murder, Lloyd Chandler, is attempting to murder the One-Armed Man for blackmailing him. Then the showdown the world had been waiting for ensued: Kimble v. the One-Armed Man.
But viewers almost never got a chance to see Kimble find retribution. According to ABC's Leonard Goldberg, when David Janssen did not want to return for a fifth season of the series, The Fugitive was supposed to end in May of 1967, with the last episode being simply what had been shot as the conclusion of the fourth season when production still anticipated a fifth. There was no resolution to the series at that point - Kimble was still chasing the One-Armed Man. Goldberg describes how he fought for a real series finale (a two-parter, as it turned out), which would give viewers a satisfying end to The Fugitive. "The Judgment: Part II" earned the highest TV rating ever at that time - a whopping 45.9 and a 72 share, meaning that of all the television sets in use at that time, 72% of them were tuned to that episode. "The Judgment: Part II" was watched by over 78 million people that Tuesday night:
Kimble got his man, viewers got satisfaction, and ABC got huge ratings. And "The Judgment: Part II" remains one of the most memorable series finales of all time. Win win.
Learn more about The Fugitive at our show page.
- Adrienne Faillace