"The password is...FIFTY!" -- It's "Password's" Golden Anniversary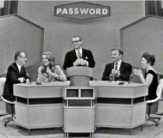 On October 2, 1961, the popular game show Password, hosted by Allen Ludden,  premiered in daytime (a nighttime version was launched in January of 1962). Two teams (consisting of a celebrity and a contestant) competed. The "password" was given to  one player on each team. The player who was given the password gave a one-word clue and the teammate would try to guess the password. If the partner failed to come up with the password within five-seconds, the turn passed to the opposing team. The game continued until the password was guessed or until 10 clues had been given. The show was an instant hit and showcased almost every major star of the time including Betty White (who met her husband-to-be Password host Allen Ludden on the show). Lucille Ball,  Carol Burnett, Bob Denver, and hundreds of others.
Bob Stewart on creating Password
Bob Stewart on choosing "passwords" -- and Jack Benny's famous appearance on the show
Jack Benny and Joan Benny are the celebrity contestants on Password (1962)
See more about Password on the Archive's Password Show Page...