The Irony, Influence, and Impact of David Letterman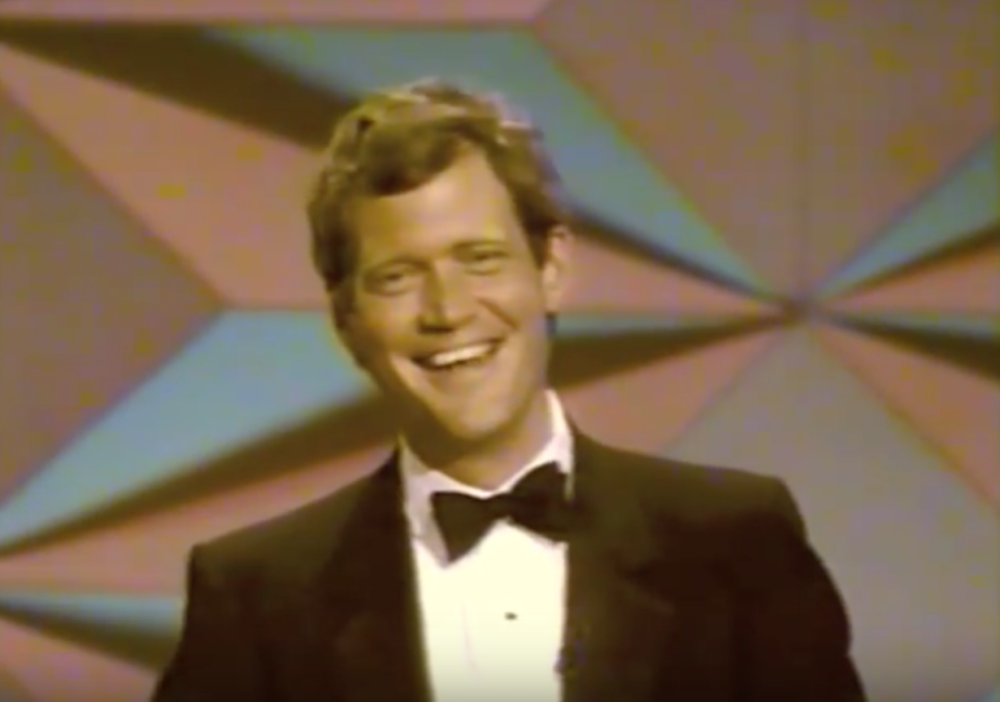 For long-time David Letterman fans, Jason Zinoman's new book "Letterman: The Last Giant of Late Night" is both a revelation and the book we'd been waiting many years to see. People are finally getting their due for having helped create Late Night with David Letterman, the most important and influential talk show of the last 35 years, in my opinion. Among them director Hal Gurnee, who'd worked with Jack Paar and was able to seamlessly blend the traditional talk show setting with Letterman's irony and deconstructionism. And head writer Merrill Markoe, whose comedic sensibilities shaped the early years of Late Night, and who was at least 50% responsible for what the show was, and, I would argue, for the state of modern comedy. Fred Silverman talked to us about bringing David Letterman to NBC. Second time was the charm.
Those who first tuned in to Late Night on February 1, 1982 expecting to see yet another talk show in the mold of The Tonight Show must have been confused at best to see a strange man (we didn't know Larry "Bud" Melman yet) introduce the show with a speech that combined Alfred Hitchcock's television introductions with something Dr. Frankenstein might say. This strange display was followed by showgirls strutting around the studio with NBC peacock headdresses. Watching it today, it's obviously a parody of late '70s variety show excess, but in 1982 I'm not at all sure how much of the audience was in on the joke. Another big departure was the band. Instead of a Doc Severinsen big band, there was SNL's Paul Shaffer heading up a traditional 4-piece rock and roll band.
Late Night with David Letterman was the anti-talk show. Letterman and Merrill Markoe had no interest in doing it the traditional way, so a clash with the mainstream seemed inevitable. This came to pass in 1986, when David Letterman agreed to host the 38th Annual Emmy Awards.
In the weeks leading up to that Emmy broadcast, Dave seemed to regret agreeing to host. There were stories in the paper of his being uncooperative when asked to do a big production number with Emmys co-host Shelley Long. He addressed these stories on air by simply stating, "I don't sing. I don't dance. I don't like to be near anybody who does." Leading up to the broadcast, Letterman's on-air grousing reached a fever pitch with him mock-rehearsing one of his intros: "Ladies and Gentleman, the first lady of television, Miss Lucille Ball" to which Paul Shaffer replied, putting on Lucy's gruff voice, "Thank you, David! You know Desi and I did so many shows together, and I love the work you kids are doing…" Every other talk show had always shown reverence to Lucille Ball and other television living legends, while Dave could be downright hostile to them. And now he was about to host an event that relied on his being reverential and respectful.
The evening of the Emmys, David Letterman could not have looked less comfortable on stage next to Shelley Long. Dave proceeded to deconstruct the awards show just as he'd done on his talk show for the past four years. "Children's television programming: Where would our young people be without it? Perhaps out in the fresh air, getting some exercise."
In those years, all Awards shows did huge production numbers, and during Shelley's, it became apparent why Dave declined to partake – it was a medley of love songs, which included "Love Makes the World Go 'Round" from the musical "Carnival," and Ashford and Simpson's "Solid as a Rock." Sandra Bernhard would later do a brief but memorable parody on Late Night. I've been fulsome in my praise of Shelley Long on Cheers in this very space, she's an absolutely brilliant actress, but this was not her venue.
Letterman sparred with Milton Berle, whom he introduced as, "Milton 'I've got ties older than you, Berle." Berle responded in kind, "You were never funnier… and it's a SHAME, too, I'll tell ya THAT!" The contrast in comedic styles couldn't have been more stark. Later, Jack Paar appeared to present a writing award, and as Johnny Carson had a few nights prior when Dave guested on The Tonight Show, gave his stamp of approval to his, "good friend and neighbor David Letterman." Letterman and his staff won that award, and while accepting, Dave addressed Brandon Tartikoff, "Don't worry, by God, we're not going to be in third place for much longer."
The evening closed that year with a big production number led by The Golden Girls singing Stephen Sondheim's "Old Friend," and followed several "old friends," including Sammy Davis, Jr., Sid Caesar, Imogene Coca, Dick Van Dyke, Eve Arden, Dick Clark, Raymond Burr, Bert Parks, Jackie Cooper, and in the very last seconds, George Burns. Absolutely thrilling for me to watch even today, and one of the great moments in Emmy history. Letterman's comment on the whole affair? "Our long national nightmare is finally over."
In last year's 68th Primetime Emmy Awards there were no big production numbers, and no musical numbers at all. Host Jimmy Kimmel's ironic, detached style of humor is a direct descendant of what David Letterman was doing in the '80s. All Awards shows now incorporate at least some of the style and attitude of Late Night with David Letterman. And in the years following his hosting stint, Letterman became more mainstream, and more willing to play nice with others. It worked out nicely for all involved.
Once again, I recommend Jason Zinoman's "Letterman: The Last Giant of Late Night" highly. It's like "Hamlet" meets "Citizen Kane" meets Larry Sanders. Also, if you're a Letterman fan, take a look at Don Giller's YouTube channel. It is a vault of great Letterman bits both from NBC and CBS.
And for more great awards show and talk show stories and analysis, check out our talk show page!
- John Dalton