Suzanne Somers Archive Interview Now Online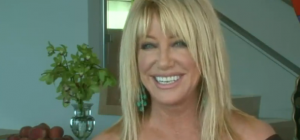 Interview Description:
In her Archive interview, Suzanne Somers discusses her early years as a single mother and struggling model/actress. When she landed a small but memorable role in the feature film American Graffiti it led to appearances on The Tonight Show Starring Johnny Carson, and her casting on Three's Company.  Somers describes being mentored by Three's Company producer Michael Ross and star John Ritter and how she came to grasp the essence of comedy acting.  She speaks frankly about the pitfalls of her meteoric rise to stardom, which eventually resulted in her exit from Three's Company. She then speaks about her subsequent work as a Vegas headliner, author, and star of 1990s sitcom Step By Step. Suzanne Somers was interviewed in Malibu CA on July 15, 2009; Stephen J. Abramson conducted the two-hour interview.