Remembering William Blinn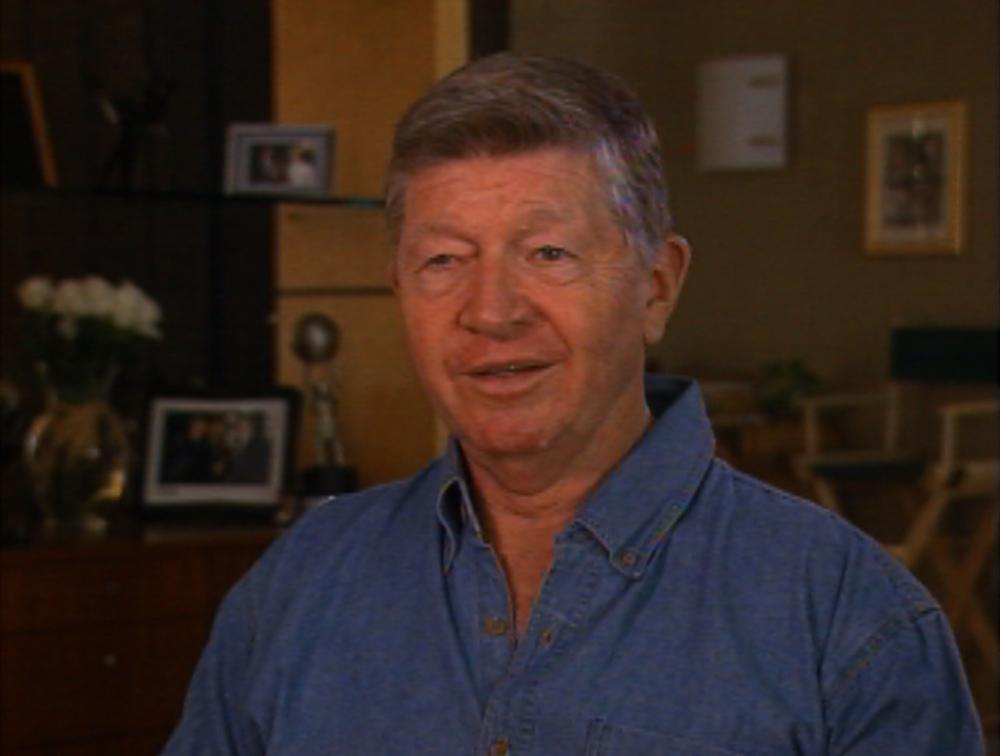 We're sad to learn that writer/producer William Blinn has passed away at the age of 83. Blinn began his television career writing for classic westerns, including Maverick and Rawhide, before joining the writing staff of Bonanza. He went on to create Starsky and Hutch and Eight Is Enough and was an executive producer on the Fame television series. Blinn won an Emmy Award for writing the television movie Brian's Song and another for his adaptation of Roots.
Below are some selections from his 2005 interview:
On the title of Brian's Song:
The first title -- because I'm also no stranger to pomposity -- was "On Recalling Brian's Song." And I remember typing it out and went, "Good God, I mean, who do I think I am?" You know? And then I just went, just "Brian's Song." You know, because it's his impact on people, his humor, his vitality, and everything it just struck me that he had. He'd given a lot of people a song to remember and to sing and so forth and so on. And for whatever reason, no one questioned it. Everyone said, "Yeah, that works, we're fine." It was OK. Just dumb luck again.
On adapting Roots and working with Alex Haley:
[He was an] amazingly bright, gentle, caring, low-key, and extremely determined man. We got along very well, I think -- and it's, someone who's adapting your book, that can be a very chancy relationship. I think we only had, throughout the entire time, one disagreement on something he had in the book that I just would not put in the screenplay because I thought it might work on the page, but I thought it stood a chance of becoming overtly laughable on screen. It's kind of like some radio dramas were OK, but if you really put them on film you go, "What was that?" You know? Because what you imagine and what you see are two different things. So that's, you know, over 12 hours of television, only one disagreement of any meaningful nature.
On his proudest career achievements:
I've got some pride in Roots, but that's Alex's. And Brian's Song, I think, was just synergy to a large degree. And Fame was more fun than anyone's allowed to have. I enjoy what I do. I love what I do.… If somebody said, "You can't write plays anymore and you can't get in television," well, I'd keep on writing.
On advice for aspiring writers:
Read. Read everything you can. Read everything you can. And see as much as you can, and and be willing to write and throw it out, and to write and say, "This didn't work," and move on. And don't keep picking at a sore and saying, "Well, if I change this, it'll be blah, blah, blah." If you got it and it doesn't work, it hasn't worked, it doesn't matter why. Well, it does matter why, but sometimes it just doesn't float, and let it go. Someone once asked, "What is it that makes television work when it works right?" And I answered the question and then I thought about what I said and I said, "That's really right. I really believe that!" And I hate to quote myself, but what I said was, "If we tell the truth in an interesting way, we have accomplished what we need to accomplish. It's not enough just to tell the truth. Then you're doing the History Channel. And there's something to be said for that, but it may not always be compelling. And it's not enough just to be interesting, because then you're doing Paris Hilton and her elephant. You know, it'll be interesting, but it's cotton candy. But if you can tell the truth in an interesting way, then you accomplished something.
Watch William Blinn's full interview and read his obituary in the Los Angeles Times.