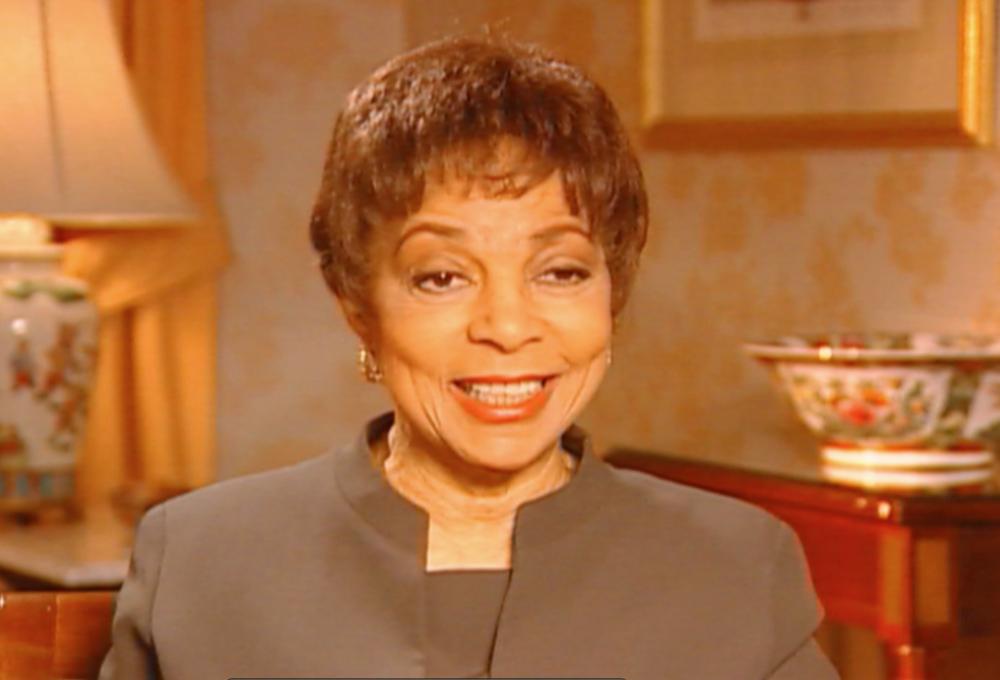 We're sad to hear of the passing of Ruby Dee, who died yesterday at the age of 91. Dee started out in show business as a feature film and Broadway actress, and soon won roles on the small screen, as well. She played "Martha Frazier" on Guiding Light for many years, and was also a regular on Peyton Place. Dee was heavily involved with the Civil Rights Movement, calling both Malcolm X and Martin Luther King, Jr. friends, and enjoyed numerous roles in television movies and miniseries in the 1970s. She appeared in "I Know Why the Caged Bird Sings" and Roots: The Next Generations, the latter of which she and husband Ossie Davis helped bring to the small screen.
Below are some excerpts from her 2000 Archive interview:
On her early television jobs:
I remember knowing that my first job on television had been as a maid. I remember expecting that to be all that I would get - the maid or the prostitute, or the really truly angelic person who's saving people and protecting her family and protecting White folks.
On meeting husband Ossie Davis:
I met Ossie in June rehearsals for a show called "Jeb" and I started out as the understudy to the love interest, Libby. His understudy Bill Marshall and I used to sit together from time to time during rehearsals, and we'd talk about him. I didn't think much of Ossie. I thought he looked like a country bumpkin. He was skinny and tall and he had this Adam's apple that just sort of went up and down when he talked. And his jackets and shirts were too big, with sleeves that came somewhere in the middle of his forearm, and the pants came nowhere near his ankles. We would say, "he probably shops at the Goodwill with his eyes shut." But it was a few days after that - I write about this in my one-woman show - one day Bill and I were sitting in the rehearsal room watching, and at one point Ossie stood up on stage in this soldier's uniform costume, 'cause he played the part of a returning veteran. As he was tying his tie, I felt something like a bolt of lightning, like a flash between us. I was so shocked because I hadn't even been thinking about him. I had no romantic notions about him. It was a marvelous sensation for me. For a long time I could remember it.
On becoming active in the Civil Rights Movement:
On meeting Malcolm X:
My brother had been a devotee of Malcolm's and they lived not far from each other. As a matter of fact, it was to my brother's house that they all went after Malcolm's house was burned. It was my brother who invited me to come and hear Malcolm, and he said how much I would love him. My brother stopped smoking and drinking after meeting Malcolm. He talked so much about him. So Ossie and I had to go and meet him. When we did, after I realized that this tall lanky drink of water that was spilling out this unique personality… I was quite taken with him. I remember the first thing I ever said to him was, "well, you kept repeating yourself." I remember the way his mouth went up and down when he laughed - his mouth would go up and down in the corners. He said, "well you gotta keep saying it over and over so people get the point." And he laughed. He had that toothish, devilish look. Then shortly after that, we brought him to our house to meet some of our friends in the business. A lot of them. We didn't smoke and we didn't take pictures because of McCarthy - everybody didn't take pictures 'cause you didn't want these records kept.
On her involvement with Roots and Roots:The Next Generations:
On how she'd like to be remembered:
Watch Ruby Dee's full interview and read her obituary in The New York Daily News.