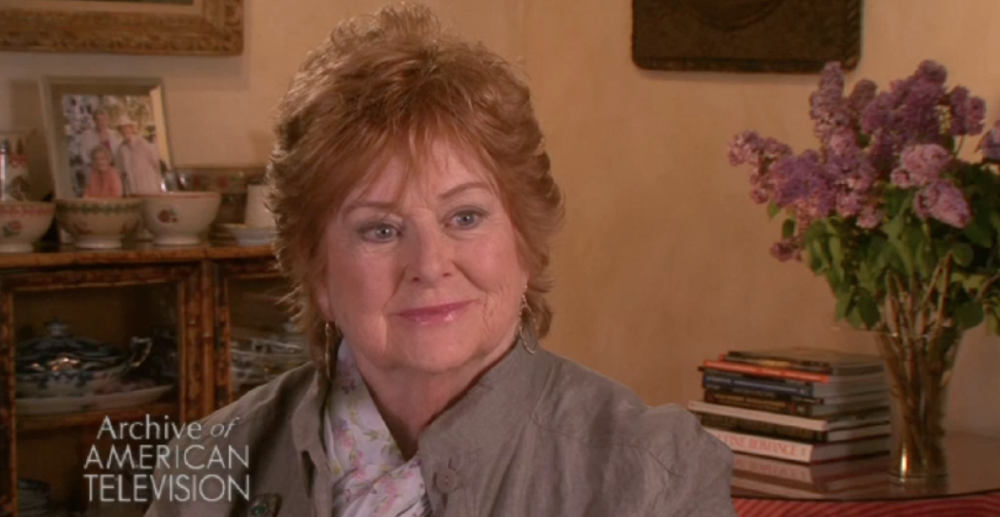 We're sad to hear that Nancy Malone passed away on May 8, 2014 in City of Hope in Duarte, California from complications caused by leukemia. She was 79. Malone was an industry quadruple threat - actress, producer, director, and executive. She served as the first female Vice President at a major studio (20th Century Fox) and also co-founded Women in Film.
Malone started out in the industry as a child actress and model (she was featured in Life magazine as "The Typical American Child" in 1946), and studied acting at the Stella Adler Conservatory and the Actors Studio, working with James Dean, Dean Stockwell and others on Matinee Theater and Naked City in the 1950s. She played "Robin Lang Bauer Bowden Fletcher" on Guiding Light, and acted on The Fugitive, Bonanza, The Twilight Zone, The Andy Griffith Show and Ironside. She soon transitioned from acting to producing and formed her company, Lilac Productions, where she produced the TV movie Winner Take All, starring Shirley Jones. Malone also began directing in the 1980s and directed episodes of Dynasty, Cagney & Lacey, The Bradys, Beverly Hills, 90210, Melrose Place, and the special Bob Hope: The First 90 Years, for which she won an Emmy Award.
Below are some excerpts from her 2010 Archive interview:
On appearing on the cover of Life magazine as a child:
They were doing the 10th Anniversary Issue and they wanted a young child to be holding the first issue of Life magazine, which was a photograph taken by Margaret Bourke-White. I think Philip Halsman took the picture. There was a boy, a young boy, and myself were interviewed for this honor and it was to show the typical American child. In those days it was a more typical American look than today, when we have much different multi-cultured look. So they saw me and I'd come from school and I had a sweater on with a hole in the sleeve, from a moth, I guess. And pigtails and little ribbons hanging and they said, "we want you to do this" - to my mother. She didn't tell me - how would I know? They arranged to have me come into the studio and they took some shots and that was it. So we have the cover.
On her love of acting:
When I started to act I became devoted to it and did a lot of studying and worked very hard as an actor. I never, never walked through it like a lot of the kids today seem to do. Because to me it was an art form. You know, when you're studying with Strasberg and Stella Adler - I was an invited member of the Actors Studio when I was 13 and James Dean did his first job with me on a Hallmark [Hall of Fame]. He had a walk on with two lines, I think. I've worked with some wonderful, wonderful, wonderful actors, serious actors, so that meant a lot to me. I was really ripe for being an actor. It captured my imagination. It captured my intelligence in terms of technique and learning technique and appreciating great acting versus just plain acting. So it certainly was God's finger.
On Guiding Light:
On forming Lilac Productions:
Lilac Productions came about because when I finished doing my work at Fox, I'd produced a few more movies on the outside and then Time-Life had come to me after I produced a movie called Like Mom, Like Me which was the highest rated movie CBS had seen. This was after I left Fox. And Time-Life came and said we want to get into business with you and then I formed Lilac Productions with Time-Life Magazine. It's sort of a very strange circle, isn't it? I mean, here I am back with Time-Life, so to speak - where I was on the cover many years back.
On being a female executive at 20th Century Fox:
I never asked for any special favors because of my gender. I always wanted the men to feel comfortable. And to be just like, you know, a person with them. What was always kind of amazing to me is that when Dennis Stanfill, who was the CEO of Fox at the time, would have Board meetings and all of the guys would come in and they'd all have to give their reports about you know, this division, how much money it made and comedy division and the drama division and all that stuff, and it would go around the table. It was like a train. You know, I'd see it coming closer to me and closer to me and the locomotive was upon me and the track, I was lying on the track and here it comes. Then they'd say, Nancy, "How is your department?" And I'd just say, "We're great, we're just great. We're making a lot of movies, we're doing a lot of the stuff. Next." And everybody would scream and go, "What?" You know, they'd be giving long dissertations about their money and their development and how they're doing this and this. I got away with murder. But I produced, I had a lot of good stuff on.
On her process of directing:
I try to find what the story's about. What is the main theme of the piece? Does it have an underlying theme? What am I trying to accomplish at the end of the day with this story? Who are the actors? What are their plusses? What are their minuses? How much can I pull from them? These are all things that you put on a piece of paper. And then once you kind of get an idea of what you want out of the scene then you start doing your homework, which is your camera shots and your blocking, so on and so forth, that you do at home. I always work on the weekends. If my show isn't starting until Tuesday or Wednesday I get permission from the lot to go onstage. Nobody around. They just put a big light on and stay there for Saturday and Sunday. Learning the set; feeling the set. Doing my shots. I find that very helpful because there's nobody to ask you a million questions. You can get a good leg up on your work. But I mean, there's just a million ways to approach it and a million ways to think about it. I read the script over and over and over and over and over to get as many ideas as I possibly can from the text. And if I have questions, hopefully, you know, you're working with some good writers who will take the time to get into it and talk some scenes out if I think they're not going to work for one reason or another.
On co-founding Women in Film:
On how she'd like to be remembered:
Watch her full Archive interview and read her obituary in The Hollywood Reporter.