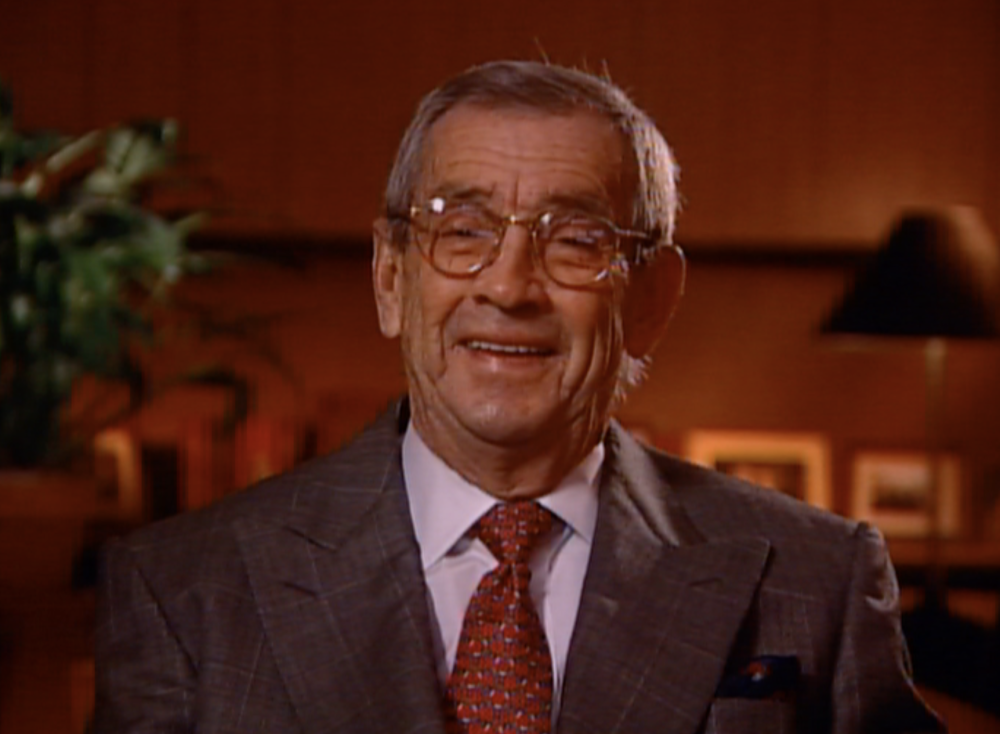 We're sad to learn that agent Lou Weiss has passed away at the age of 101. He began his career as an office boy at William Morris before becoming an agent, representing nightclub acts and Catskills comedians. Weiss went on to represent many big names, including Danny Thomas, Barbara Walters, Howard Cosell, and George Burns (who was his uncle). He helped create the notion of "packaging" television shows, and packaged The Danny Thomas Show, The Dick Van Dyke Show, and Four Star Playhouse, among many others. At the time of his passing, Weiss was Chairman Emeritus of the William Morris Agency.
Below are some selections from his 1998 interview:
On always knowing he would be in the entertainment business:
"I dropped out of NYU. I only went to school because my mother wanted me to go to school. I had no interest in school. I loved the entertainment business…because my uncle was George Burns and whenever he visited his family, and there were twelve brothers and sisters in that family, so all the cousins got together, they put on shows and my uncle and Gracie would laugh and applaud and carry on and I was always interested and they were in Vaudeville in those days so when they played around New York City I would always go. I'd watch show after show after show. And that was always my interest. And I had another uncle called Willie Burns, who was my uncle's manager and writer on radio and even television. And my mother helped bring Willie up. So, he used to sleep in our house, push me out of the bed sometimes and put me on the couch and he would take over the bed. But it was a great beginning. It was great memories, but I always had the sense of the entertainment world near me."
On the tough parts of the business and how he worked through them:
"Having energy, I guess is the first thing. I've always had energy. I have energy today. Having the ability to know something about the talent business and be close enough to them to understand their problems. The two most sensitive people - or persons - in the entertainment business are comedians and writers. Of course, until the comedian gets the first laugh he's not funny. And the writer, he's all by himself until they say they like what he did, he's been rejected. That's tough."
On how he would like to be remembered:
"Busy, active. I always had a good time. I was never any where I didn't have a good time. If I was at a boring party I'd entertain myself. I'd have a good time."
Watch Lou Weiss' full interview and read his obituary in the Los Angeles Times.