Remembering Gary David Goldberg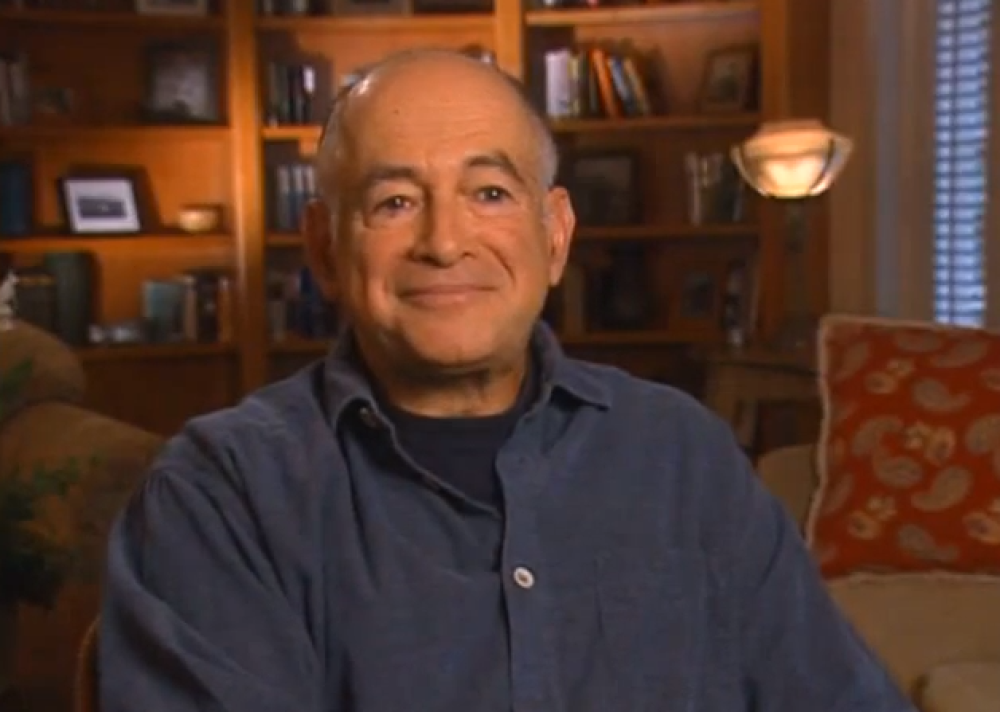 Writer/show creator Gary David Goldberg succumbed to brain cancer yesterday, June 23, 2013, at the age of 68. Goldberg created the hit '80s sitcom Family Ties, Brooklyn Bridge (an homage to his childhood), and co-created Spin City with Bill Lawrence. He also wrote for The Bob Newhart Show and The Tony Randall Show, and produced the feature films "Dad" and "Must Love Dogs."
Below are some excerpts from his 2007 Archive Interview:
On meeting his wife, Diana:
When Diana and I met in 1969, I was a waiter at the Village Gate. I was 25, I had now been kicked out of two colleges, I had been deselected from the Peace Corps, I had never filed an income tax, and so I had a lot of things in my favor. Diana when I met her, she was a flight attendant for Pan American, and it was that great era with the blue uniforms with the hat, and the commercial was "this girl knows her way around the world like most girls know their way around the block." But anyways, I saw her and the first time I saw her she was seated cross legged on the floor playing the guitar. She had really long hair, a flight attendant for Pan American, beautiful, beautiful girl and she wasn't Jewish, and I thought, "one of those, I would like that.' And that was the beginning. But the first thing I said to her, interesting, when it really goes back, was I met her and I said, "look, if you're looking for a guy who's going to make a living, I'm not that guy. There's nothing I want to own. I don't want a house. I don't want a car. I don't want clothes. Nothing. I'm never going to go to a do job that I don't want to do, so you just need to know that. And she said, "look I don't even know your last name, why are you telling me this?"
On starting to write for television:
I take the class and this guy is great you know, but the assignment is to do a TV Commercial, and I don't want to write a TV Commercial. So I went up, and I said, "look do you mind if I do something, I'm not trying to get out of the assignment, but I don't want to write about a TV Commercial. I have something I think I might want to write." "Just go ahead... Whatever you want. Just go and write that, that would be great." So I sat down to write, and I had never really written before, and it was really scary. First of all, I could put myself right back in the Village Gate. I started to write about that time, and I was right back there and then I started to remember conversations and what people were wearing, and very quickly wrote about 25 pages you know, and I handed it in. And we can't afford a telephone at this point, so I don't have a phone. But I get a phone call at my neighbor's and he goes, "you got to come in." So I go over there and it's Nate Monaster [my teacher] and goes, "you have to come in and see me."He goes, "No, come now." So I come back to Diane, and I go, "I did something wrong..." So I go to see Nate Monaster and he looks at me and he's got my stuff on his desk and he says, "You're a writer." He goes, "I have nothing to teach you. I don't want you in this class." He said, "you need voice, it's compelling you know," and I go, "wooo, wait you getting me excited because I'm going to get an A in the class and I'm 31 and I have kids although it would be my first A still, what are you saying?" He says, "well, you could make your living writing TV, movies. What's your favorite television show?" I said, "I don't have a television. We couldn't afford a television set, I haven't seen television in years." I would tell him we were mostly getting stoned at night, we don't watch TV, we read whatever, you know. And he said, "well you could."
On forming Ubu Productions:
Ubu Productions was named after our dog. And that picture, Diana took in front of the Louvre when we were hitchhiking through Europe and we had run out of money in Paris and were sleeping under the bridges. We were hitchhiking up to Brussels and Diana had snapped that picture. I just thought, you know, I want very little distance between who I was that day and who I am now. I just don't want a lot of distance there. So it was really nice to have that logo to always remind you who you are.
On casting Michael J. Fox on Family Ties:
When we cast Michael Fox, I didn't want him. We had an extremely talented casting director, Judith Weiner… and she had found this young guy in New York, never acted before, Matthew Broderick, so Matthew was the first one to read for Family Ties for the part of "Alex" and I said what any normal producer would say, "yes, get him a pen, let's make a deal." And then that deal fell through, I think Matthew got a sense of what other opportunities were out for him in New York, and he didn't want to come to California and Mike Fox was the next guy I saw. I just thought, "no." And Mike is such a gifted actor that he could make his choices very specific, and he could play any role anyway and he had made a very specific choice that day in the room at Paramount to play the darker side of "Alex Keaton" and it didn't work. You have to believe me that it didn't work. I said, "no," and Judith Weiner said, "call him back, chase him, you made a mistake, he's the guy." And I said, "Judith, you know, I created the character I think I have some idea of who he is and it's not Michael Fox." Judith says, "it is." I go, "Judith, please." …But I wouldn't see him, and she kept, "see him again, see him again." And I wouldn't see him again, I just said I know its not him… She says, "will you see Michael Fox one more time when you come back?" I go, "I will Judith, but only for you because I know he's not the guy." So, she calls him in, and I say, "anything you want me to tell you?" He goes, "No, just do it better, huh?" And he gives me this little smile, and I'm thinking, "Matthew who?" It was like "boom." He nailed it. He just played who he was, he played another side. He was Mike. And as soon as he left, I turned to Judith and I said, "this kid's great, why didn't you tell me about him?"
On creating Brooklyn Bridge and basing it on his childhood:
It was really weird because I had pictures, we had our own family pictures out there on set, and a lot of the furniture was the same. It was really overwhelming. That's my family, for the most part, and I never told my brother. And he had gathered with all my old Brooklyn friends to watch the pilot, the first episode, and they said my brother just started weeping hysterically when he saw those pictures of my parents and my grandparents. I didn't realize the impact it was going to have on him, you know? So Brooklyn Bridge was like a documentary.
On hiring many inexperienced writers for Spin City:
I liked inexperience… I have experience, I can deal with that other part. I can smooth out those edges, but I think when you can get people who are untutored they're all bright. They had written spec scripts. It's not like I hadn't read stuff, but they were trying, you know? But I loved that they hadn't learned any wrong ways yet, and they know they can come in, "well why are we doing it that way?" And it's a good question to keep asking yourself. The other thing is you get again to see the world through their eyes, where, "whoa, this is the greatest job that's ever been invented." And it's good to be reminded that it is - that the worst day of my life is the best day of most people's lives.
On advice to aspiring television writers:
On how he'd like to be remembered:
Watch Gary David Goldberg's full Archive interview and read his obituary in The New York Times.