Remembering Former CBS Standards & Practices Executive William Tankersley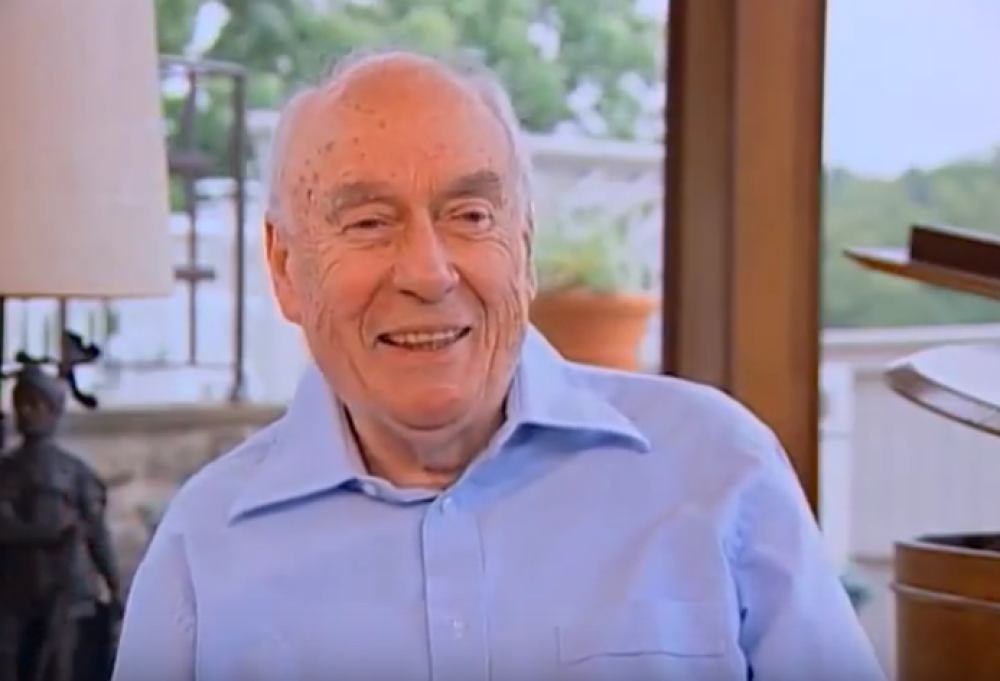 We're sad to learn that former CBS Standards & Practices Executive William Tankersley passed away on February 5, 2016 at the age of 98. Tankersley started in CBS promotions and merchandising and soon rose to Head of Program Standards & Practices at the network. He was heavily involved in setting CBS' rules about violence, drug use, and political views in television programs, and oversaw Standards & Practices for The Dick Van Dyke Show, The Smothers Brothers Comedy Hour, All in the Family, and Route 66, amongst others. Tankersley held positions in both New York and Los Angeles, and worked with program sponsors and advertisers. He worked with fellow CBS executives Frank Stanton and Jim Aubrey, and with many notable entertainers, including Red Skelton and Dick Van Dyke.
Below are some excerpts from his 2001 Archive interview:
On how he ended up as Head of CBS Standards & Practices:
I was a utility player and I had set standards. And everything I did for taste — Mutual Network had a few shows that in my view exploited human weaknesses. I wouldn't take those shows; I didn't take a Dr. Anthony or a Dr. Alexander or several others. I wouldn't take a wrestling show. I set high standards. Same was true with Ogden. They had written to me, some of those management people, saying, "We're doing our best to keep up the standards you set for us." I guess I was sort of known by enough people, that they said, "He's the guy to do it."
On CBS' early stance on television references to personal hygiene:
We didn't allow personal hygiene commercials in those days at all. On the news, especially. Preparation H became the one product that was always used as an example. And certainly on the evening news, where some of the products would be applicable to older people and manufacturers would like to be on that show - we still didn't allow it. Didn't allow it. Once an advertiser wanted to present a laxative in not too bad taste tied up with a five million dollar order - in those days considered a lot of money. And our President of the network wanted to accept it, and I said, "No, we can't do it. Not on Walter Cronkite news are they going to be listening to this product. It's a laxative and we just have to hold the line there." He didn't speak to me for two days.
On how the Quiz Show Scandals affected his work:
That affected us quite a bit, even though it wasn't our show – it was NBC's Twenty One. I have an anecdote about that, too. A few years ago, I was making a speech in Fresno to a group of business people in my role as President of the Council of Better Business Bureaus. And I had a call from Jack Barry. Jack Barry, for goodness sakes. He said, "What are you doing in Fresno?" I told him what I was doing and wondered what his problem was. He said, "I'm addressing a class at Harvard in just a couple of hours and I wanted to confirm something with you." He said, "I think after my show, you people strengthened your departments, probably gave some raises and changed some rules." I said, "All of that's true, Jack. I give you full credit."
On All in the Family:
I saw the pilot – the English version – and thought it could be done. But several years went by before I heard of it again. Then one day, as I was getting ready to go to Washington to testify on violence before a committee, late in the afternoon, Mike Dann, our program chief, came down the hall and asked if I would look at a pilot called All in the Family. I told him I was about to catch a train, I had very little time, but he urged me to have a look at it, so I went down and looked at it for maybe 10 or 12 minutes, and I said, "My God, I'm going to Washington now, and you throw this at me; this is incredible." Coarse and crude jokes, using a toilet flush as bridge music. So the next morning in Washington, at breakfast, I talked to our President, Bob Wood, about it. I said I thought the show could be done, but it was pretty gross. And Bob said he sure would be happy to see that show get on the network. He needed something new like that. Maybe before saying no, I should give it a try and would I fly out and meet with Norman Lear, the producer? So I flew out and met with Norman Lear in Perry Lafferty's office. Perry Lafferty was Program Chief. And we went over the whole thing, and I told him what we couldn't accept and what the guidelines should be from our standpoint, and he told me what he thought. He later wrote about the meeting, saying, "Tankersley and I both left thinking he had the ability eventually to persuade the other to his point of view," which may have been true, I don't know. I didn't think I'd persuaded him too well. But anyway, the pilot was pretty rough. I said we could accept the series, but the pilot bothers me. But he wanted to open with the pilot. He wanted to really get attention. And he called me at a weak moment. I'd been in Florida, at NAB - the National Association of Broadcasters meetings - and flew back at the end of the day, and got to the office after a snowstorm, and Norman Lear had called. So I called him back, and we talked, I think, for two hours. About the show and the problems and how we shouldn't open with this pilot, and he's a very persuasive man, and boy, tenacity is his main asset. He wouldn't give up. I was getting hoarse, and then finally I said, "Norman, go ahead. I may blow the roof off – we may lose the entire series just by doing this. But go ahead." The program department as Perry Lafferty has explained, hid this thing – put it where it'd have very little audience, at some late hour, after the news, and we didn't get many complaints. I believe at a regular time, earlier, we'd have gotten a lot. But anyway, we went from there, and had to make changes, but basically it was acceptable because it was give and take. There are two sides to it: Archie the bigot is shown to be wrong, and even Meathead was shown to be a lazy, perpetual student. So everybody seemed to be satisfied that his side had been presented. It was balanced, in its own strange way.
On what's good about television:
Television's done a great job in many, many ways. And politics - it's given the public a chance to look at the people as well as hear them. It's done many, many good things. And with good people at the head, it'll continue to do good things.
Read William Tankersley's obituary in The New York Times and watch his full Archive interview here.