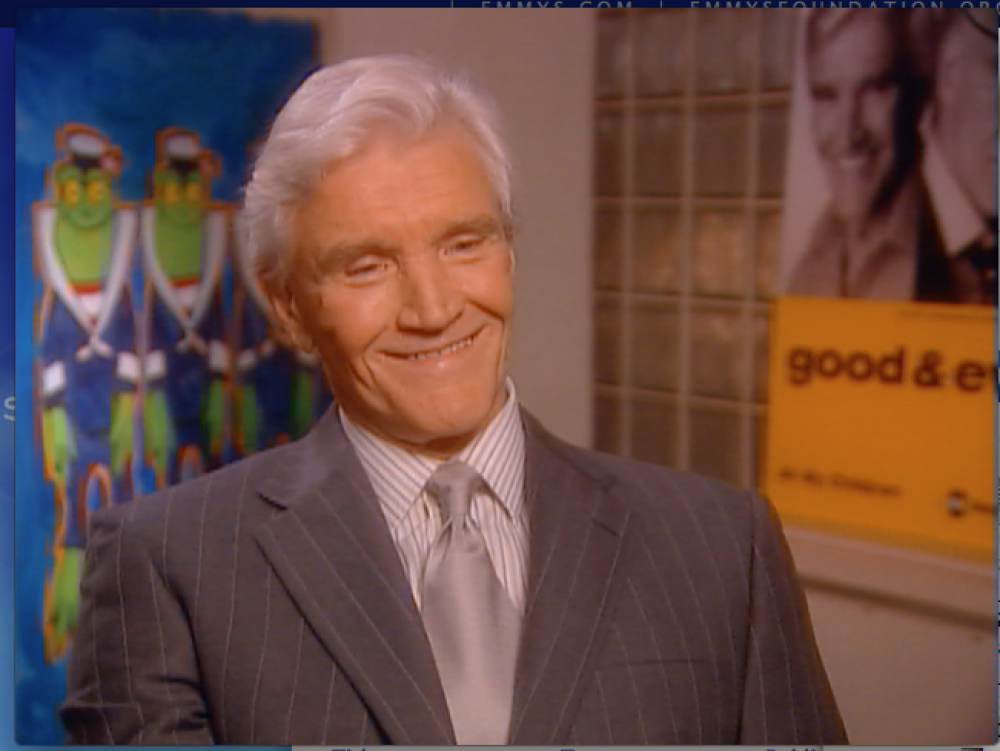 We're sad to learn that actor David Canary passed away from natural causes on November 16, 2015 at the age of 77. Canary was best known for playing the dual role of twins "Adam Chandler" and "Stuart Chandler" on the daytime soap opera All My Children. Before All My Children, Canary appeared as a regular on primetime's Peyton Place, played "Candy Canaday" on Bonanza, and had roles on the soap operas The Doctors and Another World.
Below are some selections from his 2004 Archive interview:
On wearing lifts for his role on Bonanza:
I was told that I'd have to wear lifts in my boots. And the boots already had heels. I said, "Why? Mike Landon's 5'11", I'm 5'11", Lorne Greene is 5'11", Dan is about 6'1..." "And they're all wearing lifts in their boots. To stay in frame, you're going to have to wear lifts." I had lifts that were about 5 inches. So we're all walking around with nosebleeds, trying to stay in frame, as it were. And out in a hot day in the desert, walking around - it's not fun.
On why All My Children is a great place to work:
There are no prima donnas on the show. That's point one. I'd been on two other shows, short term, that had real prima donnas on them, of the male and female variety. And that can just be such a horrible bore when people are trying to pull their weight around, particularly actors. We don't have that here. We have Miss Lucci, who's a doll. A very talented doll. We have a whole bunch of actors, wonderful actors, I think, that enjoy the work. And there's almost never a sour moment. We all get a little peeved once in awhile, sometimes more with ourselves than anything else. But it's from the bottom right up to the top. It's a great place to work.
On playing twins "Adam Chandler" and "Stuart Chandler" on All My Children:
I was very shaky with Stuart. Because I wanted him to be visually as different as I could make him within the limits of who he was. There's that sort of silly smile he has and then it evolved. I'm told it works. I really am the last person to judge it because there was always a little bit of technique, a little bit of mechanics involved. Adam and Stuart were in a scene where Adam had been thrown into the loony bin and Stuart came to see him and Adam had framed Stuart's wife and made it look like she was sleeping with somebody, for his own evil purposes. Stuart has caught on and there's a scene in the hospital where Stuart realizes Adam admits what he's done. Stuart admits, "I can't hate you; you're my brother but I do hate you." And I burst into tears. Once in awhile we get a really convincing, wonderful emotional scene and that was a pretty good one. But it's partly technical and partly luck.
On advice to an actor starting out in television today:
Don't start out in television. That would be one of the first things I'd say. For me, anyway, I think we learn to act on stage. That was my experience. Television being such a commercial medium, I just think that they'd be better off studying and doing some work in theatre to build their instrument and to test it. Most of what I know about acting I've learned in regional theatre.
On his proudest career achievement:
Watch David Canary's full Archive interview and read his obituary in The Hollywood Reporter.