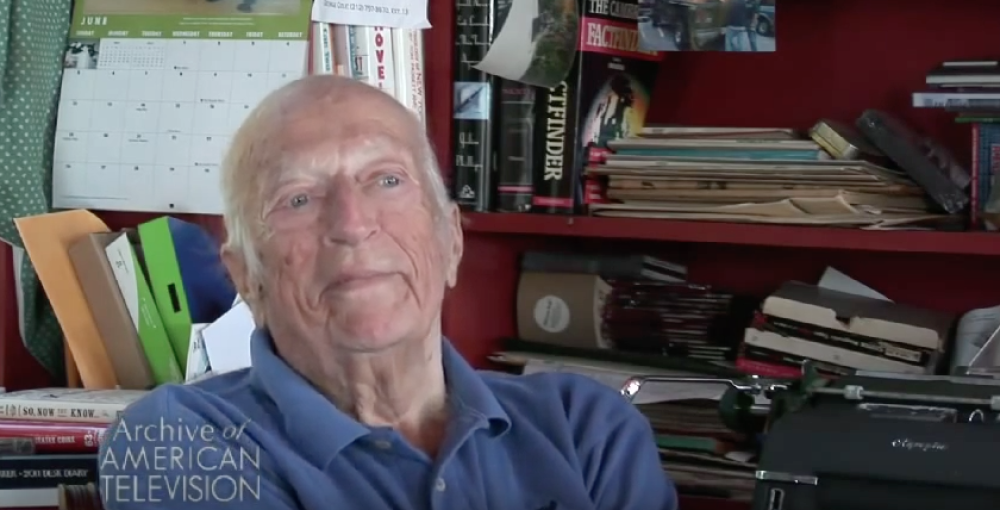 We're sad to learn that comedian Bob Elliott passed away from throat cancer on Tuesday, February 2, 2016, at the age of 92. Elliott and comedy partner Ray Goulding formed the comedy team "Bob and Ray" for local radio station WHDH in Boston back in 1946. The pair transitioned to network radio and subsequenty to television and were part of a hugely successful Piel's Beer advertising campaign, which led to dozens of other commercial endorsements over the years. They had a Broadway show, in which many of their most famous characters were honed, and appeared on multiple TV talk shows including The Tonight Show Starring Johnny Carson and Late Night with David Letterman (on which his son Chris Elliott worked as a writer and on-air talent). Elliott also appeared on Newhart, Happy Days, and Trapper John, M.D., and was a regular on son Chris Elliott's groundbreaking cult sitcom, Get a Life.
Below are some selections from his 2011 Archive interview:
On how "Bob and Ray" got their start:
We had no plans to be a team. In 1946 it just started and grew by itself. The station had been bought right at the end of the war by The Boston Herald and they put brand new studios in Copley Square in Boston and they got the ballgames. But they wanted something to get an audience before the ballgame that they could sell as premium time. So we had been kibitzing enough back and forth that the manager saw something in us and he said, "Would you like to do a show before the ballgames?" And we said, "Sure, we'll do that, as well as play records." So we were on about 20 minutes before each day's game.
On Ray Goulding:
I had great admiration not only for his talent, no question about that, but just the friendship we had. When we went into the commercial business as a result of Piel's, we had offices in New York and a studio of our own where could go, and had an engineer work for us. We could work out ideas on tape and so forth and Ray did a lot of that, same amount I did, so we worked together most of the work day, working in our commercial business and hiking across town to either CBS or Mutual and doing the radio show. Ray always walked a little bit faster than I do. We always walked to these places and I had to kind of keep up with him. He had six children in those years while I had five, and he loved kids. I'm sure he made his kids laugh more than I've made mine laugh. They may not tell you that, but it's true. We didn't realize it in time, but it was a connection that we just had. We were born with that.
On what he hopes their legacy in the business will be:
As enjoyable people to look at and laugh at and respect and get some creative juice out of what we did by observing. I hear things that we did now and then, which every comedian/standup whatever has done. In rare times when people are doing comedy I'll see a thing that I think was based on something we did. Ray and I always used to say, "I did everything on the radio 20 years before they did," and he was about right. Don't forget my epitaph - write if you get work.
Watch Bob Elliott's full Archive interview and read his obituary in The New York Times.