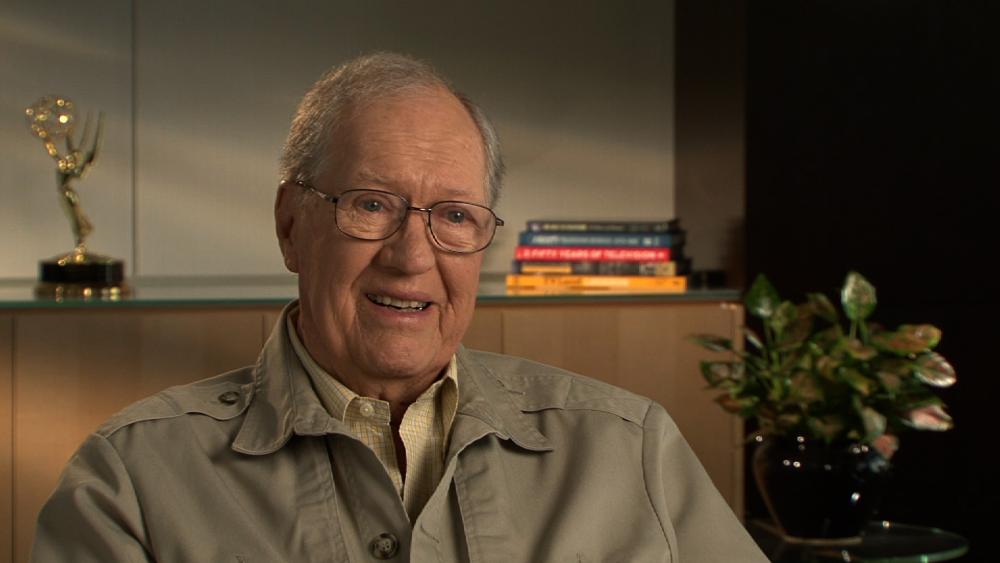 We're sad to hear that Producer/Director Bill Davis passed away on Monday, July 28, 2014 at the age of 81. Davis began his career at the CBC (Canadian Broadcasting Corporation) and became a television director during the medium's infancy. He soon moved to New York to work in American television and got his first job on The Jimmy Dean Show. Throughout the 1960s Davis directed the specials Rogers and Hart Today and Herb Alpert's The Brass is Coming, as well as several episodes of the controversial Smothers Brothers' Comedy Hour. He directed the series Hee Haw and worked on several other variety shows in the 1970s, including The Julie Andrews Hour, The Jonathan Winters Show, and Cher. Davis directed Marlo Thomas' television special Free To Be... You and Me, directed specials for The Carpenters and one with the Jackson family, and also directed the sitcoms Head of the Class and Barney Miller.
Below are some selections from his 2013 Archive interview:
On his early days at the CBC:
We had two main studios and one was for all the big shows and the other one was for the news and the regular daily stuff - a talk show that was starting to develop, and a puppet show for children. But the big studio was used mainly for big variety shows. There was one called The Big Revue and there was CBC Television Theatre, which was the CBC's version of great drama.
On directing Jimmy Dean's duets with Jim Henson:
Jimmy Dean was nuts in a way and he used to rehearse in his office. Jim Henson had the puppet on his arm - the puppet's name was Rowlf, the dog - that was one of his early ones. Jimmy didn't want to see Jim Henson. He insisted Jim Henson hide behind the couch. This is in rehearsal. It seems crazy, but Jim had to crouch down and he's a big, tall guy. He had to crouch down behind this little couch and hold Rowlf up and Jimmy would talk to Rowlf. Jimmy would get right into it. He really made Rowlf real and every now and again he would get mad at him and hit him. He would hit Rowlf in the face. It was just an image; you had to be there.
On working with Tom and Dick Smothers:
Tom and Dick were well established by that time and the show was a huge hit. I'd worked with them before. They'd been guests of mine in various show in Toronto when I was at CBC, so I knew them fairly well. This was during the war, and they were of course very anti-war. They took every opportunity to express themselves. If there was ever a chance, and it's hard to do in a variety show, but somehow in their sketches they would always try to find a way to refer to marijuana or refer to the war in some way. They developed a tremendous following, particularly younger people who were all for both those things.
On the success of Hee Haw:
It just hit everybody the right way. I think the speed of the show - at the time it was quick and it had a good combination of jokes and music. It was all top country hits of the period. And I think it was kind of uplifting and easy to take.
On his directing style:
My favorite part of the entire directing experience: I had the most fun with crews. I had a great time. The process of television was always fun for me. Always enjoyed the nitty gritty, the rehearsal with the actors, with the cast in rehearsal, and the transfer of all that to camera. The day-to-day changes of a show - to see it take shape and to grow I think is the most exciting thing for any director. The final thing is what it should be. It couldn't be anything else than the sum total of what each one of those moments was. But my experiences with the crew were always the best. My friends in the business to this day are all writers and very few other directors, but many writers, musicians and composers. They're the most interesting people in the business and to me. And the most amazing.
On how he'd like to be remembered:
As a good director and somebody who was fun to work with, hopefully. And somebody who came in prepared and knew what he was doing.
Watch Bill Davis' full Archive interview and read his obituary in The Intelligencer.