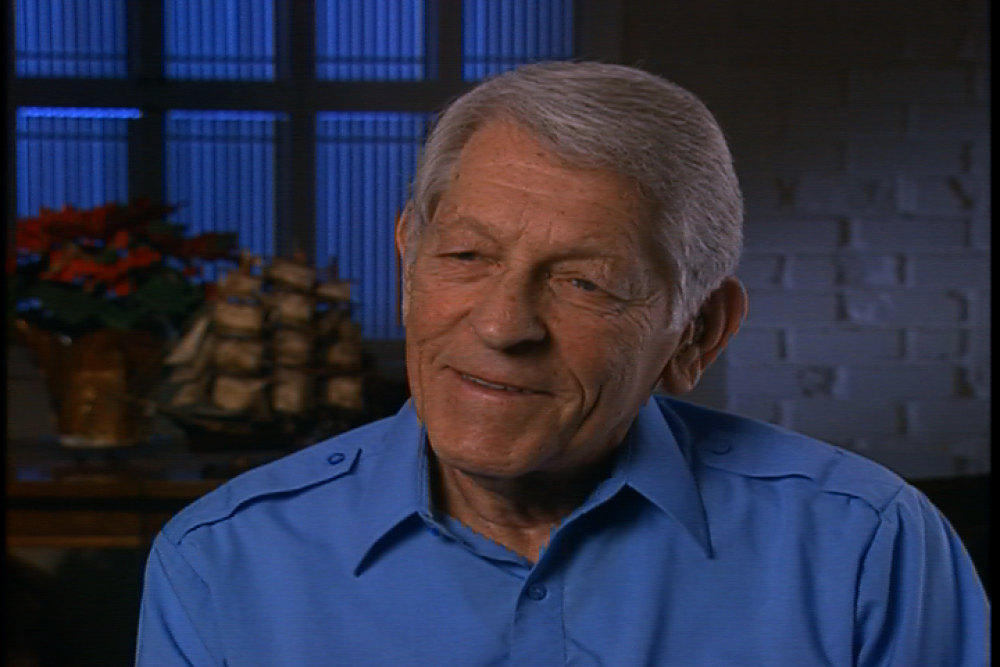 We're sad to hear of the passing of cinematographer Ben Wolf, who died on Friday, November 8, 2013 at the age of 92. Wolf started his career as a cameraman on The George Burns and Gracie Allen Show, The Ed Sullivan Show, Carson's Cellar, and Climax!. He also worked on classic programs The Jack Benny Show, The Red Skelton Show, The Judy Garland Show, CBS Playhouse, and The Smothers Brothers Comedy Hour. Additionally, Wolf served as a cameraman/cinematographer for several Norman Lear-produced programs including All in the Family and Maude, and became a freelance cameraman later in his career.
Below are some selections from his 2001 Archive interview:
On working on The Jack Benny Show:
I did Benny for possibly four or five years. The cameras were back of the house… We were 30 to 40 feet away from the stage, I would say, using an 8, 12 and 16 lens. And occasionally, I would go on-stage when Benny would do his vault. He would go down into the cellar and this set was so rigged that the other cameras couldn't get all the shots. So I would go through the orchestra, get on-stage to shoot the best of the shots.
On transitioning to shooting in color:
Color cameras were a little heavier than the black and white. Black and white weighed about 100 pounds. The RCA color camera weighed 425 pounds. The pedestals, the wheels on the pedestals were not built for the weight. They would flatten out. So over night, we would put blocks under the pedestals and raise them so the wheels wouldn't flatten out over night. But there were times that the camera was just too heavy for that type of wheel. Eventually they did put on different wheels, but it took them a long time. If you did a dolly, it was like having a flat tire on your car.
On cinematography:
On working on All In the Family:
I understand they did do another pilot, but it wasn't done at CBS… We started the show and ran part of it dry and laughed at all the jokes. And blocked some of it. After an hour, we took a five minute break and sat in the audience - the crew did and we started talking about the show. And we said, "you know, it's funny. It'll never get on the air." We were wrong.
On how he'd like to be remembered:
Remembered as someone who helped somebody else come up. You know, that's, being helpful for somebody who's just starting out.
Watch Ben Wolf's full Archive Interview here.