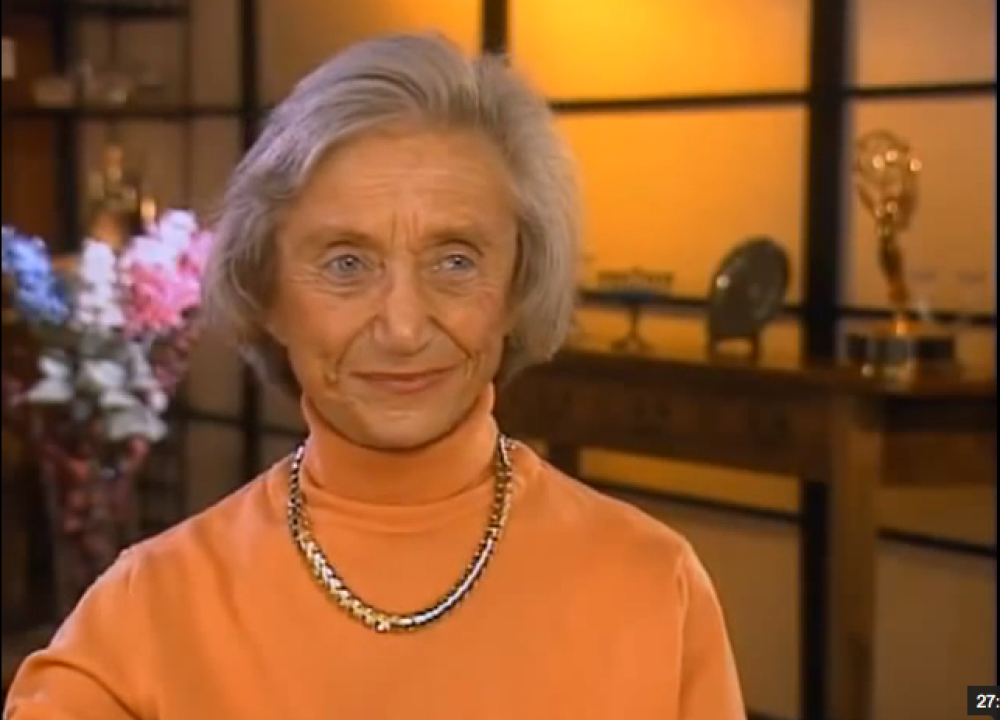 We're sad to hear that writer Ann Marcus passed away on Wednesday, December 3, 2014 at the age of 93. Marcus began her career as a "copy girl" at The New York Daily News and later became a reporter/researcher at Life Magazine. She broke into television-writing on The Hathaways, Camp Runamuck, and Please Don't Eat the Daisies, and soon tried her hand at soap opera-writing on Peyton Place, Love is a Many Splendored Thing, and Days of Our Lives. She co-created and co-executive produced (with her husband Ellis Marcus) the syndicated serial The Life and Times of Eddie Roberts, and worked with Norman Lear on the groundbreaking soap opera satire Mary Hartman, Mary Hartman and the less successful All That Glitters. She also wrote for Knot's Landing, Falcon Crest and General Hospital.
Below are some excerpts from her 2001 Archive interview:
On quitting Days of Our Lives:
When I was head writing, I wanted to do an interracial story about a Vietnamese young woman who was the mother to a child that one of the popular characters had fathered when he was in Vietnam. He's about to get married to someone in this country and she turns up. That's the story that I wanted to do, and they said no, they wouldn't do that story. And I said, "Yes, I want to do that story. I'm going to do that story." We had a contretemps about it. I think at that point, I could only write a daytime soap for about three years tops, and then I'd be totally burned out. I don't know how William Bell does what he does. I really don't. He just goes on year after year. I can't. So at that point, I just said, "Well, either we're going to do that story, or that's it." So they said, "That's it." I left the show.
On daytime soaps vs. primetime television:
It's quite similar, except that [in primetime] you have a week and you have to do one episode, one hour. With a soap, you have to go, go, go and material is used up so quickly. The technical stuff is very good with the live on tape, and the nighttime soaps are filmed - they're beautifully done. Very terrific work behind the camera. You can take longer. Obviously the writing is going to be better because you can take more time for rewrites. And you get bigger guest stars.
On how writing for television has changed over the years:
The way scripts were written - it was a freelance situation. Everything now is staff written. It's very hard to break in now. I just think it's a shame and a crime. But in those days there was a pool of freelance writers, and you could write for two or three different shows during the year. You could write two Dennis the Menaces, three Please Don't Eat the Daisies, and you'd have a very good career going. These days, you're on one show, there are sixteen of you in a room, and everyone's shouting and trying to one-up everyone else. I despair of it.
On how she'd like to be remembered:
As a worker bee, maybe. As one of the few women who back forty years ago was able to start a career and maintain it for forty years. Had a lot of fun doing it. Lot of ups and downs. Made a lot of money, made a lot of friends, had a marvelously good time, and enjoyed what I did. I don't think I've done anything particularly breathtaking or worthwhile. I did add a lot to Mary Hartman. I've had a lot of good times writing and I'm glad I did it. I feel good about what I've done.
Watch Ann Marcus' full Archive interview and read her obituary in Variety.