Our Day with "Laverne" & "Shirley" - All Our Dreams Come True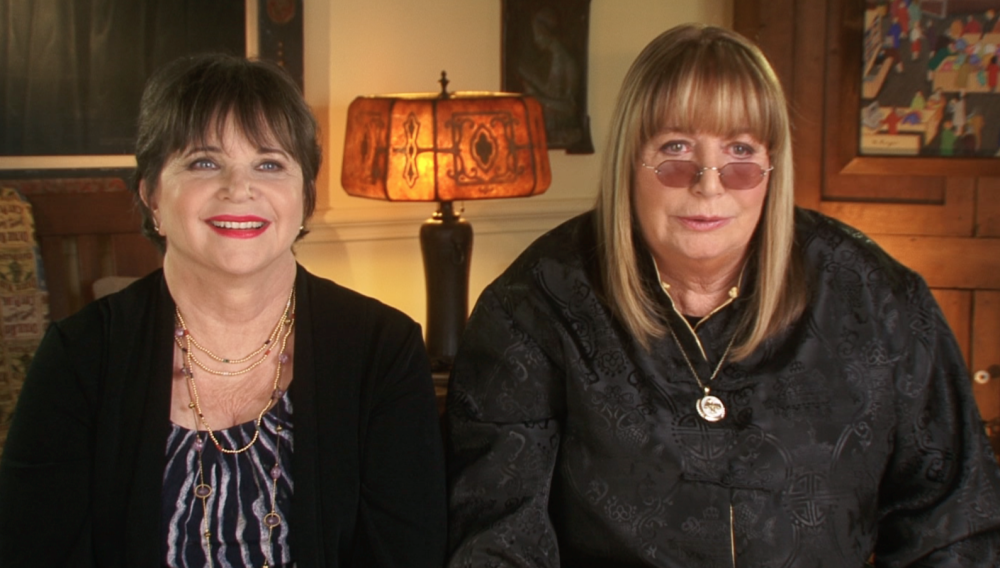 All our dreams came true one summer day when we got a call from the Archive of American Television asking us if we wanted to interview not just "Laverne" OR "Shirley" but "Laverne" AND "Shirley." Together. In the same room. How could we say no?
We fell in love with "Laverne DeFazio" and "Shirley Feeney" from the first time they graced our TV screens on Happy Days. It all happened when "Laverne" asked uber-clean-cut "Richie Cunningham" about his hankie. "Is that for showin' or for blowin'?" These were not the kind of girls that normally came into our living room in the quiet, still '50s-like suburb of Braintree, Massachusetts in 1975 — but we wished they were.
On January 27, 1976, our dreams came true when albeit softer versions of the tough-talking girls from the Shotz Brewery premiered their own series. Fittingly titled Laverne & Shirley, stars Penny Marshall and Cindy Williams were instantly embedded in our subconscious minds (along with That Girl and Mary Tyler Moore) reminding us that girls could be strong and independent and a little bit kooky. It was like they were directly telling us that it was okay to take any chance and break any rule. We were along for the ride, even after they moved to Burbank, California.
Three decades later, we'd make the move just like our favorite bottlecappers, settling into beautiful downtown Burbank and following our passions in the entertainment industry. Now those two little girls from the suburbs of Boston were going to sit across from their heroes from Milwaukee.
When the day came, Penny graciously welcomed us into her home. We sat down with Cindy first and talked about her early career acting in films like American Graffiti and The Conversation. We ended the day chatting with Penny about her life as the director of the movies Big and A League of Their Own. Each woman also gave their own take on how their most iconic TV series impacted them personally.
But the highlight of the day was when "Laverne" and "Shirley" sat down shoulder to shoulder and slipped right into that effortless banter we had watched so many times before, hunkered down way to close to our TV sets. Again, we hung on every word and tried not to giggle at everything they said. Cindy was a little more vulnerable, as "Shirley" tended to be. Penny, in true "Laverne" style, did not hold back. We had front row seats to our own private episode of our favorite childhood show … and now we get to share it with all of you on the 40th anniversary of the show's premiere.
It was a long day that flew by way to quickly and while it's practically impossible to choose the very best moments, there were a few highlights that really stand out.
Why They Just Might Owe Their Success to Little Richard
Penny and Cindy recounted the first time they met, on a double date at the Coconut Grove where they saw Liza Minnelli and Little Richard perform. Cindy explained how a chance backstage encounter with the "Architect of Rock 'n' Roll" just might have factored in to their ultimate success.
Where in the World Is "Boo Boo Kitty"?
Laverne & Shirley wouldn't have been the hit it was without the cavalcade of wacky characters that often burst through the girls' apartment door. No one could deny the contributions of "Lenny" and "Squiggy," "Frank DeFazio," "Edna Babish," "Carmine 'The Big Ragoo' Ragusa." But there was a silent co-star that often doesn't get enough credit — "Boo Boo Kitty." If you've wondered whatever happened to Shirley Feeney's beloved stuffed animal, Cindy Williams reveals the answer.
The End of Laverne & Shirley
Like all good things, Laverne & Shirley came to an end in 1983. But for us, and many fans, the series was over when Cindy left just two episodes into the eighth and final season. In our interview, Penny talked about the aftermath of her co-star's departure, the impact it had on the show, and the famous friends she brought in to try to keep the show alive.
Enjoy Penny Marshall and Cindy Willams' full interviews!