Nina Tassler's Interview Is A Master Class In The TV Business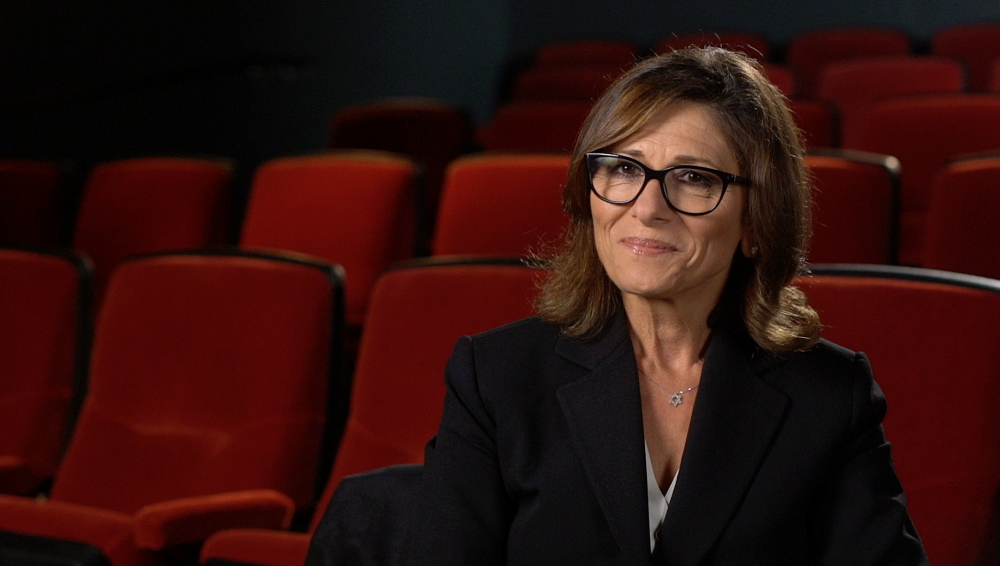 We were excited, and yes, maybe even a little bit nervous, for the chance to sit with network executive Nina Tassler for a few hours for the Archive of American Television. After all, this was one of the most powerful people in television. But what unfolded felt less like an interview and more like a master class in the TV business. Here was a woman who had gone from an aspiring actress to Chairman of CBS Entertainment. We were fascinated to learn her keys to successfully navigating the Hollywood system through the twists and turns of her career.
Lesson 1: Do What You Love
Clearly Tassler's journey started with a passion for entertainment. She grew up watching a handcrafted color TV that her father had made. With a strange sense of foreshadowing for her ultimate occupation, the channel was almost always set to CBS because her dad worked for the network as an audio/visual technician at the time. So, Tassler became an ardent fan of programs like The Ed Sullivan Show and The Wild, Wild West.
By the age of eight she was writing, producing, directing and starring in her own neighborhood plays. Although her dreams of becoming an actress never panned out, she boldly changed course, taking a job as a receptionist and agent's assistant before signing her own clients just seven months later.
Lesson 2: Eyes on the Prize
While observing the inner workings of packaging TV deals, Tassler realized that she wanted to see projects through to fruition and not just walk away when the ink dried on the actors' contracts. Tassler decided to move into development and set her sights on a job opening for the Director of Movies and Mini-Series at Lorimar (which would later become Warner Bros. Television).
Here Tassler taught us a valuable lesson in tenacity. With a laser focus, she begged pretty much everyone she knew to ask Lorimar President Les Moonves to give her an interview. Her determination ultimately paid off. Tassler got the job and she forged a key relationship that would span decades.
Lesson 3: Back Up the Talk with Talent
Of course, once she got her foot in the door, Tassler had to deliver the goods, which she did in spades. She quickly moved into the drama department and counted ER among her great accomplishments in series development.
When Moonves moved to CBS, she ultimately followed and became head of Drama for CBS Productions. In that position, Tassler demonstrated her innate ability to find and cultivate groundbreaking content. The ultimate example came in the form of the long-running series CSI. While other execs had passed on the show, Tassler took the request for a last-minute pitch from Anthony Zuiker for CSI: Crime Scene Investigation that launched a 15-year run, three spin-offs and one of television's most successful franchises.
Lesson 4: Have Confidence in Your Choices
Tassler passed on another valuable lesson — you can't have success without confidence. After seeing Chuck Lorre's original pilot for The Big Bang Theory, she had the self-assurance to approach the prolific producer and ask him to re-shoot the flawed first attempt. Rather than walk away from a less than perfect production, Tassler knew that there was strong underlying material and a few tweaks might just garner a hit. Plus, she trusted Lorre to see those adjustments to fruition and turn the series into one of the highest-rated shows on the network.
Lesson 5: Maintain Crystal Clear Vision
The final Chapter in the Tassler master class is perhaps the most difficult to teach — a true sense of vision. The recent changes she made to the late night line-up truly exemplify her ability to look to the future. When David Letterman was finally ready to retire from Late Show, Tassler and her team were tasked with reshaping the time slot. She tackled the challenges in the evolving TV business head-on by bringing in Stephen Colbert and James Corden and a viral video-fueled late night revolution was under way.
Shortly before we conducted our interview with Tassler, news broke that she'd be leaving her post to pursue other interests. While it's difficult to imagine this powerhouse not helming the ship at CBS anymore, it will be exciting to see what tidbits we can learn from her in her next venture. Luckily her new book, What I Told My Daughter: Lessons from Leaders on Raising the Next Generation of Empowered Women is full of advice from equally successful women like Madeleine Albright, Ruth Bader Ginsburg and Whoopi Goldberg. This should tide us over until we see what Tassler does next.
Watch Nina Tassler's full Archive interview.