Nichelle Nichols Interview now Online!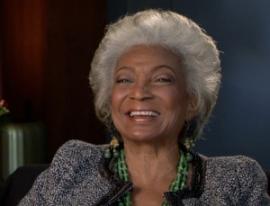 Interview Description:
In her Archive interview, Nichelle Nichols talks about her work as a cast member on the original Star Trek (NBC, 1966-69) playing "Lieutenant Uhura." Nichols discusses how this role broke many barriers, including portraying the first African-American woman as a high-ranking official and the first interracial kiss on television (with "Captain Kirk's" William Shatner). She reveals how Dr. Martin Luther King, Jr. influenced her decision to remain on the show. She talks about the show's creator, Gene Roddenberry, and his vision for Star Trek. She details her early career, highlighting her roles in theater and film, and touring as a singer with Duke Ellington. She also discussed her roles on The Lieutenant ,(NBC, 1963-64), another Roddenberry production. She discussed more recent roles, such as "Nana Dawson" on Heroes (NBC, 2006-10). Nichelle Nichols was interviewed in North Hollywood, CA on October 13, 2010; Stephen J. Abramson conducted the nearly three-and-a-half-hour interview.  View the entire interview with Nichols here.