My Dinner (and Dialogue) with Jacques Pépin (and My Grandmother)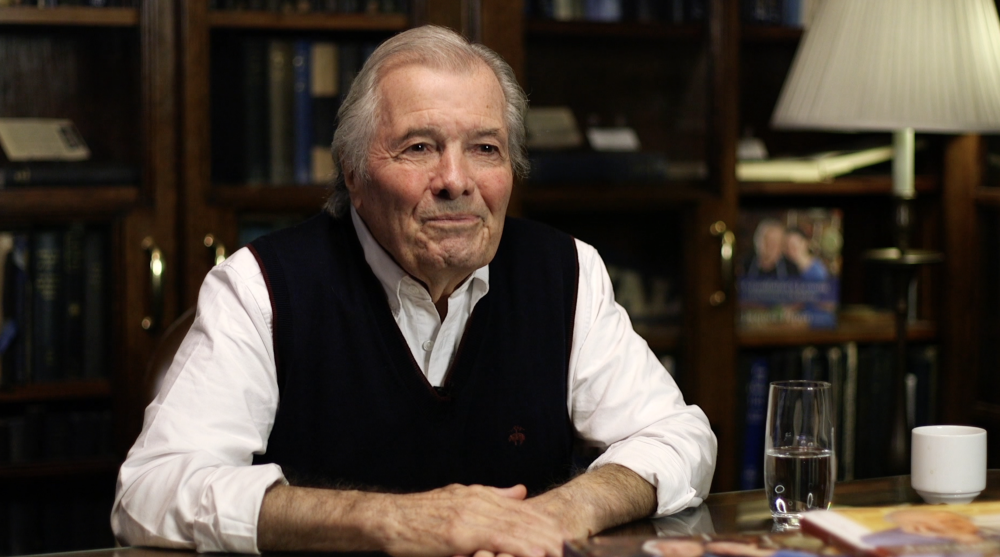 When I was little, I was Grandmom Minnie's sous chef in the kitchen. I chopped carrots and celery for soups, whisked batters, and attempted to crack eggs into bowls, sans shell fragments. Grandmom Minnie and I had another food tradition - on Sunday mornings we watched cooking shows on KQED, my local PBS station. Our favorite chef to watch was always Jacques Pépin. He seemed to enjoy the dishes he was making, the food looked appealing, and I loved his cheery "Happy Cooking" catchphrase at the end of each episode. He was informed, inviting, and in my living room with me and my grandmother. I have nothing but fond memories of watching his programs.
So when I was granted the opportunity to interview Chef Pépin in 2017, I instantly thought of Grandmom Minnie. She passed away over twenty years ago, but visions of watching Everyday Cooking with Jacques Pépin with my grandmother came flooding back. As I prepped for the interview, reading Jacques Pépin's autobiography and watching some of his cooking shows from over the years, I felt like a kid again, sitting on the striped couch in my parents' house, with Grandmom on my left. I had a wonderful sense of knowing Jacques Pépin before I ever met him, because my grandmother and I had spent Sunday mornings with him for over a decade.
The night before the interview, Chef Pépin invited us to observe him and the other deans of the International Culinary Center give a cooking demonstration, and then Chef asked us to stay and enjoy the meal. So I spent the eve of the interview breaking bread (popovers, to be exact), and drinking wine (several different vintages - one for each course, of course) with Jacques Pépin. My ten-year-old self was in disbelief, and my current self was in foodie heaven.
When interview time finally arrived, I chatted for over two hours with a man I'd admired for nearly my entire life. I got to hear in-depth stories about how important food was to his childhood, and about his experiences cooking in France before coming to the United States in the late 1950s.
I loved hearing him speak about Cooking with Claudine, the program in which he and his daughter are in the kitchen together. As a teenager, watching his on-screen dynamic with Claudine always made me want to be right there in the kitchen with them.
And, of course, Jacques discussed being present for one of the most iconic moments in food TV history - when Julia Child sliced her finger before a segment of Tom Synder's The Tomorrow Show (the incident that Dan Aykroyd so famously spoofed on Saturday Night Live).
Jacques also talked about cooking for French diplomats and for Howard Johnson's, starting a restaurant (La Potagerie), writing cookbooks, and teaching cooking techniques. For those of you who love good food, the art of cooking, and fabulous French accents, watch Jacques Pépin's full interview. For me, it was an unbelievable afternoon with one of my childhood heroes -- with two heroes, really, because I felt Grandmom Minnie there with me, on my left, watching one of her favorite people, too.
- Adrienne Faillace