Legendary blacklisted director David Pressman dies at 97
"David Pressman (with Robert S. Woods) as "Bernie" on One Life to Live"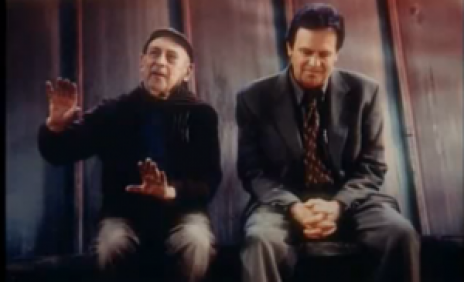 We're sad to report that director David Pressman passed away on August 29, 2011 at the age of 97. He was known as an "actor's director," who began his television career on early anthology series. His rising career was halted by the Blacklist; but he continued to work as a coach and, astonishingly, was able to "secretly" direct an anthology series during that time. He later went on to direct One Life to Live for 28 years. After his retirement, he returned to his first love, acting, and played One Live to Live's recurring character "Bernie." David was interviewed by the Archive of American Television for 3-1/2 hours in 2004. Here are some excerpts from the career-spannng interview:

On his early love of acting
I'd seen a lot of theatre since I was a child. And my mother was an opera singer and I knew actors and it was something -- a pretended person was emotionally… exciting. I was in love with acting… I still am! Because I think to me it's a wonderful, human, craft of art. And from which stems really acting began first, before drama, writing and direction. The acting was first. And will always be the first. Because that's the human effort that's so creative and so wonderful. Look how many actors we have in the country today. I don't mean great or wonderful, but a huge amount of young, very talented people all over.
On being blacklisted and secretly helping Charlie Martin direct Philip Morris Playhouse
Right after they called me on the phone said "David, I can't use you anymore. I don't know how to do it." So what happened was, I coached him. I would get the floor plan…I showed him how to do it. It was really a very unique situation. I would come to the control room… the day of the show. I was there during rehearsals while he was staging. He would look at me and say is this the way I should do it? This is a rehearsal. So the actors knowing what's going on. I said,"yeah, Charlie, you're doing all right." I would help him in staging it in case it didn't work. I would go home at night with the script and the floor plan and show him how to stage it for the three cameras. I would come to the studio the day of the show in the morning and the crew all knew what was going on. All these cameramen… the guys would come together. I'd say Charlie's going to take over and this is how it works. Here's the shooting script and I would explain some of the complexities and they understood everything. And they were right with it so when he came into the control room; he was a very showy guy, always wearing a black Hamburg hat and a cigar in his mouth and he was that kind of a character. And the crew already knew the show from my description because I would spend an hour before blocking time… and they would understand. And he would run the show and then at the end of the show that night, that evening, whatever it was, he would pay me $250 behind the scenery, backstage; a check for $250. So that went on I think for about 10, 12 shows and then finally he calls me and says hey kid, that's it. I can't do it anymore. They're after me. By that time, of course, he learned how to do it more or less and there were maybe two or three shows left and he went on, finally it was off the air. He was quite a character.
On the end of the Blacklist
My family understood everything. Friends all understood it. One or two people said, "lie, can't you?" I wasn't ostracized in any way socially; no such thing. As a matter of fact, for 12 years David Susskind would try to get me, and he would call me back and say, "David, I submitted your name to Armstrong Theatre and they said no." I said, "who said no?" He said, "I cannot tell you." Finally by '63 he called me and said its okay. After all the suits and the McCarthy period sort of dissipated but it was so terrible and so many people lost their livelihoods. So I began to work for Susskind again.
On directing social issue themes on One Life to Live

We had one issue for instance which had to do with a girl who was on drugs. And… all the characters that go on it since then but we went… to a drug rehab outfit in the Bronx. They had kids living there for four or five days. And we went and I shot, it was early… editing… it was still difficult to edit that. It wasn't like it is now. But I shot for a week with the actress who played the character who was on drugs. I shot scenes with them talking and we took that and we edited and incorporated into the show. Because Agnes Nixon was very conscious of social issues like that. About voting, for instanceand other problems of that kind. But I remember this one particularly because we had to go on the street and shoot in a store, a storefront in the Bronx with the real kids mixed with actors. And we had to re-edit it for two weeks to put the scenes into the show.
On playing "Bernie" on One Life to Live after retiring as director of the series
When I left the show in 1998 after 28 years of work, they called me back to coach the younger actors. Then I said "listen, I'm really an actor. I really want to act…" There was nothing in the script that I could play. So I came home and I said to my wife, "what can I do?" And there's an anecdote about David Mamet and Shakespeare which had to do with an actor who curses. My wife said, "why can't you be like a homeless actor who quotes a lot of Shakespeare and so forth?" I said well, I'll propose it. So I went back to the producers and I said, "can't I be like a homeless actor?" So they wrote me in. I'm a character named Bernard who lives in this hotel and I live in a cardboard box on the roof of the hotel. I had several scenes. And my character is Bernie and every other line I'd drop Shakespeare lines which is very easy for me because I quote a lot of Shakespeare anyway when possible.
On his proudest achievement
My proudest achievement? I was very happy with the play "Summertree". And also, the Broadway "Disenchanted" with Jason Robards. I think those were the things I really loved doing the best. And that particular experience was extraordinary because of Jason Robard's talent and his incredible capacity as an actor. There have been several things on One Life to Live that I liked very much doing. I liked the experience of doing daytime because of the preparation, the work and that I was so… revered by the actors, in terms of helping them with the acting. The whole experience of daytime was to me a wonderful experience. I loved doing it. And not only because it was a steady job but because of the nature of the thing.
On his advice to aspiring directors
Learn. Be prepared as best you can. An unprepared director who comes to rehearsal not fully prepared is a disaster. And don't depend on improvisation. In the theatre, you've got to know what you're doing. You've got to know how to stage it. You've got to know the values of all the theatrical work. And, like a conductor of an orchestra, you have to know your instruments -- how they work and what can they do. Otherwise, the musicians will find you out. And so will the actors.
David Pressman (1913-2011) was interviewed for three hours plus in New York, NY. Pressman recounted his arrival in the U.S. from Russia in 1922 and his early interest in acting. He talked about acting at the Neighborhood Playhouse in the 1930s and his entrance into WWII in the early 40s (as well as describing the feeling of returning home from the war, seeing the Statue of Liberty from a porthole on his ship). He talked about the Actor's Studio that was created in 1947, which he described as a "gym" for actors. He spoke in great detail about the "live" prestige ABC television drama series Actors Studio that started shortly after the Studio itself opened and which featured many of the emerging talent at the time. Pressman talked about appearing as an actor in the very first production of Actors Studio and then becoming one of the series primary directors. He talked about the process by which the productions were staged and directed for television. He listed the writers, performers, and other talent who worked on the show and the series' struggle for sponsorship. Pressman talked about the excitement of working in "live" television and talked about other anthology series he directed. He detailed his struggle to work as a director in television despite the shadow of the Hollywood Blacklist, and how he ultimately switched careers to teaching until the end of the blacklist, when he returned to television, notably as an Emmy Award-winning director of the daytime serial One Life to Live. The interview was conducted in New York on July 27, 2004.