Legendary "Academy Awards" Producer Gil Cates, Dies at 77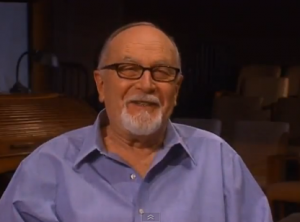 The Archive of American Television is sad to report that director/producer Gilbert Cates passed away suddenly on Monday, October 31st at the age of 77. He started in early television as an associate producer on game shows, and later produced variety shows and television movies. He served two terms as President of the Directors Guild of America, but was best known as the long-time producer of the Academy Awards (The Oscars). The Archive interviewed Gil in 2007. Here are some excerpts from the 2-1/2 hour interview:
On his approach to producing the Academy Awards
I think that everything that you do should somehow be authentic. There should be a connection to the world around. I've done 13 Oscar shows now and I've tried to connect as much as possible, the Oscar show with the emotional happening in the world.  Now that happens in large measure by the movies, because sometimes you have movies which are studio movies.  Sometimes you have movies which are independent movies.  Happy movies, sad movies.  But on the other hand, things are happening in the world. The first year that I did the show, the Berlin Wall had come down. It seemed that everybody was euphoric and it seemed a perfect time to have a party around the world.  So the first year that we did the show we had Jack Lemmon in Moscow and Charlton Heston in Argentina and then I had someone in Japan.  So we just opened up the world and had this big party. And the films were the films, but there was that. One year, when Dianne Feinstein and Barbara Boxer were elected Senators from California, we had a show that was focused around women in film. We had film packages about such things as until World War II, basically, most of the editors that edited all the films you remember were women, that somehow, whether it was thought of like a tailoring job, I don't know, but they were women.  All the great films. So, we were interested in women cinematographers. Each year seems to indicate an emotional connection to something. My approach is to try to find what that emotional connection is and see if we can graft that onto the movies. Then of course, the biggest choice, I think, that the producer has, is the selection of the host. When I started doing the show, the big hosts were Bob Hope and Johnny Carson.  So, I had to find a host. A couple of folks and I all thought that Billy Crystal would be a great host.  Initially the network wasn't that enthused about Billy Crystal.  They didn't know how Billy Crystal would play in the Midwest, all these kind of arcane thoughts that network minds go through. Billy was terrific and he has been terrific each time he's done the show.  So, from my perspective, the big thing is to try to connect it to something authentically that's happening and to try to find a good host.
On his long association with The Geffen Playhouse
The Geffen is a playhouse that was originally was the Westwood Playhouse.  I was Dean of the School of Theatre and Television at UCLA for about 8 years.  And during that time UCLA owned another theatre in town, the Jimmy Doolittle Theatre.   And it was just not a good fit because it was too far away, it was not really relevant.  So we convinced the University and a group of people to ultimately we sold that, to buy this theatre.  The theatre was owned by a woman who would not sell it unless whoever bought it guaranteed it would be a theatre forever. No one could really do that, except the University.  So a group of people put together the money to buy the theatre, gave it to the University, which pledged that it would be used as a theatre forever.  And then made an arrangement with an operating company of which I'm President, to run it.  For which, by the way, I don't get paid.
On his proudest career achievement and his motivation to keep working

My proudest achievement is having had a career to begin with!  At this point it's weird,  I've done so many shows, I don't remember many of the shows that I've done.  And I love every show  I did a play of Robert Anderson's in London.  With a great theatrical producer named Binky Beaumont, H.M. Tennant, and they produced hundreds of shows with John Gielgud and Laurence Olivier.  And I remember being with, Binky's a weird name, isn't it?  I don't even know what his real name was, but he was called Binky. I remember being with him at the opening night party of "You Know I Can't Hear You When the Water's Running". Jose Ferrer directed it and Tom Ewell was in it, Rosemary Murphy.  And at the party, he was about 81,  I remember asking him, "Binky, what are you looking forward to now?"  You know, 81, done it all, produced hundreds of plays. He looked at me and he said, I just want to find a good script.  I thought to myself, "Wow, that's pretty good, at 81 and you just want to find a good script."  But I know what he means.  You just want to keep doing it.
On how he would like to be remembered
When Laurence Olivier died, they ran a piece of him on the Barbara Walters Show. Barbara Walters asked Olivier how he would like to be remembered.  And he thought for a moment and he said, "as a worker."  Barbara Walters said, "As  a worker?  That seems so prosaic.  What does that mean, as a worker?"  Olivier thought and he said, "well, you know, Michelangelo was a worker.  God is a worker."  And in his context I know what he meant.  In my context, how would I like to be remembered?  I'd just like to be remembered as a fair and thoughtful guy.  Really, honestly.  I mean, at the end of the day, the only one who really remembers you, in terms of memory, unless you're Albert Einstein, is your family anyway.  And the real thing that counts is that chain of which you're a part.  All this stuff is transitory.  I remember going through a period of time when I would watch television at night and I would see a little clip of an old movie come on.  It gave me a little kick.  And as you get older, those clips get less and less.  But… that's it. Just as a fair fellow.
Full Interview description (watch the interview here):
Gilbert Cates was interviewed for two-and-a-half hours on the stage of his theater production of "A Picasso" at the Geffen Playhouse in Westwood, CA. Cates talked about getting hired as an NBC guide at Rockefeller Center and performing such tasks as "audience waver," in which he encouraged applause from the studio audience. He described the excitement of working in "live" television in the 1950s and his association as director and producer on several game shows. He discussed his work as an associate producer on the series Dotto, the game show that infamously ignited the "quiz show scandals." He described how the show was exposed and talked about the general nature of fixing shows during that era. Cates discussed projects that he produced and directed in the 1960s including the pilot for the music-variety series Hootenany; International Showtime (in which he filmed international circus acts), and Electric Showcase (including a show done at the 1965 World's Fair). He talked about his transition to producing Broadway shows, including "I Never Sang for My Father," which he later filmed as a feature film with Melvyn Douglas and Gene Hackman. He talked about several television movies he directed including Arthur Miller's After the Fall. He spoke in great detail about his long association as producer of the Academy Awards broadcasts. He described the challenges of mounting the "live" broadcast and recounted several memorable moments from the show through the years. Lastly, he talked about the creation of the Geffen Playhouse where he serves as Producing Director. The interview was conducted by Gary Rutkowski on March 13, 2007.
Obituary from The Directors Guild of America