Joshua Brand ... Over Exposure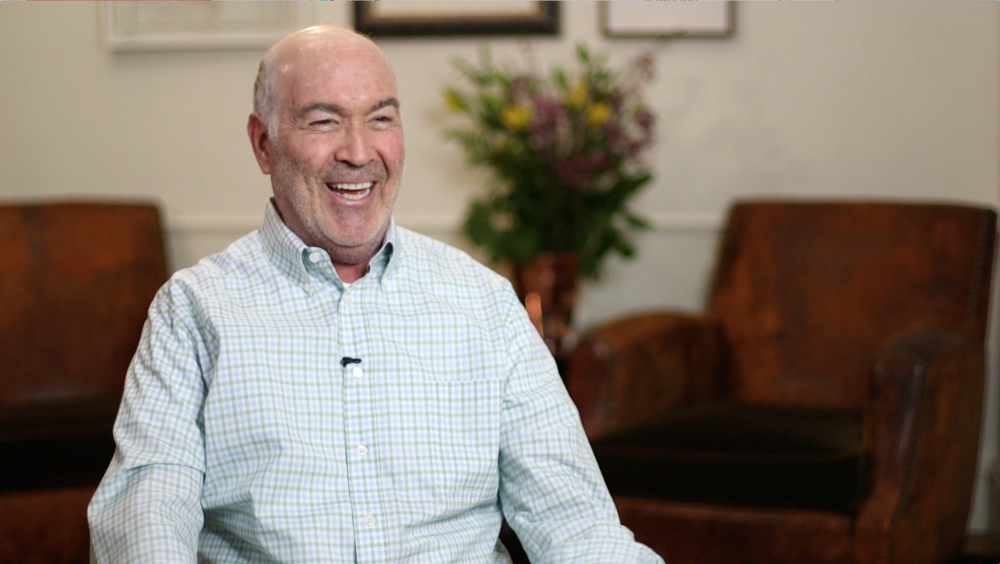 "Like most human beings I'm just trying to make sense of things. I don't know if I accomplished that, I don't know if anybody can. The universe is a weird place. We break our teeth developing theories, equations, and systems... a system is like the tail of truth. But truth is like a lizard: it leaves its taile in your fingers and runs away knowing full well it will grow a new one in the twinkling."- Northern Exposure, "Nothing's Perfect"
Having grown up on the "magical realism" presented in the philosophical meanderings of an ex-con radio DJ on KBHR, I was ecstatic when Northern Exposure's creator, Joshua Brand, agreed to an interview. The Queens-born writer has won mutliple Emmy Awards, two Peabody Awards, a Humanitas prize, a Producers Guild of America Award, the Writers Guild 2013 Television Laurel Award with writing partner John Falsey, and is currently busily working as a consultant on FX's The Americans. Still, he graciously sat for over four hours to share his stories with us (he couldn't believe it either).
His parents were working class Jewish immigrants from Eastern Europe. They had high hopes that Brand would become a lawyer or a doctor. Although he graduated with honors from CIiy College in Queens and got a fellowship to graduate school, Brand was not keen on the academic life. It wasn't until he met a screenwriter at his sister's wedding that he realized it was possible to make a living from writing. So he left grad school and drove cross-country with nothing but the number of an agent in his pocket. (He had asked his father for $500 to help him get started, but having grown up in a Polish shtetl and used to working six days/week as a tile man, his father couldn't fathom how you make a living writing stories that never get produced.) Brand was on his own, writing spec scripts and trying to break into the industry, film or tv, it didn't matter.
While sitting in a waiting room ready to pitch for The White Shadow, Brand met another young writer named John Falsey. Falsey scored the gig. Brand almost gave up hope, looking to move back east to try for a teaching gig. But on the way back from NY, Falsey happened to be on the same plane and offered him a job on the series. Brand's career as a writer formally began.
The medical drama St. Elsewhere was the pair's first co-created series. But how did the idea to weave the highly-technical and jargon-filled stories from St. Eligius come about? It's quite a story. Lance Luria was Brand's roommate and childhood best friend from Queens. He became a doctor (an incredible fete involving flunking out of medical school, bribes for French Pierre Cardin suits, trips to Mexico and a Spanish-speaking girfriend). It was Luria who got Brand all-access to see what residents at a top-teaching hospital endure, and became the inspiration for the show, which was pitched to Grant Tinker as "Hill Street in a hospital" (even though Brand had not yet seen Hill Street Blues).
On creating St. Elsewhere:
The show ran from 1982-88, but Brand left after the first season. When asked why, Brand was forthright. "I did not play well with others." He admitted that while his inexperience enabled him to take risks, his lack of maturity prevented him from understanding that, with success, "there's enough to go around." He apologizes here to his colleagues on the show.
On leaving St. Elsewhere:
Brand and Falsey moved on to develop the sci-fi anthology series Amazing Stories with Steven Spielberg (despite having told Spielberg he hated The Twilight Zone and sci fi in general!), and the TV miniseries A Year in the Life, which won him his first Emmy award. When asked what made him take on these challenges, Brand iterated a theme which best represents his professional motto, "'Yes' is a better word than 'no.' 'Yes' creates possibilities and 'no' just ends possibilities, a no is a steel curtain. Unless you really, really don't want to do something, I mean, what the hell?"
On A Year in the Life:
Brand enjoyed mixing drama and comedy, fantasy and reality, and divergent storylines in all his shows, but he says unequivocally that Northern Exposure was the closest to his heart. Another "fish out of water" story, inspired (in part) by his old friend Lance (the doctor/cop who by this time was living in a remote hamlet in upstate NY), about a begrudging big-city doctor to the desolate town of Cicely, Alaska (population: 829) to pay off his medical school loan. Why Alaska? "It's where everybody goes to recreate themselves," explains Brand. "Everything that's loose that isn't tied down winds up there."
It was a labor of love from the beginning. A 1990 summer replacement show, the initial order of 8 episodes made for only $829,000 (hence, the population # of fictional Cicely) everyone told Brand he was wasting his time and no one would watch the show. But he was determined to make this little show run. Brand bristles at the term "quirky," but I'm not sure how else to describe a show that catapulted a piano. Of Northern, Brand says, "We were going to see something that was going to look different than anything on television."
On leaving Northern Exposure:
Brand gives a lengthy account of his personal writing process and one of the most important lessons he's learned about writing for television, which he describes as "dream time," which includes specifically visualizing a scene before you write it - "Trust your unconsious."
On his writing process:
Josh spent the better part of the day speaking with us, both on-camera and off. His passion for his work and his effervesence are definitely contagious. Although he absolutely thinks this was overkill, I could have listened to his stories for hours more. Watch the full interview here.
- Jenni Matz