If you like it then you shouldn't put a ring on it: THAT GIRL turns 45!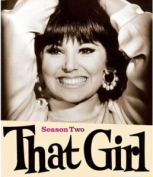 Before Carrie Bradshaw, before Murphy Brown, even before Mary Richards, it was That Girl's Ann Marie who first showed American television viewers that it was okay to pursue a career instead of a man.
Fondly known as a pioneer in the portrayal of television's leading ladies, That Girl certainly earned its place in television's history books. It was a ratings hit, lovely to work on (according to cast and crew), and left a blueprint for the Carrie Bradshaws of the world on how to be a fashion maven. But getting That Girl onto television was not an easy process, and the program's backstory makes the final product all the more impressive. With a bit of a daring premise, a clash of the titles, stars who didn't test well, and an agent character gone AWOL, the series experienced a few setbacks on the path to success. Throw in a hunt for Daddy and a dispute over the finale, the behind-the-scenes tales of That Girl could almost be sitcom fodder themselves.
Marlo Thomas, who portrayed That Girl's Ann Marie, had her work cut out for her. In 1965, Thomas starred in a pilot for a show called Two's Company, and though the pilot didn't sell, it did grab the attention of ABC executive Edgar Scherick and sponsors Bristol-Myers and Clairol. Scherick saw star-power in Thomas, and Bristol-Myers and Clairol believed she could increase sales of their products with those trademark bangs. With sponsors and a star secured, all that the group needed was a show idea. Thomas had one, but it wasn't well received.
She wanted to do a show based in-part on her own life as a single woman trying to make a career for herself as an actress. The character would not be a stay-at-home mother, a teacher, or somebody's wife, but would be the somebody. Watch below to find out how a copy of Betty Friedan's The Feminine Mystique convinced Scherick that Thomas' idea had merit:
With Scherick on board, the show began to take shape. Thomas wanted Sam Denoff and Bill Persky, writers for The Dick Van Dyke Show, to co-create the program. Denoff and Persky observed Thomas in a London production of "Barefoot in the Park" and were convinced of her acting talent, but were concerned about whether or not Thomas could be funny. It turns out they didn't need to worry -- Marlo, like her father, legendary entertainer Danny Thomas, had a knack for comedy.
The show was originally titled "Miss Independence" after the nickname Danny Thomas gave Marlo after she first moved into her own apartment and promptly called him to complain that her new abode was infested. The elder Thomas turned to his wife, Rose Marie, and reported, "Miss Independence has ants." Denoff and Persky thought the title sounded too much like a musical a la 1776, and Denoff came up with the title of "That Girl." His parents used to refer to his sister as "that girl," as in "that girl is going to drive me crazy," and he and Persky then crafted the show's signature prologue featuring a zoom in on Marlo Thomas, ever "that girl" that captured everyone's interest.
Thomas starred as Ann Marie, a young woman straight out of Brewster College. Against her parents' wishes, she moved to Manhattan to follow her dream of becoming an actress. Ted Bessell played her boyfriend, Don Hollinger, though in the original, unaired pilot, Don was Donald Blue Sky, both Ann's agent and boyfriend. Bessell didn't test well in this role; audiences didn't like the idea of Ann's boyfriend profiting from her career. Persky and Denoff rewrote Don to be Ann's boyfriend, a reporter for Newsview magazine, gave him a new surname, and cast a young George Carlin as her agent. When Carlin didn't show up for episode six, actor Ronnie Schell was cast as Ann's agent. Several other actors were replaced after the test pilot: Rosemary DeCamp took over the role of Ann's mother, Helen, from Penny Santon, and Lew Parker became Ann's father, Lou, in lieu of Harold Gould. Groucho Marx read for the role of Ann's father, and although everyone agreed Marx was a comedic genius, they also agreed he wasn't right for the part.
That Girl received a five-year contract, with Marlo Thomas serving as the show's un-credited Executive Producer via her role as head of Daisy Productions, the company that backed the show. The sitcom was an immediate hit for ABC and maintained high ratings throughout its five seasons. As the contract's deadline approached, ABC, Denoff and Persky wanted to renew, but Thomas did not. Feeling as though Ann wasn't entirely representative of the modern woman (the audience was supposed to believe she "never saw Don's ankles"), and adamant that Ann not marry, Thomas believed Ann had played out her time on primetime. ABC wanted the final episode to showcase the wedding of Don and Ann, but Thomas refused, believing that would send the message to viewers that the only happy ending for a woman was marriage. Don and Ann did get engaged in the fifth season, but in the series finale, rather than mishaps during a ceremony, antics ensue when the pair are trapped in an elevator on the way to a women's liberation meeting.
Through all the bends in the road, That Girl emerged as a winner, not just in terms of ratings, but for presenting a main character that reflected the revolutionary era in which she lived. Television had featured single women before That Girl (on Our Miss Brooks, for example), but here's what set Ann Marie apart: she was the first leading lady to not actively hunger for a husband. Yes, she was in a loving relationship, but she didn't need or want to define herself in terms of the man in her life. Ann proved that the viewing audience would accept an unmarried, career-oriented woman, and though she may not have been the thoroughly modern woman Thomas wanted her to be, she was the closest to one that American television had ever seen. Before television's viewers could care about Carrie decades later, they first needed to accept Ann.
And accept they did, for the 1960's audience loved That Girl. Forty-five years later, multiple generations now do, too. Cheers to That Girl for navigating the prickly path to primetime and for showing viewers that you don't need to be half of a married couple to be a whole woman.
- Adrienne Faillace