Humphrey Bogart on '50s TV— "Jack Benny," "Person to Person," and "Producers' Showcase"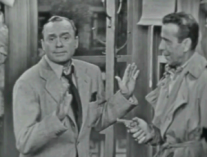 Humphrey Bogart was one of the screen's biggest stars in the 1950s, when TV was considered a rival medium.  Bogart made relatively few appearances on TV before his death in January 1957.  According to sources (such as David M. Inman's Performers' Television Credits), Bogart made a few appearances on Ed Sullivan's Toast of the Town in the early '50s, but his most notable appearances occurred between 1953-55.
Bogart's three most well-known TV appearances can all be glimpsed online, and are as listed below.  Visit the Archive's page on Humphrey Bogart to see these performances and hear from Archive interviewees including writer Tad Mosel (Producers' Showcase: "The Petrified Forest")
The Jack Benny Show (airdate: 10/25/53).  Appearing in approximately ten minutes of the show's run time, Bogart is the featured guest and sends up his tough guy image in a parody that sees him also shilling for Benny's sponsor, Lucky Strike.
Person to Person (airdate: 9/3/54).  Edward R. Murrow visits Humphrey Bogart and Lauren Bacall in their home in Los Angeles in the 41st broadcast of the famed interview show.  Variety noted: "The Bogarts, a literate, witty, engaging couple, indulged in entertaining chitchat about themselves, films and the theatre, with some amusing crisscrosses of conflicting opinions on acting and living."
"Bogart said there were no really big stars left in the world.  He said, 'when I say star, I mean a name that you say at the loneliest crossroad in the world and they'll know who it is.'  He said, 'there's Gable and there's me.'"

– Tad Mosel, who adapted "The Petrified Forest" for TV's Producers' Showcase, Bogart's only dramatic performance on television
Producers Showcase: "The Petrified Forest" (airdate: 5/30/55).  Bogart reprised his Broadway and film role of "Duke Mantee" in this adaptation by Tad Mosel of Robert E. Sherwood's play, directed by Delbert Mann.  Also in the ensemble: Lauren Bacall, Henry Fonda, Richard Jaeckel, Paul Hartman, Jack Warden, Joseph Sweeney, Jack Klugman, and Natalie Schafer.  Variety (east coast) and Daily Variety (west coast) had differing opinions of Bogart.  Variety opined: "Bogart, of course, remains Bogart, but somewhere in the adaptation the part of the killer Mantee shrunk to undemanding and unrewarding opportunities" whereas Daily Variety's take: "As the ruthless killer, Bogart gave it both barrels.  Role was a natural for his dramatic debut on tv and a conspicuous entry."