Gwen Ifill on NBC, PBS, and VPs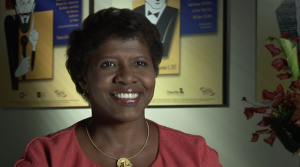 You can regularly catch her on Washington Week and PBS Newshour, and she's been known to moderate a Vice-Presidential Debate or two. Journalist Gwen Ifill has been reporting on The Hill for years now, and not just for TV news - she spent years in print journalism working for The Washington Post and The New York Times before coming to television.
In her 2011 interview, Ifill talks of moderating one of the Sarah Palin-Joe Biden Vice Presidential debates:
Watch Gwen Ifill's full interview here.
About this interview:
In her hour-long Archive Interview, Gwen Ifill discusses her early love of writing and reading and how that carried her into a career in journalism. She knew at the age of nine-years-old that she wanted to be a journalist and later majored in Communications at Simmons College to help make her dream a reality. She describes working in print journalism for many years, covering politics for The Baltimore Evening Sun, Presidential Elections for The Washington Post, and Clinton's election and the White House for The New York Times. She recalls her first appearance on television and shares how mentor Tim Russert convinced her to get into television full-time. Ifill details stories she covered at NBC News, and outlines her transition from NBC to PBS. She speaks of becoming the first female, African-American moderator of Washington Week and talks of her work on NewsHour with Jim Lehrer (aka PBS NewsHour). She discusses her experiences moderating Edwards/Cheney and Palin/Biden Vice-Presidential debates and expresses her thoughts on the Saturday Night Live sketch with Queen Latifah that parodies the Palin/Biden debate. Ifill offers tips on how to be a good moderator and gives her views on the future of television news. Karen Herman conducted the interview on October 20, 2011 in Washington, D.C.