Guest Post: At the Emmys with the Pop Culture Passionistas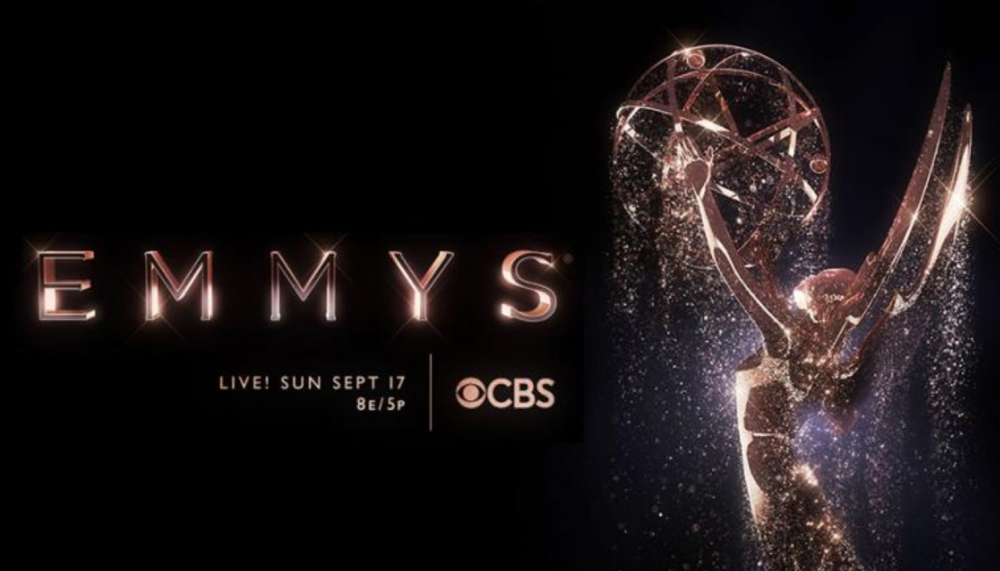 Our good friends the Pop Culture Passionistas helped us cover the red carpet and press room at the Emmys this year! Here's their behind-the-scenes scoop on the 69th Creative Arts and Primetime Emmys - enjoy!
For the eighth consecutive year, we've been honored to represent the Television Academy Foundation on the red carpet and the press room of the Emmys. But this year, as the current Golden Age of Television continues to raise the bar, we found ourselves surrounded by bona fide movie stars.
Actors formerly seen only on the big screen — Nicole Kidman and Reese Witherspoon (Big Little Lies), Anthony Hopkins (Westworld), Robert De Niro (The Wizard of Lies), Joseph Fiennes (The Handmaid's Tale) and John Turturro (The Night Of) — are now flocking to TV. It's a place where they are welcomed to explore their characters in-depth and encouraged by outlets like Netflix, Hulu, and HBO to strive for new heights in innovation, creativity, and diversity.
Geoffrey Rush, who was nominated for playing Albert Einstein in the TV miniseries Genius, told us what he likes about TV projects, "You get to tell a bigger story. We had 500 minutes. That's like Ivan the Terrible in film terms."
Director/producer J.J. Abrams (Westworld) talked about the difference in the two mediums staying, "The obvious and wonderful thing about TV is that it goes on and on and on… It's an evolving thing… TV is more like theater than it is cinema."
It was an exciting year at the Emmys with The Handmaid's Tale, Big Little Lies, and Saturday Night Live taking home the most statues. Diversity was celebrated, women dominated, and politics were palpable. And we experienced it all from our front row seats. We conducted over 150 interviews in our two days covering the Emmys, so picking our highlights was difficult but we narrowed it down to the clips below.
Gerald McRaney and Delta Burke
As Gerald McRaney approached us on the carpet at the Creative Arts Emmys, we were excited to hear why he thought This Is Us resonated with so many people. He answered, "It's about ordinary people in extraordinary circumstances." While he talked, Delta Burke (Designing Women), his wife of 28 years, looked on so lovingly you could see the glow.
Later that evening, Gerald won the Emmy for Outstanding Guest Actor in a Drama Series for his work playing Dr. Katowski. In the press room after his win, he explained he found the emotion for his scenes by thinking about his own wife and how he could not go on if he lost her. A few minutes later we were in the ladies room and encountered Delta, still shedding tears of joy over her husband's win. We told her what he said moments earlier and thanked her for being an inspiration and a shining example of a loving Hollywood couple.
The Television Academy Foundation Internship Pays Off
The team from Veep returned to the press room to field questions about their third straight win for Outstanding Comedy Series. And the show's star, Julia Louis-Dreyfus, was the focus of most of the attention, having just tied Cloris Leachman's record for most performing Emmys. Selina Meyer may be out of office, but JLD ruled supreme at the Emmys taking home her sixth statuette for playing the ex-President.
But after the reporters had asked the eight-time Emmy winner all of their questions, we jumped in to speak to another important member of the team. The cast and crew of the HBO hit was ecstatic when we said we had a question for Supervising Producer Rachel Axler. As they cheered her on, she answered our question about the merits of having been a Television Academy Foundation Intern. Of course, Axler is no newbie to the Emmys herself. Her 2017 win marked her fourth Emmy award thanks to a previous win for Veep and two for The Daily Show with Jon Stewart. It looks like someone just might give Louis-Dreyfus a run for her money when it comes to taking home the most statues someday.
The Unfinished Acceptance Speech
Home viewers had the pleasure of listening to the charismatic Sterling K. Brown's acceptance speech until he was cut off midway through. Those of us in the press room got the added treat of hearing the rest of what he had to say. In addition to thanking the team behind the "impeccable, beautiful, thoughtful writing on This Is Us," he gave a nod to producers, directors and series creator Dan Fogelman. But the heart-tugging moment that those in their living rooms missed, was his effusive tribute to his wife, Ryan Michelle Bathe. With tears in his eyes, the Outstanding Actor in a Drama recipient gushed, "You're everything. You make my life worth living. And you gave me two of the most beautiful things that God has ever put on this planet, my sons." See the unaired portion of his speech and more of his loving message to his two children in the clip below.
What TV Character Would You Be and Why?
We like to have some fun on the red carpet, so this year we asked people, "If you could be one TV character from all time, who would you pick and why?" The answers ranged from the Golden Girls and Wonder Woman (we got those a lot) to Alf (Ingrid Bolsø Berdal from Westworld) and the creature from Stranger Things (Anika Noni Rose from The Quad). A few actors went with classic shows like Good Times — Niecy Nash (Claws) chose Wilona and Anthony Anderson (black-ish) picked James. Jane Lynch (Dropping the Soap) praised Maude for being, "A woman who is still very modern. She is a woman who stood up for her own rights and… was unquestionably independent." Denis O'Hare (This Is Us) couldn't decide between Dr. Smith from Lost in Space and Uncle Arthur from Bewitched, "I'm a character actor, what do you want from me?" But our favorite answer came from Michael Kenneth Williams (The Night Of). Watch the clip below to see who he chose and why.
And to find out who your favorite stars picked, check out all our Emmy clips: