George Shapiro on Andy Kaufman, Jerry Seinfeld, and more!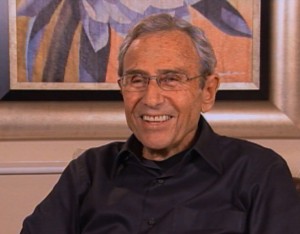 George Shapiro has had the pleasure, although some might call it the challenge, of managing the seemingly unmanageable Andy Kaufman. In his Archive interview, manager George Shapiro describes his work with comedians Andy Kaufman and Jerry Seinfeld, among others, and discusses the intricacies of negotiating television appearances and series for clients. In the following excerpt Shapiro details the unbelievable story of how Andy Kaufman secured the role of "Latka" on Taxi:
You can view George Shapiro's full interview here.
More about this interview:
George Shapiro was interviewed for approximately two hours in Los Angeles, CA. Shapiro discusses his early years growing up in the Bronx, where he met his longtime business partner, Howard West, and describes working his way up from mailroom attendant to packaging executive at the William Morris Agency. He talks about his work with The Steve Allen Show and That Girl, and details his decision to leave William Morris to form his own management company, Shapiro/West. He speaks at length on working with client Andy Kaufman, on negotiating Kaufman's intricate deal with Taxi, and on Kaufman's premature death. Shapiro also comments on client Jerry Seinfeld, explains how Seinfeld got on the air, and concludes with thoughts on the art of management and his philosophy on comedy. Bill Dana and Jenni Matz conducted the interview in a joint venture with The American Comedy Archives (at Emerson College) on February 12, 2007.