Editor Kelley Dixon Breaks "Bad"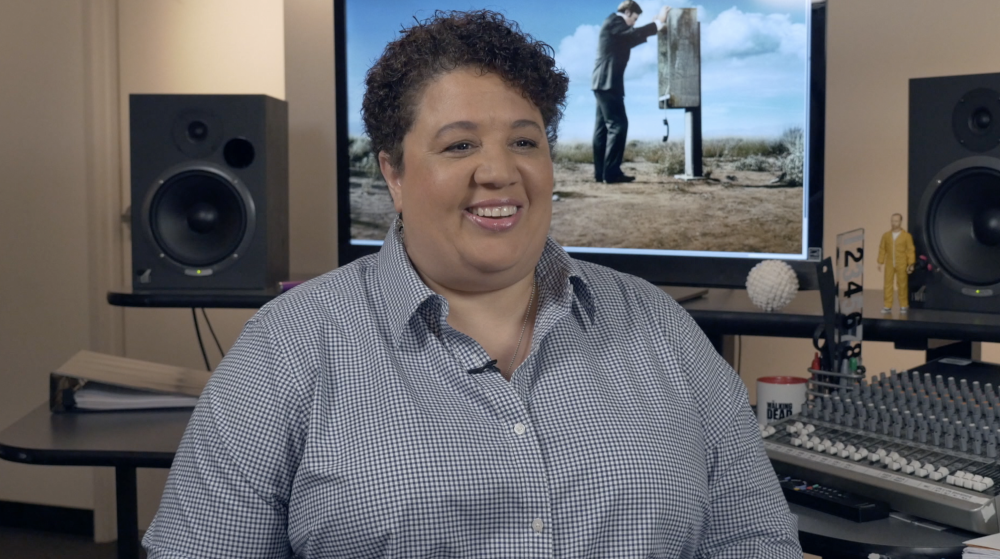 I met editor Kelley Dixon at the Creative Arts Emmy Awards in 2013, when she won her first Emmy for editing Breaking Bad's Season 5 episode "Gliding Over All" (which fans will remember for the masterfully cut "Crystal Blue Persuasion" montage). I had followed her podcast, "Breaking Bad Insider" for years, not immediately realizing that the fan-girl hosting the deep-dive into one of the most-talked about show since The Sopranos, was also its editor.
For those/most of you that have never been to a Creative Arts Emmy Award Ceremony, back when it awarded 116 Emmys in a single night (the Awards are now given out over two nights), you may not be familiar with some of the logistical limitations. All nominees were given a warning that they would only have 45 seconds to accept their award. That included a) processing the fact that you won (holy cow!), b) getting to the stage and c) making an acceptance speech before your race against the clock was up. When the Emmy for Outstanding Single Camera Picture Editing for a Drama Series was announced, I heard shrieks of joy emanating from the very back of the theater. We all watched Kelley yank off her heels and race to the stage- breathlessly making the most of her moment of triumph.
The recognition was a long-time coming for Dixon, who had started her career in the mailroom at MGM after graduating from Colorado State University. Her career path was inspired by the movie "Nothing in Common" with Jackie Gleason and Tom Hanks playing advertising execs: "I always thought it woud be really neat to come to work and be really creative" she said. Later, as a PA on thirtysomething, she learned the value of being a jack-of-all-trades, and someone who was willing to put in long hours, hard work, and asking a LOT of questions. "I just became the person who said, 'Oh, I'll do it,' so i got to know a lot of the people on set… and those guys were mentoring me." She took it upon herself to learn how to make cuts with Ediflex and eventually wound up with her first assistant editor gig with Victor du Bois in the late 80s.
Kelley had worked tirelessly as an assistant editor in film and television for 17 years. Then in 2008, Emmy winning editor Lynne Willingham brought Kelley over from a solid gig on Without A Trace, both taking a huge risk on the Breaking Bad pilot. It sure paid off. Kelley is a living example of "making it" by slowly work her way up, her tenacity outmatched only perhaps by her innate talent. In her interview, she recommends to anyone who wants to become an editor to not shy away from P.A jobs or knock the menial tasks. Kelley points out "what greater responsibility is, if a producer GIVES YOU THEIR CAR? They are trusting you!" Do the work, engage your peers, earn trust, even if it takes years. She points out that many of the PAs she came up with matriculated to become writers or producers as well.
When I sat down to interview Kelley, her ebullience was infectious. She clearly loves doing what she does, and her mantra remains: "All roads lead to HERE, and THIS is a good place to be."
Kelley details her editing process on the first two Breaking Bad episodes she cut, "The Cats in the Bag" and "The Bag's in the River":
On hosting the "Breaking Bad Insider" podcast, and how she moved up to become the 2nd editor on Breaking Bad:
On the pacing, directing, and editorial aesthetic on Breaking Bad:
On what she loves about editing:
Watch Kelley Dixon's full interview.
- Jenni Matz