"Dark Shadows" Star Jonathan Frid Dies at 87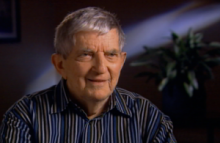 The Archive just learned of the death of actor Jonathan Frid, who passed away on April 13, 2012. Frid was best known for playing vampire "Barnabas Collins" in the gothic melodrama Dark Shadows, and also held an M.A. in Directing from the Yale School of Drama. Frid's final acting role was a cameo in Tim Burton's Dark Shadows movie (out May 4th) in which Johnny Depp tackles the role of "Barnabas."
Here are some selections from his 2008 Archive interview:
On playing a psychiatrist on As the World Turns and how the role differed from "Barnabas Collins:"
It was maybe a couple of weeks, about three or four, maybe half a dozen episodes. I was pretty good at it. On Dark Shadows I was intimidated by the character, in a sense, although it fit me perfectly. I didn't know that at the time, and I thought, "Oh, how do you play a vampire?" I was very unsettled about that one, but the doctor, other than just being nervous, like any other actor for his first crack at it, it was not that difficult, and I fit into it very well.
On getting his Masters in Directing at the Yale School of Drama:
I was a directing major there, but we all had to do parts anyway. Everybody had to do acting at one time or another. I'd already gone through acting, all kinds of teachers, and I was a perpetual student. I was going to everybody in those days. I had to go through it again and they gave me all these huge roles to play at Yale and it led to getting into the American Shakespeare Festival where I worked with Katharine Hepburn, and John Houseman was the director at the time. We had some very good people there at that time. That was 1956 or '57.
On getting cast on Dark Shadows:
That was through a friend of mine, Ron Sproat, who was at Yale with me, and he was a play-writing student. We knew each other and we were friendly and so forth and so on, and it turned out that he was one of the writers for Dark Shadows, so when they were searching for somebody he suggested that they get me.
On "Barnbas Collins:"
I was pretending I was an Englishman, going back to the original family in England, if you remember. The very first scene: "Tell Mrs. Stoddard that her cousin from England..." And I was just in the cemetery down the street, (laughter) been there for two centuries, but I said I was from England. My English accent is really kind of a fake stage one, perfect for the part, because he was lying anyway, and I was pretty good at it as a liar.
On his makeup for "Barnabas:"
It got down to a routine, but of course when I was an old man I had to go in at 4:00. They played me as an old man in my real age, supposedly, a couple of times. Dick Smith came in and I had to be there at 4:00 in the morning. It took four or five hours, at least, to get this makeup on. I had to do it for three or four days, too.
On Dark Shadows short run on television:
Dark Shadows had a short life, one of the shortest-lived of all of the great soap operas. It just had incredible reruns. But it never kept developing. It was a very short run. If it weren't for the fact that they recorded it, it would've been long forgotten by now. It was just fortunate ... That was what saved Dark Shadows was the fact that they had the tape, because actually, in fact, it was very short lived. There are soaps I can remember as a child when I had my appendix out listening to a soap. They're still going! 60, 70 years ago. Imagine Dark Shadows if it were still going 70 years! Gosh.
On what he tapped into to play "Barnabas:"
I was supposed to be somebody who had been chained in jail for 25, 30, or 40 years. That's as far as our imaginations go anyway. A person that's been put away for 45 or 50 years or whatever in a prison and they come back into your life, I mean it's pretty scary. They were just let loose, and it's scary for them. It's somebody that's been tortured by a coffin … I remember the big scene with my father and all that business and, "You're a vampire, you've got to do this, do this..." But I was put in, buried, and so the only way you can get the feeling from it is from scenes in your own life that happened that are similar, and it's knowing people who had been so evil or been so screwed up that they're ugly. There's always ugly people in our lives. But I tried to be a nice guy, good guy.
Watch Jonathan Frid's full Archive Interview.
Read his obituary in USA Today.